RCC's South East Europe 2020 strategy topic of workshop for journalists held in Sarajevo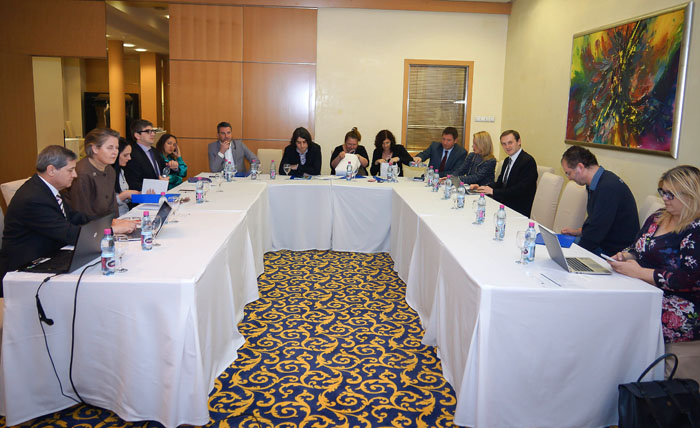 A two-day workshop devoted to Regional Cooperation Council (RCC)'s South East Europe (SEE) 2020 strategy gathering journalists from the Western Balkans, ended in Sarajevo, Bosnia and Herzegovina, today.
The workshop provided journalists with the first-hand insight and information on the Strategy and key phases of its implementation that would be beneficial as references for later media reporting on the SEE2020-related issues.
SEE 2020 strategy – Jobs and Prosperity in a European Perspective, prepared by RCC, aims to provide for better quality of life for the citizens of the region and lead them out of the current crises. In practical terms, the strategy's goals include creation of one million jobs in the region over the next 7 years, increasing energy efficiency by 9% and government productivity by 20%, doubling trade and investments, and finally, increasing productivity by one third.
Gazmend Turdiu, the RCC Deputy Secretary General, while welcoming the journalists said that the media can and should be leaders in promoting knowledge society, economic growth, European values, EU integration and reconciliation in the region.
"Journalists have an instrumental role in helping SEE2020 achieve its goal of improving living conditions in the region and bringing competitiveness and development back in focus by providing: reliable information, life-long learning, access to culture, quality entertainment, but also support for diversity, social cohesion, innovation, preservation of cultural heritage, investment in the creative industries and regional development."
In her welcoming remarks, Margit Waestfelt, CEI Alternate Secretary General, stressed that CEI is well aware of the importance of the recovery of growth and jobs as a precondition for the citizens' support to the path of Western Balkan countries to the accession to the European Union.
"This is the reason why the CEI in the year of its 25th anniversary is keen to confirm the validity of its working system, enhancing the regional cooperation through a combination of multilateral diplomacy and projects implementation for the mobilization of its transnational resources to the support of the recovery of Balkan growth," said Waestfelt.
Seven governments from the region (Albania, Serbia, Kosovo*,Bosnia and Herzegovina, Montenegro, The Former Yugoslav Republic of Macedonia and Croatia) adopted the SEE 2020 strategy on 21 November 2013 thus firmly standing behind its goals.
The event, co-organized by the Central European Initiative (CEI) in cooperation with RCC Secretariat, brought together journalists from Croatia, Serbia, Albania, Montenegro, The Former Yugoslav Republic of Macedonia, Kosovo* and Bosnia and Herzegovina. It was held back-to-back with the closing conference of the European Union (EU)-financed and CEI-led project, Improving Cooperation in SEE by Actions for Strengthening the RCC that lasted 28 months.
Address by Gazmend Turdiu, Deputy RCC Secretary General
Presentations:
* This designation is without prejudice to positions on status, and is in line with UNSCR 1244 and the ICJ Opinion on the Kosovo declaration of independence.