Germany supports RCC's public awareness activities with 50,000 euro grant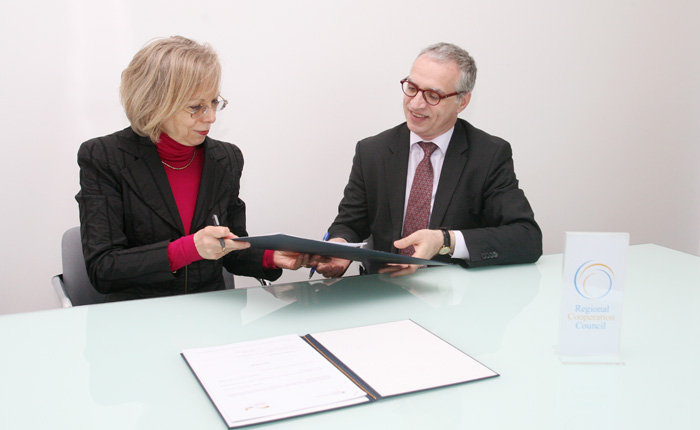 Agreement on 50,000 euro grant to support public awareness activities of the Regional Cooperation Council (RCC) Secretariat in 2014 was signed by the RCC Secretary General, Goran Svilanovic and German Ambassador to Bosnia and Herzegovina, Ulrike Knotz in Sarajevo today.
The contribution of the Federal Republic of Germany is to be used for communications and raising public awareness activities primarily on the organisation's South East Europe (SEE) 2020 strategy. The funds will be spent on public information and communication materials, social media, media monitoring, and other awareness raising activities.
"The RCC very much appreciates the continuous support of Germany to organisation's public information and awareness raising activities", said Secretary General Svilanovic adding that "raising public awareness is extremely important for the successful implementation of our SEE 2020 strategy".
"It is especially helpful this year, the year in which implementation of RCC-lead SEE 2020 growth strategy begins. Raising public awareness on importance of the strategy for the social and economic progress of the region, as well as reaching as far as possible to the public with the results of the strategy's implementation is of crucial importance."
Ambassador Knotz expressed satisfaction with cooperation with the RCC Secretariat since 2008.
"Germany is happy to have been supporting the RCC for the past six years, as well as its predecessor, the Stability Pact for South Eastern Europe. The fact that regional cooperation has improved significantly over the recent years is also an RCC achievement."
The two officials expressed belief that successful beginning of SEE 2020 strategy implementation would not only start to improve living conditions in the region but also accelerate the participating countries' journey along their EU accession paths.