RCC Secretary General briefs Austrian parliamentarians on the SEE2020 Strategy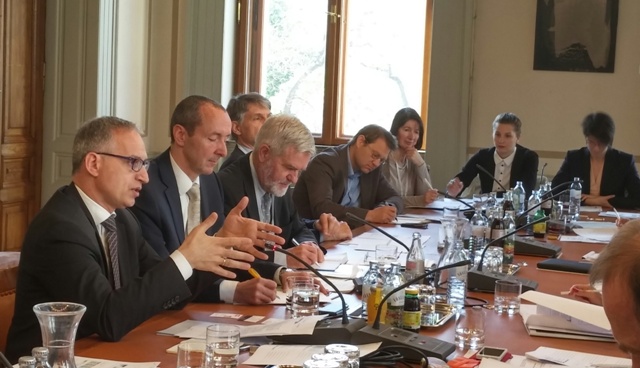 The Regional Cooperation Council (RCC) Secretary General, Goran Svilanovic, briefed Austrian parliamentarians today on the implementation of the SEE2020 Strategy, RCC's primary instrument for boosting growth and jobs in the region's economies. Mr Svilanovic was taking part in a parliamentary hearing on the future Austrian regional cooperation strategy for the Danube Region and Western Balkans (2015-2020) and was hosted by the Subcommittee on Development Cooperation as well as the Austrian Ministry of Foreign Affairs and the Austrian Development Agency.
Opening today's meeting, Stefan Scholz, the Head Planning and Programming Development Cooperation Department at the Austrian Ministry for Europe, Integration and Foreign Affairs said that the priority areas for Austria's intervention is on a regional level and will directly focus on contributing to the implementation of the South East Europe 2020 Strategy.
Goran Svilanovic emphasised that the mission of the RCC is to promote and strengthen regional cooperation in SEE, uphold an all-inclusive and regionally-owned framework and support the European and Euro-Atlantic perspectives of the aspirants from the region. Svilanovic also elaborated on specific action plans and the implementation of the SEE2020 when it comes to Coordination, Programming and Monitoring, laying out the different mechanisms, especially the Balkan Barometer which has just been launched. Mr Svilanovic's presentation was followed by a discussion with MPs and representatives of the Civil Society.
The event in Vienna follows Wednesday's highly successful Regional Cooperation day in Brussels which included the premiere of the Balkan Barometer, keynote speeches, 2 High level panel discussions as well as an exhibition of posters of restored cultural heritage monuments and a concert by RCC's "Les Femmes des Balkans". The Regional Cooperation Day was jointly organised by the RCC, the Representation of the State of Baden-Württemberg to the EU and the European Fund for the Balkans. Full details can be found on http://www.rcc.int/news/149/regional-cooperation-day-ends-in-brussels.
Follow us at twitter.com/rccint and facebook.com/RegionalCooperationCouncil.