Preventing Corruption in Public Institutions through Efficient Identification of Risks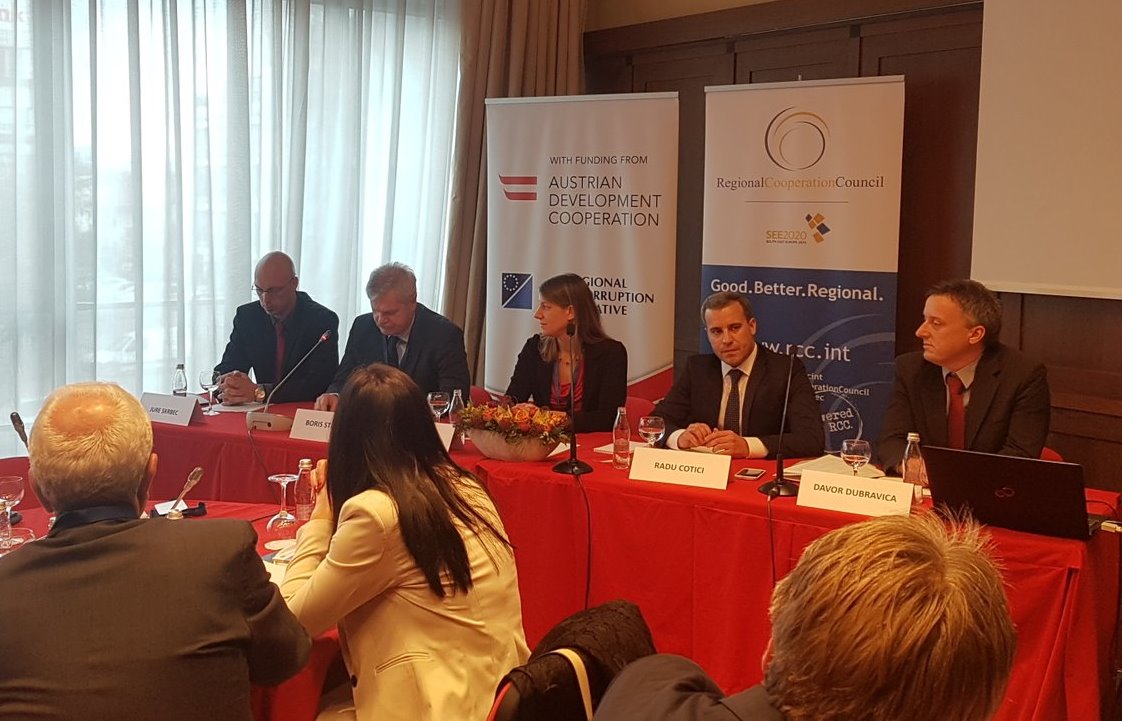 Two-day Regional Forum on anticorruption opens in Ljubljana
Ljubljana - Efficient identification of corruption risks and their assessment in public institutions is the main topic of a two-day Regional Forum which started in Ljubljana, Slovenia today.
Opening the Forum, Boris Štefanec, the Chief Commissioner of the Slovenian Commission for the Prevention of Corruption, expressed his satisfaction with the fact that a day before Slovenia joined the Regional Anti-Corruption Initiative (RAI) as an observer.
"The Commission will be representing Slovenia in future work of RAI, which is valuable recognition of our work in the past 13 years, since its establishment. Working together, cooperating internationally and exchanging best practices are crucial in struggle to eliminate corruption, as this phenomenon knows no borders."
During the next two days, the participants, relevant representatives of ministries of justice, anti-corruption bodies and non-governmental organisations from South East Europe (SEE) who worked together to implement the Regional Cooperation Council (RCC)/ Regional Anti-Corruption Initiative Methodologies on Anti-corruption Assessment of Laws and on Corruption Risk Assessment in Public Institutions, will be discussing universal patterns of corruption in any society and focus on specific corruption-related occurrences in SEE economies.
Radu Cotici, RCC Expert on Governance for Growth-Public Administration Reform and Anticorruption, reminded about the results of the recently published RCC's public and business survey in the region, Balkan Barometer 2017, which says that corruption is one of the biggest concerns of people in the region as 32% of citizens say they worry about corruption, which is a rise of 5% compared to the previous year.
"We need to take the voice of people seriously, raise awareness on it, especially in public services and fight corruption mercilessly. There is no single model that fits all the environments equally efficiently and therefore it is of paramount importance that we set up mutual cooperation forums, such as this one, exchange experiences and identify ways in which corruption can be best fought, having in mind specificities of our economies."
One of the key actions of the South East Europe 2020 Strategy is to introduce clear and transparent rules of access to public services, thus increasing public institutions' integrity level. In this context, two preventive measures have been enhanced throughout the region in the recent years – corruption risk assessment and anti-corruption assessment of laws.
Davor Dubravica, Chairperson of the RAI, reiterated pleasure with Slovenia's newly acquired observer status to RAI and benefits from knowledge and experience that Slovenian colleagues would bring.
"The Forum is a valuable tool for peer-to-peer learning, addressing the key issues regarding implementation, and discussing the future of the Corruption Risk Assessment and Corruption Proofing of Legislation in our region. Many of the results and achievements made so far have been implemented under the Southeast Europe Regional Programme that is being implemented in cooperation with UNODC. RAI remains committed to the national institutions working in this field and will continue its assistance under the auspice of the Regional Programme for the next two years."
To capitalise on the momentum created by the institutions, this Forum will tackle the progress achieved and the challenges faced with introduction and implementation of these preventive measures, with particular focus on practical implementation and innovative approach.
Monika Tortschanoff, Programme Manager at Austrian Development Agency, reiterated Austrian Government's dedication to supporting the South East Europe in its anti-corruption efforts. "Today and tomorrow we celebrate countries' achievements in particular in the field of Corruption Proofing of Legislation and Corruption Risk Assessment. Let me also express my appreciation for the genuine efforts of governments and members of civil society to cooperate and share responsibility in this field."
The event has been organised by the RCC and RAI, in cooperation with Slovenian Commission for Prevention of Corruption under the auspice of the Regional Programme on Strengthening the Capacity of Anti-corruption Authorities and Civil Society to Combat Corruption and Contribute to the UNCAC Review Process, funded by the Austrian Development Agency.