South East European Foreign Ministers Appoint next RCC Secretary General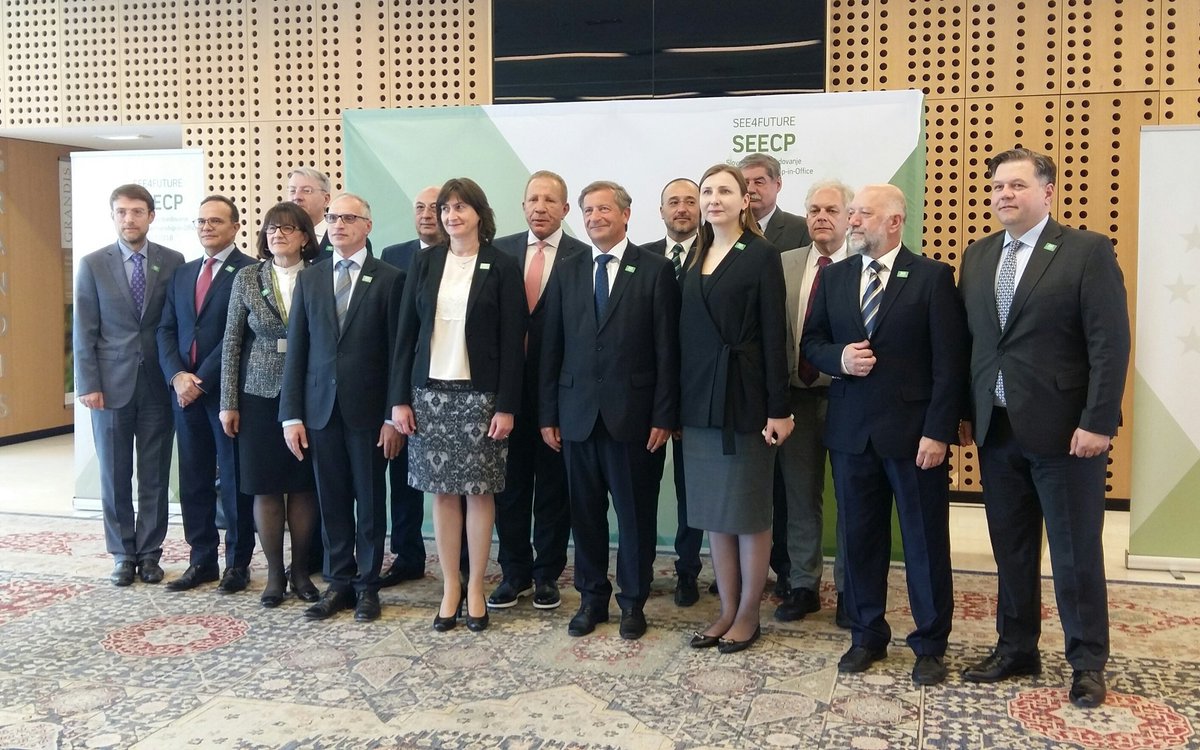 Brdo pri Kranju - Ministers of Foreign Affairs of the South-East European Cooperation Process (SEECP) appointed Majlinda Bregu as Secretary General of the Regional Cooperation Council (RCC), starting on 1 January 2019 and of Igor Luksic as RCC Secretary General starting on January 2022, at their meeting held in Brdo pri Kranju, Slovenia, today. In this post, Bregu will succeed Goran Svilanovic, who has been serving as the RCC Secretary General in two mandates since 1 January 2013.
Aware of the excellent qualities of the candidates for the position of the Secretary General of the RCC, namely Majlinda Bregu of Albania and Igor Luksic of Montenegro, upon the joint proposal from Albania and Montenegro, the Committee of Political Directors of the SEECP has agreed, in the spirit of consensus, to recommend consecutive mandates on the position of the Secretary General of the Regional Cooperation Council for Majlinda Bregu as the RCC Secretary General for the term 2019-2021 and for Igor Luksic as the RCC Secretary General for the term 2022-2024.
The foreign ministers praised the RCC Secretariat for the successful job performed thus far, and thanked Secretary General Svilanovic for his steady and commendable work, wishing him every success in the future career. They voiced support to RCC activities and approved the 2017/2018 Annual Report of the RCC Secretary General on regional cooperation in South East Europe.
In his address to the foreign ministers, Secretary General Svilanovic said that over the past years the RCC Secretariat has been together with all its participants facilitating the process of a strategic shift – from predominant focus on peace and reconciliation to a dynamic process of economic and societal connectivity aimed at promoting better prospects for growth.
"We have grown with the needs of the region and matured with the notion that the regional (re)connection represents a new paradigm of prosperity. As of last summer we are all focused on the ambitious and forward looking Multi-annual Action Plan on a Regional Economic Area in the Western Balkans (MAP), endorsed by the region's leaders, starting irreversible process of removing obstacles to free movement of goods, services, capital and people across the region and reconnecting with global and EU value chain."
Svilanovic added that the RCC, through its initiatives and actions has paved the way for the European integration of the region. According to the latest EU enlargement strategy the progress on this path would be valued on merits and deeds, where regional cooperation maintains its central role, ensuring common approach to challenges ahead of us.