Enlargement process, integration, transformation challenges - main topics of 19th edition of EU-Western Balkans Summit in Brussels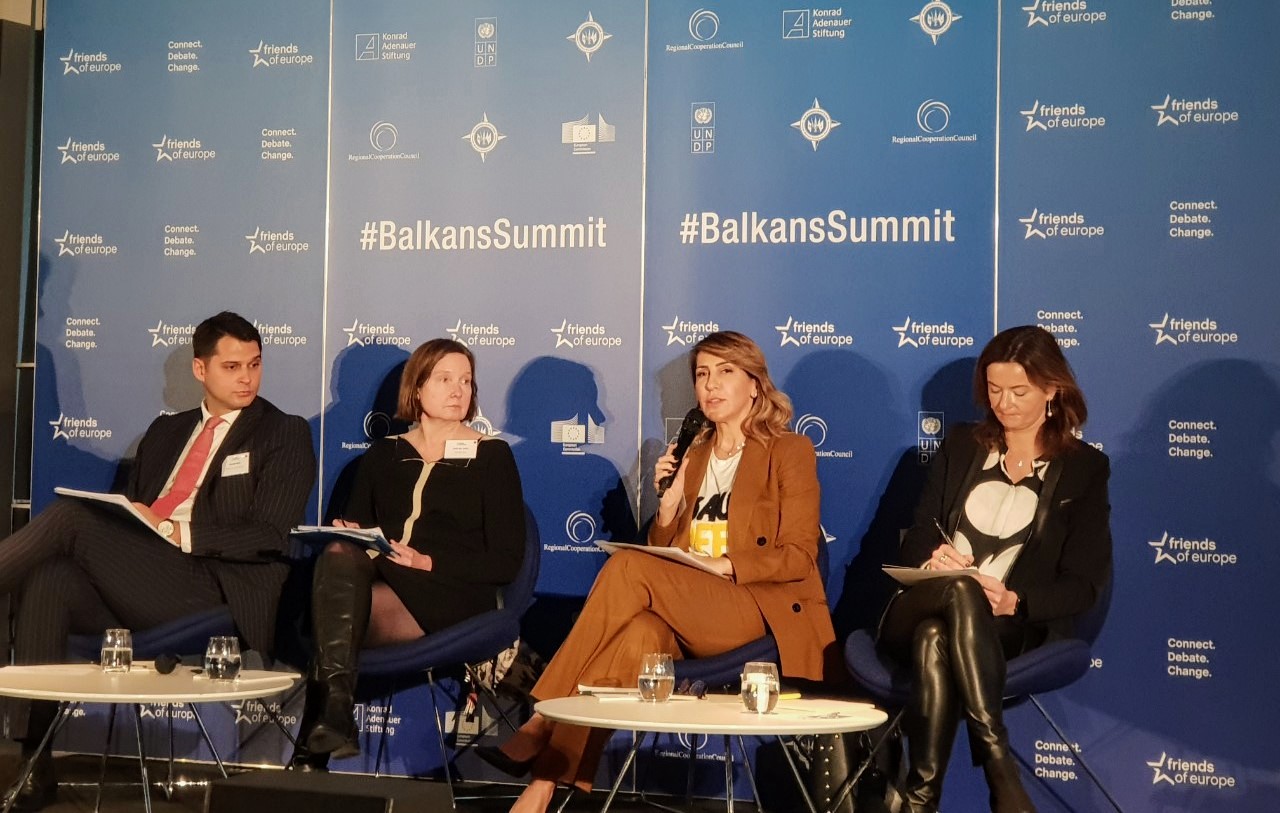 Brussels – For the third year in a row the Regional Cooperation Council (RCC) partnered with the Brussels-based think-tank Friends of Europe (FoE), with the support of the European Commission, Konrad Adenauer Stiftung, United Nations Development Programme (UNDP) and the United States European Command, in organizing the annual EU-Western Balkans Summit. This year's 19th edition of the forum, under the title: Enlargement, integration and the challenge of transformation, is held in Brussels today.
The Summit serves as a platform, which brings together senior policymakers from the region and representatives of the EU institutions and Member States, as well as other opinion makers, to address the political, economic and social issues that affect the Western Balkans.
The Incoming RCC Secretary General Majlinda Bregu, who is to assume her duties from the current RCC Secretary General, Goran Svilanovic as of 1 January 2019, spoke in the Summit's 2nd session 'Walking the talk on Connectivity'. She underlined that enlargement is about connectivity and that the pace of the regional cooperation will influence the pace of the EU integration. Western Balkan development is a shared responsibility.
"Transformation of Western Balkans is about connectivity: about integrating our economies into a single market, about connecting people and sharing values, about our common political, security and economic interests. We must also make sure that the economies become more inclusive. Entire societies should benefit from growth with no groups left behind."
The session on Connectivity, moderated by Shada Islam, Director for Europe & Geopolitics at Friends of Europe, together with Bregu featured also Radosav Babic, Director-General for Investments, SME Development and EU Funds Management at the Ministry of Economy ofMontenegro, Tanja Fajon, Member of the European Parliament Delegation for relations with Bosnia and Herzegovina, and Kosovo* and Trustee of Friends of Europe, and Linda Van Gelder, Regional Director for the Balkans at the World Bank.
The panel also tackled major challenges and opportunities linked to key connectivity projects in the Western Balkans; identification of priority economic reforms that are still needed in the Western Balkans in order to sustain the "credible enlargement perspective"; and a question if the Western Balkans leaders paid enough attention to the concerns of their young people as regards to education and entrepreneurship.
The other two panels of the EU-Western Balkans Summit 'EU-Western Balkans: Still Complicated' and 'Bridging or Fuelling Divides: The Role of Media and Grassroots Organisations' discussed the situation in the Western Balkans 15 years after the EU promised to open its doors to the region and constantly re-confirming it, still steering clear of offering any prospect of quick membership as well as the role that media can play in encouraging reconciliation, increasing connectivity and encouraging mutual understanding, referring to the situation in the region where many challenges stem from deep social divisions.
*This designation is without prejudice to positions on status, and is in line with UNSCR 1244/1999 and the ICJ Opinion on the Kosovo declaration of independence