Bregu, Zvizdic discuss Western Balkans' progress towards regional economic area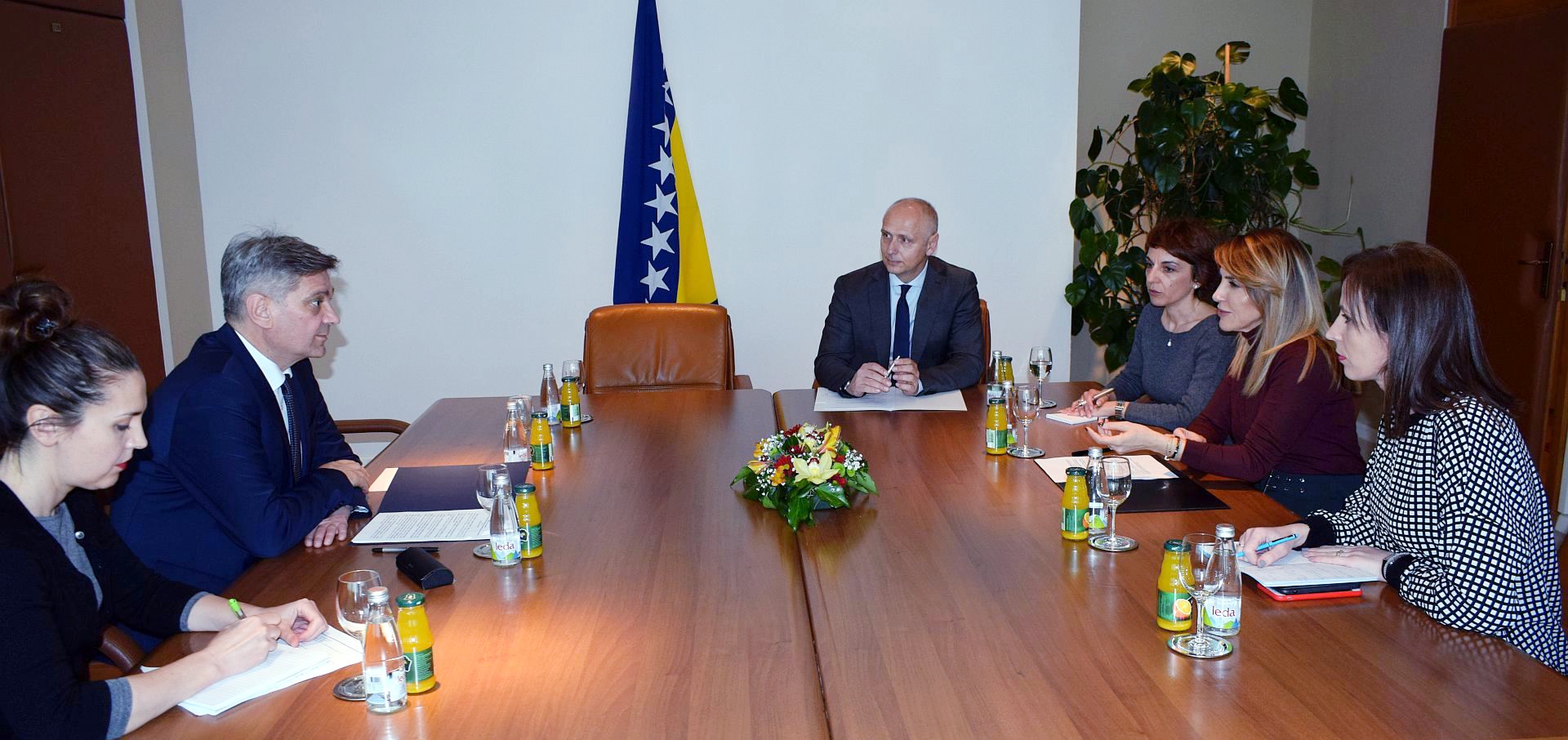 RCC Secretary General Majlinda Bregu meets Chairman of Bosnia and Herzegovina Council of Ministers Denis Zvizdić
Sarajevo – Majlinda Bregu, Secretary General of the Regional Cooperation Council (RCC) paid an official visit to Denis Zvizdić, Chairman of the Bosnia and Herzegovina Council of Ministers, in Sarajevo today.
Bregu and Zvizdić discussed the latest developments in implementation of the Multi-Annual Action Plan for the Regional Economic Area (MAP REA) in the Western Balkans (WB) and pending commitments and activities in that regard.
Chairman Zvizdić expressed full support of the Council of Ministers to the work of the RCC as well as reiterated its commitments to the MAP REA goals.
To that end, Zvizdić said that Bosnia and Herzegovina is ready to sign the new Regional Roaming Agreement (RRA2) and the Agreement on Mutual Recognition of Academic Qualifications as the two important Berlin process deliverables in this year. He also underlined the importance of better cooperation and standardization of laboratories certified to issue certificates for trade of goods, which will consequently better regional trade and contribute do decreasing of the existing delays at the border crossings.
Secretary General Bregu expressed pleasure over present willingness to work in synergy on pursuing socio-economic development goals on the both national and regional levels, stressing concrete advancement made towards deepening of the regional economic integration in the WB, as a stepping stone towards future integration in the single market.
"We do hope to have the RRA2 signed soon, at the WB Digital Summit in Belgrade on 4-5 April. The agreement's impact is significant as it will entirely eliminate roaming costs as of 2021 but will also pave the way for more substantial reductions of roaming costs between WB and the EU."
Bregu reminded that the RCC works relentlessly to facilitate regional cooperation to achieve tangible results in MAP REA implementation, adding that thanks to the engagement of the RCC and governments in region, this year will be marked by two important Berlin process deliverables: Agreement on Mutual Recognition of Professional Qualifications (MRA) for Doctors of Medicine and Dentists, Architects and Civil Engineers; and the new Regional Roaming Agreement.