Bregu: Spreading the spirit of solidarity and tolerance beyond borders teaches young generations what really matters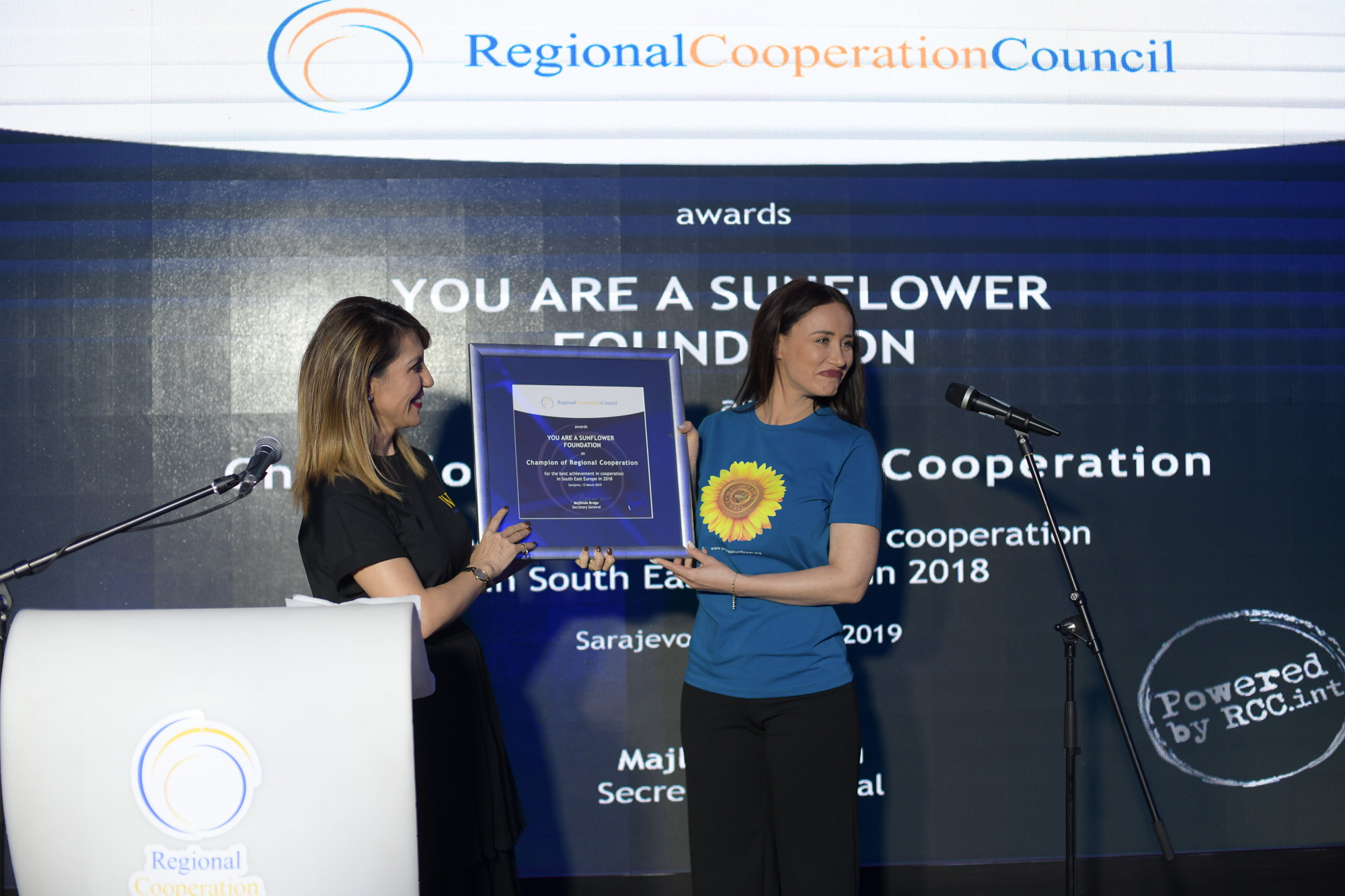 'You are a Sunflower' selected as a Champion of Regional Cooperation for 2018 by the RCC
Sarajevo – Secretary General of the Regional Cooperation Council (RCC), Majlinda Bregu presented the award of the Champion of Regional Cooperation for 2018 to the Founder and Chair of You are a Sunflower Foundation, Albana Osmani at the reception marking the 11th anniversary of the RCC in Sarajevo tonight.
"Solidarity is a fundamental European value, one of those values sadly lacking lately in the post-modern world we are living in. Every year, the RCC selects, out of a pool of regional cooperation pioneers, ONE, whose actions and impact have marked the year behind us.
It is daunting to learn that the share of children (aged 0-15) at risk of poverty in the Western Balkans ranges up to 31.5%. Although very young, You are a Sunflower Foundation has already made a significant positive impact on the lives of many, dealing with the most sensitive group of our societies – children in need, by providing them necessary assistance and improving conditions they live in thus improving our societies.
Such actions that spread sprit of solidarity and tolerance beyond national borders, with the language of humanity and empathy, will teach the young generations what is it that really matters," said RCC Secretary General, Majlinda Bregu.
Albana Osmani, who received the award on behalf of You are a Sunflower, thanked the RCC and its Secretary General for recognising their work and choosing to stand together with them, behind every child.
"We started from the scratch in March of 2017, with our own money, producing the first branded products: the sunflower t-shirts, to raise money by selling them and helping children who were being treated in hospitals across Albania, and later spread our mission to Kosovo* and North Macedonia. The raised money was and is being used to meet the wishes of the suffering children. Our next step will be a regional campaign! Wherever there is a child in need in the Balkans, we want to reach out a hand that helps! Our region is a marvelous piece of land, blessed by nature, broken from history but united from the strength and the big heart of its people."
The RCC's 11th anniversary reception gathered representatives of political and diplomatic core in Bosnia and Herzegovina, Media, NGOs and other friends, partners and supporters of the RCC's activities, to welcome the new Champion of Regional Cooperation and celebrate together all past and future common successes.
Video 'You are a sunflower' Champion of Regional Cooperation for 2018
**********
You are a Sunflower is a non-profit, humanitarian organisation based in Tirana, operating regionally. It is functioning as a foundation, aimed at helping children in need, especially those treated for serious diseases, by providing them necessary assistance and improving conditions of their care.
Videos by You are a Sunflower Foundation:
The Champion of Regional Cooperation award is recognition of an individual or an institution that the RCC and its Secretary General consider to have contributed most to the development of regional cooperation in South East Europe over the course of the past year. It is an annual award that was inaugurated on 27 February 2013 at the occasion of the fifth anniversary of the RCC. The first laureate of this award was the Central European Free Trade Agreement - CEFTA 2006, followed by South East European Centre for Entrepreneurial Learning (SEECEL), the Energy Community Secretariat (EnC), European Fund for the Balkans (EFB), Sarajevo Film Festival (SFF) and EXIT Festival, which received the award last year.
* This designation is without prejudice to positions on status, and is in line with UNSCR 1244 and the ICJ Opinion on the Kosovo declaration of independence.