Bregu: Politics should act to the citizens' concerns and deliver fast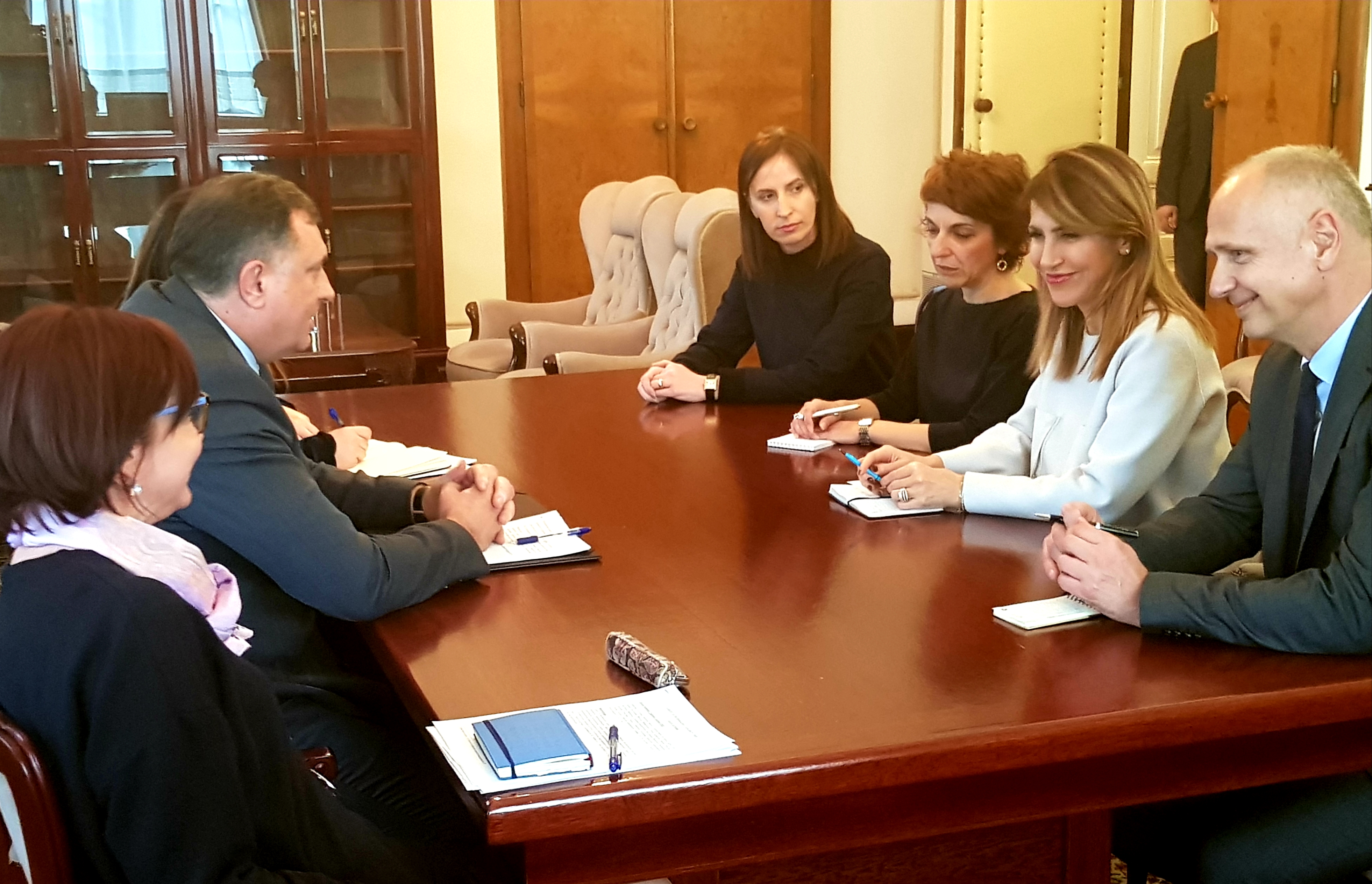 RCC Secretary General Majlinda Bregu meets Chairman of Bosnia and Herzegovina Presidency Milorad Dodik
Sarajevo – Majlinda Bregu, Secretary General of the Regional Cooperation Council (RCC) paid an official visit to Milorad Dodik, Chairman of the Bosnia and Herzegovina Presidency, in Sarajevo today.
Bregu and Dodik discussed the regional cooperation, especially in light of the upcoming deliverables to the Western Balkans' Berlin Process Summit in Poznan in July this year: the new regional roaming agreement (RRA2) and the agreement on recognition of professional qualifications for doctors of medicine and dentists, architects and civil engineers. Bregu thanked Dodik for his support in getting Bosnia and Herzegovina on board for the RRA2. The two officials agreed that both of these agreements are of great importance for the region as the citizens of the Western Balkans (WB) benefit from them directly.
"The Western Balkans citizens' concerns regarding the pressing economic situation are clearly echoed in all Balkan Barometer editions so far, as 63% of the respondents declare themselves unhappy with the economic situation. This, I believe is the clearest indicator that politics should act to the citizens' concerns and deliver fast," said Bregu.
Bregu and Dodik further discussed priorities of the current Bosnia and Herzegovina's Chairmanship-in-Office of the South-East European Cooperation Process (SEECP) and status with preparations of the upcoming SEECP Summit. The BiH Presidency Chairman voiced full support of the Presidency to the work of the RCC and regional cooperation as well as commitment to regional integration processes and the SEECP format.
The meeting with Dodik is part of the RCC Secretary General political consultations in the Western Balkans and South East Europe. The consultations in Bosnia and Herzegovina, so far have included Speaker of the House of Representatives of the BiH Parliamentary Assembly, Borjana Kristo, BiH Presidency Member, Sefik Dzaferovic, and Chairman of the Council of Ministers, Denis Zvizdic.