RCC at Sarajevo Business Forum: Better connectivity essential to creating new jobs and attracting investments in the Western Balkans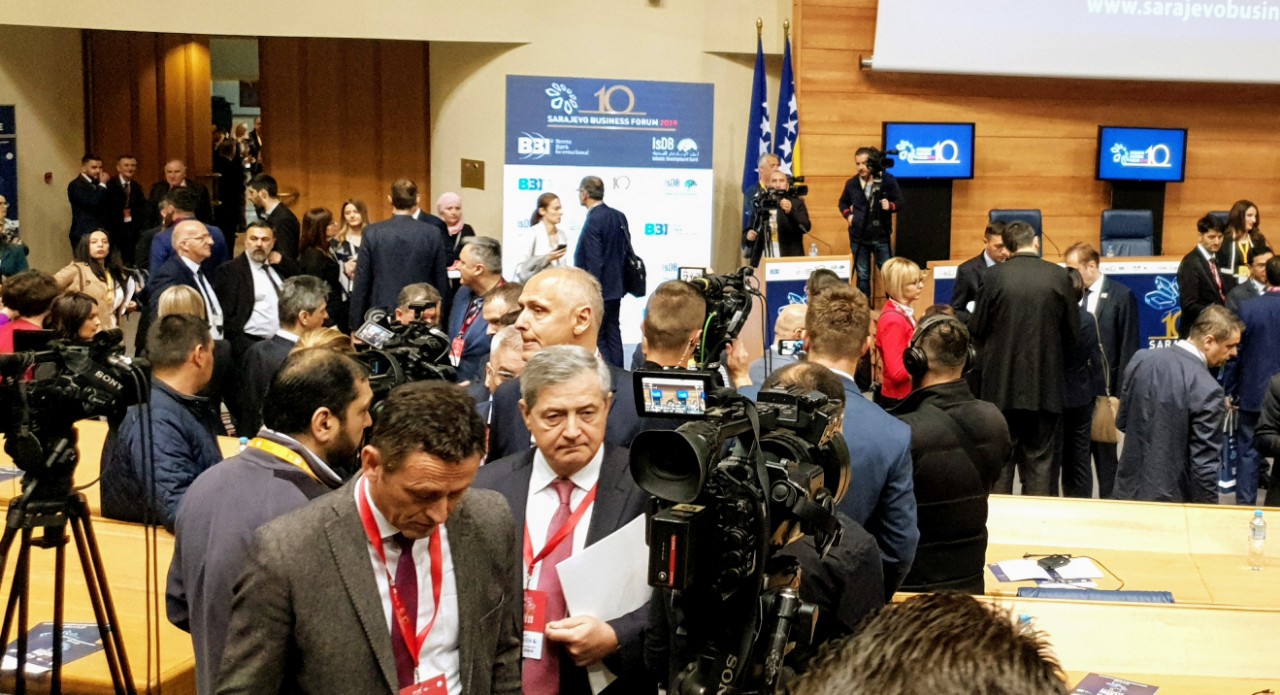 10th Sarajevo Business Forum organized in cooperation with the RCC
Sarajevo - Gazmend Turdiu, Deputy Secretary General of the Regional Cooperation Council (RCC) moderated the Leaders Panel dedicated to the 'One Region, One Economy' concept as a vision for the future of Western Balkans, at the 10th edition of Sarajevo Business Forum (SFB) that kicked off in Sarajevo today.
While introducing the discussion topics, RCC Deputy Secretary General Turdiu briefly reflected on the work of the RCC, explaining the RCC's activities revolving around the idea of Regional Economic Area in the Western Balkans.
"Two processes standing behind this concept - EU integration and Berlin Process, underpin region's determination to pursue their actions in this direction with the full RCC's support. There are positive signals that we are succeeding - in 2018, growth in the region accelerated, reaching 3.8% (compared to 2,7% in 2017) with projections that this trend will continue in the medium term. However, inflows of Foreign Direct Investments (FDI) are still modest and far below the 2,2 billion EUR target we have jointly put forward to attain by the end of 2020, (even though the region as a whole, we are getting close to the 1 billion EUR of FDIs). Also, the current investment levels are too low to sustain growth over the long term", concluded Turdiu.
The Leaders Panel involved Fuat Oktay, Vice President of Turkey, Igor Crnadak, Minister of Foreign Affairs of Bosnia and Herzegovina, Mujahid Yusof Rawa, Minister in Prime Minister's Department of Malaysia, Kemal Purišić, Minister for Labour and Social Welfare of Montenegro, Lahcen Daoudi, Minister Delegate to the Head of Government in charge of General Affairs and Governance of Morocco, and Mustafa Rifat Hisarcıklıoğlu, President of the Union of Chambers and Commodity Exchanges (TOBB) of Turkey.
The panellists agreed that the Western Balkans economies need to push stronger towards improved connectivity, within the region as well as with the EU and the rest of the world, which is essential to increasing the competitiveness of the economies, creating new jobs, matching labour skills with modern market demands, involving research and innovation into business operations, etc. As a single market, the region would be economically stronger, more competitive, and a much more attractive partner for businesses and investments. Given the range of political and economic challenges that the region faces, this task is not a simple one but it is a necessary step for upgrading the regional economic appeal, preventing brain drain and showcasing its determination to catch up with the EU economic trends.
***
The RCC continues to provide support to organization of the SBF, nowadays deemed as one of the most important business events in the region.
The organizers of the 10th edition of SBF, an annual International Business and Investment Conference, are Presidency of Bosnia and Herzegovina and Bosna Bank International (BBI) BBI Bank, in cooperation with its shareholders and other international partners.