Hidden Gems of Skopje Old Town surface up with new cool mobile app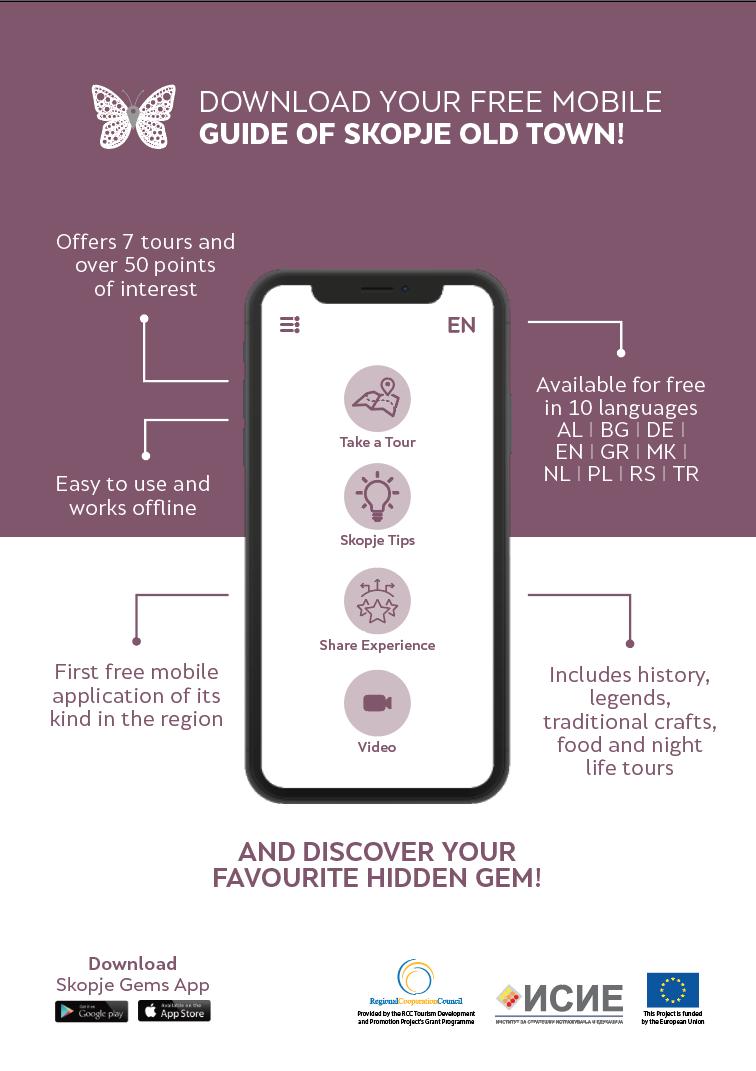 Skopje - Starting today, visitors of the Skopje Old Town, Čaršija, will be able to experience it in a completely new way. Coming to their service is the mobile application – Skopje Gems - that provides seven guided cultural tours through Čaršija and takes visitors to the doorsteps of shops owners who keep traditional crafts and cuisine alive, as well as to museums and religious and historic sites.
The application, available in ten languages, was developed by the Institute for Strategic Research and Education (ISIE) from Skopje under a grant provided through the RCC implemented and EU funded Tourism Development and Promotion Project which works to enhance and internationally promote joint regional cultural and adventure tourism offer of the Western Balkans.
"Skopje Gems mobile application is a refreshing tourism product. It shows just how technology can be applied in tourism and how destinations and local business can be promoted though storytelling made available to all through such app," said Snjezana Derviskadic, RCC's Tourism Development and Promotion Project Team Leader.
"In addition to telling the story of the Skopje Čaršija, the special added value of this application is that it will take visitors straight to their hosts, local shop owners, each of whom has her or his own story to tell which should in fact make the visit to the Old Town that more unique."
The seven cultural thematic trails are: Museum in the open; Myths and legends; Hand crafts; Jewellery making; Merchants with big smile; Food for soul; and Lights of the Old City. All together they include more than 50 stops and sights to see.
"The basic idea that led us to develop the Skopje Gems application, short of Hidden Gem of Skopje Old Town, was that we wanted to make Skopje Čaršija's cultural heritage accessible to as many people as possible. In contrast to the mainstream mass production that has taken over the world, our Čaršija still host some of the old traditional craft such as hats, slippers and candle making, blacksmithing and woodcarving. We hope to preserve those by turning them into a tourism attraction that will create long lasting memories for our visitors," said Miso Dokmanovic, ISIE's Board President.
The application available for free at App Store and Play Store will be widely promoted starting from the Skopje airport through hotels, tourism info centre, agencies, bars and restaurants, as well as online and through social media.