The Tales of 4 Fortresses - Creative History Balkans Tour enriches regional tourism offer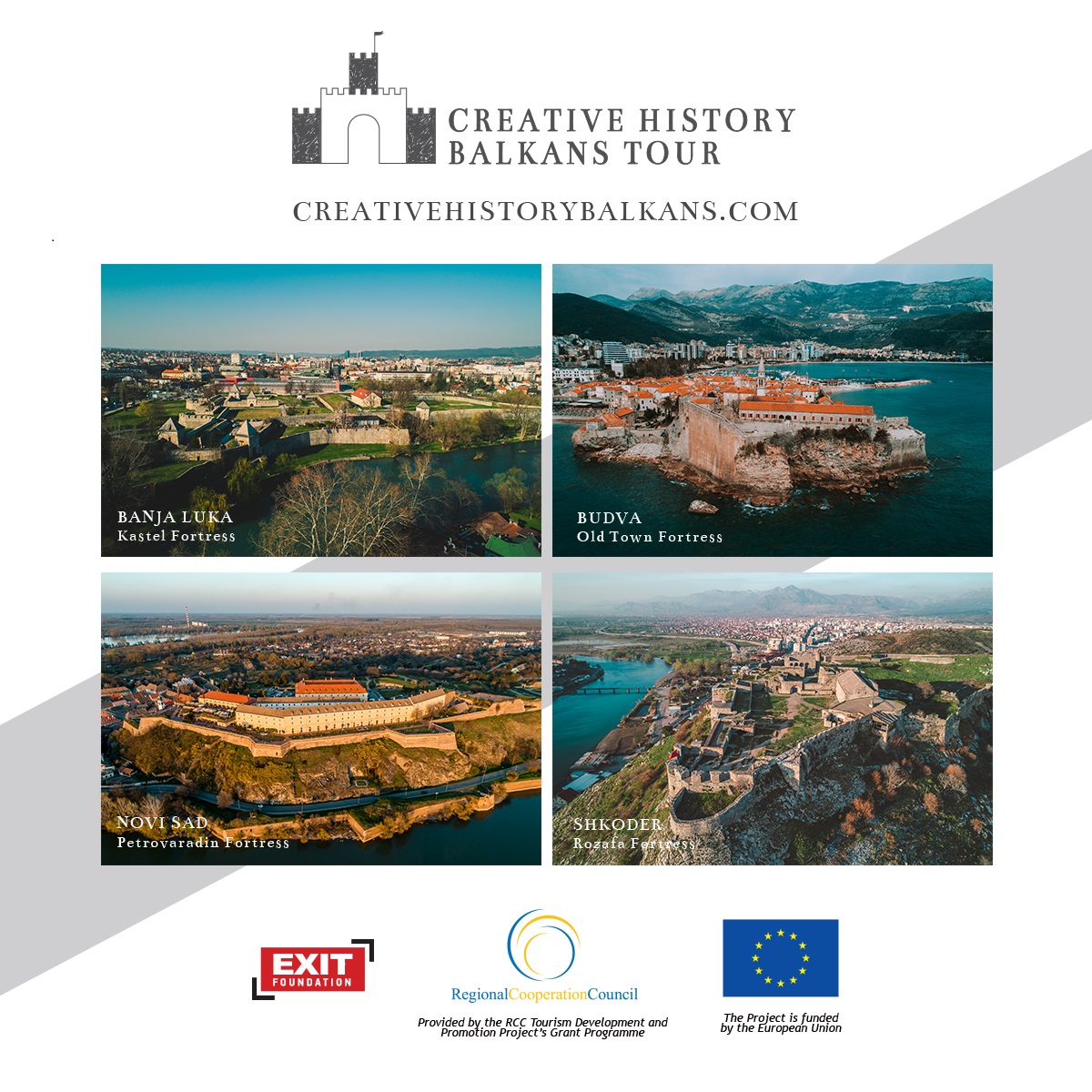 NOVI SAD – With the summer at our door, the Western Balkans cultural tourism offers just got richer. EXIT Foundation, a beneficiary of the RCC implemented and EU funded tourism development grant scheme and a winner of the RCC's champion of regional cooperation award, launched today in Novi Sad the Creative History Balkans Tour which takes visitors to four amazing fortresses in the region.
The tour starts with Petrovaradin Fortress in Novi Sad, home to EXIT - twice awarded Best Major European music festival, continues to Kastel in Banja Lula, and goes south to Citadela in Budva and Rozafa in Shkoder. Its major added value is creative storytelling and presentation of history of the fortresses.
"The Creative History Balkans Tour is an exemplary tourism product. It targets younger visitors but applies to all. By turning the legends of fortresses into personal stories of people who once lived there, their emotions and desires, it brings the history of the region closer to the visitors and makes their experience that much more special," said Snjezana Derviskadic, Team Leader of the RCC's Tourism Development and Promotion Project.
The tour will tap into the EXIT festival's 2.5-million-big fans base and will among others be promoted to the festival visitors who repeatedly expressed interest in spending more time in the region and exploring its cultural heritage once the festival ends.
"In line with our overall mission, we developed this tour in an effort to better connect the region through culture and present it to the world. We have great experience with taking the idea of EXIT festival to other parts on the region like Montenegro, Bosnia and Herzegovina, Croatia and organising music festivals there. It did not create competition for the EXIT festival it just made it stronger. We hope that a regional cultural tour of four fortresses will do the same, make the region stronger and more attractive to both international and visitors from the region," said Ida Suljanovic, EU Projects Coordinator at EXIT Foundation.
This year's EXIT festival is scheduled for 4-7 July when more than 200,000 visitors are expected in Novi Sad, and by proxy in the region.
More information about the Tour
More information about the grant