RCC continues developing tourism in the Western Balkans: 3rd call for proposals for tourism development grants published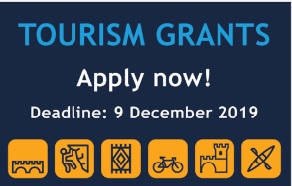 320,000 euros to fund up to 7 projects around the region
SARAJEVO – As the Regional Cooperation Council (RCC) implemented and EU funded Tourism Development and Promotion Project enters its final stage, the RCC published the 3rd Call for Proposals for the award of tourism development grants in the Western Balkans. The total value of the call is 320,000 euros which will be used to fund up to 7 different projects.
"Some 12 million people visit the region annually and this of course translates into jobs and revenues and we want that to grow and expand – towards the region utilising its full potential as a tourist destination. In the past 4 years all WB6 economies reported more international tourist arrivals and overnight stays by international tourists, but the most visits occur during the summer. We need to continue working on extending the tourist season from summer months to entire year, as we do have a lot to offer in spring, autumn and winter too," said Snjezana Derviskadic, Team Leader of the RCC's tourism project.
"This 3rd call for project proposals is open to local authorities, NGOs and non-for-profit organisations from the Western Balkans and will focus on further improvement of infrastructure and quality of services along four joint regional cultural and adventure tourism routes including Western Balkans: Crossroads of Civilisations, Illyricum Trial, Balkan Monumental Trail, as well as Via Dinarica with its full adventure and cultural corridors."
In the adventure segment, the RCC looks to fund activities that will improve the flow of visitors including digital and physical marking of trails, develop and promote new thematic and innovative adventure trails, and involve local service providers from rural areas into tourism value chain. Organization of regional outdoor and adventure festivals is also an eligible activity.
On the cultural tourism front, the grants may be used to develop storytelling and interactive and authentic on-site content that would engage visitors traveling along regional cultural routes, as well as to improve flow of tourists through installation of interpretational, directional, promotional and digital signage.
The deadline for the submission of Project Concept Notes is 9 December 2019. This is the final Call for Proposals under the current RCC tourism project. Total of 28 grants have been awarded so far in the first two calls.