Bregu: Without strategic innovation Western Balkans will not turn inventions into investments – we need to think bigger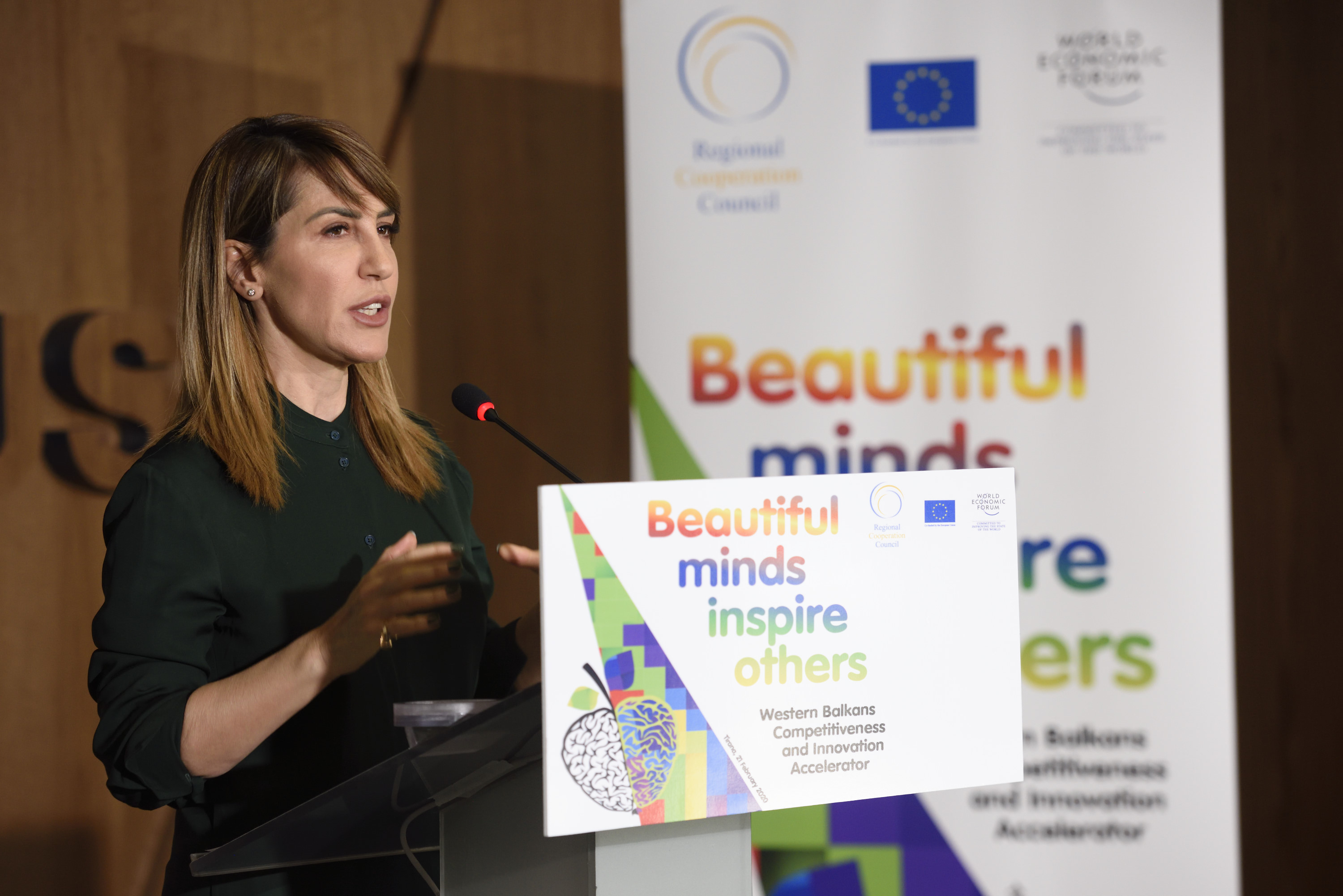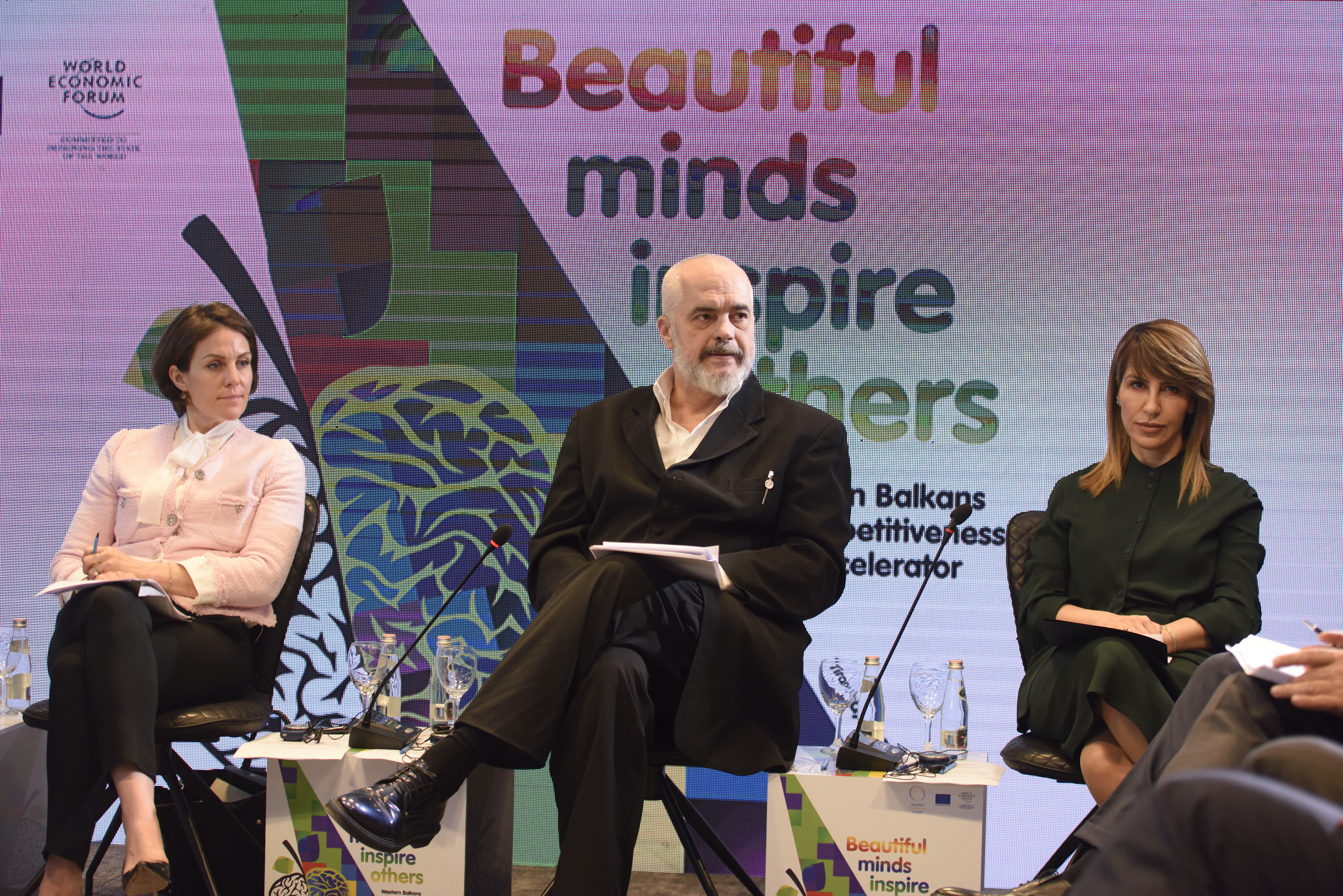 "Beautiful Minds Inspire Others": Regional Cooperation Council & World Economic Forum to help accelerate competitiveness and innovation in the Western Balkans
Tirana – "Without a strategic innovation function that can enhance the capacities to incubate and accelerate new technologies, companies in the Western Balkans will continue to stockpiling undeveloped inventions and this will not return in an investment. We risk falling into the trap of having breakthrough ideas that are incrementally executed. Innovation in the region is 33,7 % while at the level of 15 EU countries it stands at 50%. Despite this, pockets of scientific and entrepreneurial excellence thrive in our region", said Secretary General of the Regional Cooperation Council (RCC), Majlinda Bregu at the "Beautiful Minds Inspire Others" kick-off meeting on the Western Balkans Competitiveness and Innovation Accelerator, in Tirana today.

"That is why we are here today. Innovation requires thinking bigger. Rather than pigeonholing promising inventions into existing business units we have to find the robust innovation function for economic growth together. This is the very first time the outstanding World Economic Forum (WEF) is focusing on the Western Balkans. The decision was theirs, and I'm honoured RCC will be responsible for driving this trajectory in the region. Accelerators on competitiveness and innovation have been successfully implemented by WEF to boost economic development in different big countries, but this is the first time it is being implemented at a regional level. Again I feel good this moment has come, being cautiously worried that for the region soon would have been too late to shift course away from lagging behind in innovation."
The opening session, beside the RCC's Secretary General Bregu, included the host's Prime Minister, Edi Rama; Head of Regional Strategies for Europe and Eurasia, Member of the Executive Committee and Head of Regional Strategies-Europe and Eurasia at the World Economic Forum Martina Larkin; and was moderated by Eduart Shalsi, Minister of State for Promotion of Entrepreneurship of Albania.

"We are very pleased to be in Tirana today with the Ministers across the Western Balkans as well as CEOs from regional and international businesses to kick-off the World Economic Forum's Competitiveness and Innovation Accelerator in the Western Balkans, which at the same time will be the first regional accelerator in the Forum's Global Accelerator Network. The Strategic Dialogue on the Western Balkans is a key initiative of the Forum and we will continue working closely with the economies in the Western Balkans to support the future-oriented agenda that will enable economic growth, increase in competitiveness and readiness for the Fourth Industrial Revolution in the region," said Martina Larkin.

Prime Minister Rama concluded that this will be a great challenge for everyone – a challenge we cannot face alone, separated from each other, and added that the more good examples of interaction we give to the EU, the more the EU will respect our efforts and be ready to partner and accept the region.

Today's meeting brought together Ministers dealing with innovation and competitiveness from the region - Anila Denaj, Minister of Economy and Finance of Albania; Stasa Kosarac, Minister of Foreign Trade and Economic Relations of Bosnia and Herzegovina; Rozeta Hajdari, Minister of Economy, Employment, Trade, Industry, Entrepreneurship and Strategic Investments of Kosovo*; Nina Angelovska, Minister of Finance of North Macedonia; Mladen Sarcevic, Minister of Education, Science and Technological Development of Serbia; and Sasa Ivanovic, State Secretary for Science at the Ministry of Science of Montenegro; as well as representatives and World Economic Forum partners to agree on key priorities for the development of the Action Plan, formalize the establishment of the Leadership Group and the role of the Regional Coordinator, as well as to outline 2020 activities and milestones for the Accelerator.
***
The Western Balkans Competitiveness and Innovation Accelerator is a public-private leadership collaboration platform aimed at supporting the region to improve its competitiveness and ensure long-term growth. Last November the RCC and the World Economic Forum signed Memorandum of Understanding on accelerating region's competitiveness and innovation by setting up this regional Accelerator.
SPEECH BY RCC SECRETARY GENERAL MAJLINDA BREGU
* This designation is without prejudice to positions on status, and is in line with UNSCR 1244 and the ICJ Opinion on the Kosovo declaration of independence.