Bregu: Cooperation is crucial in having effective response to fight the pandemic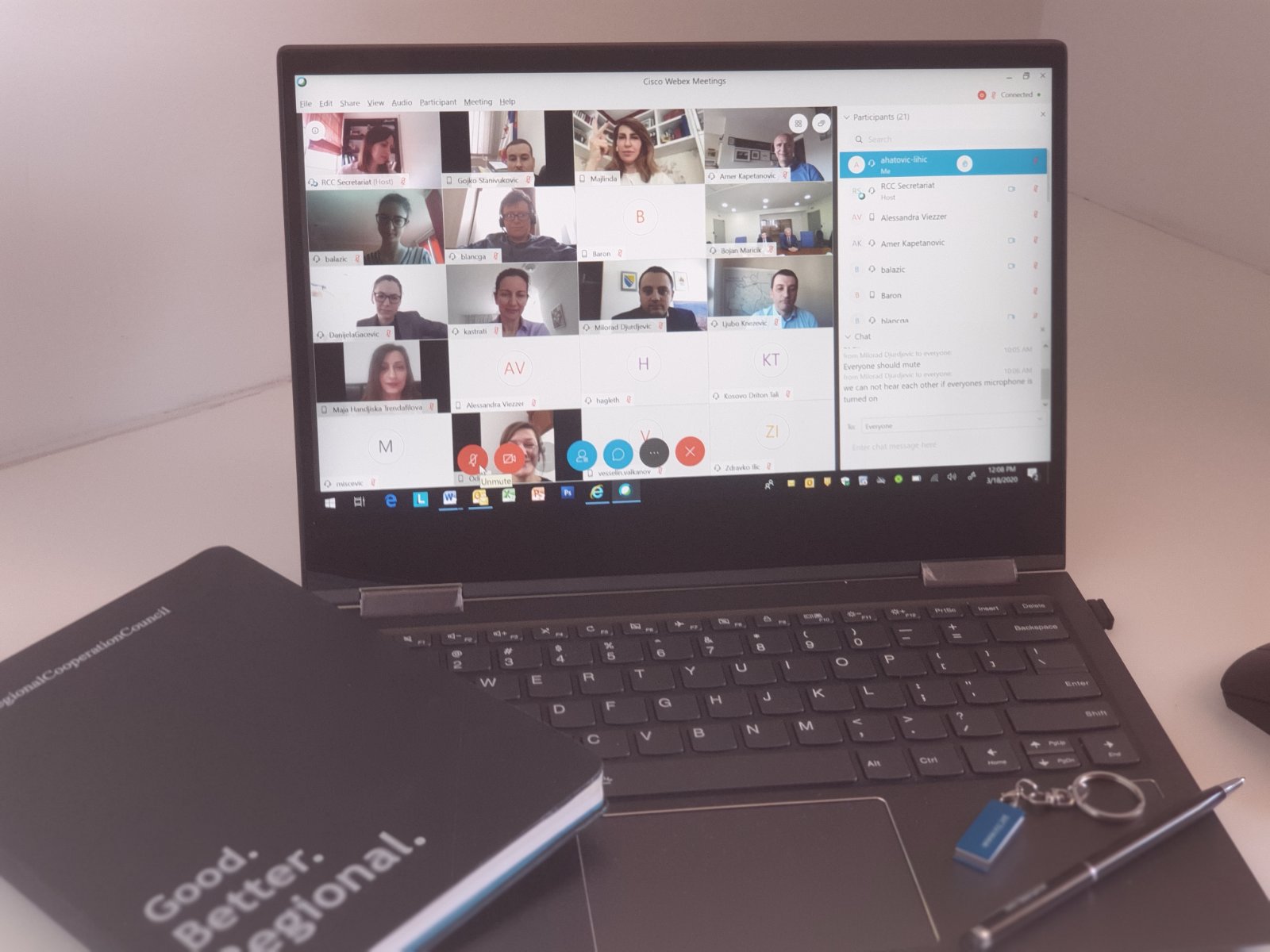 Region unites over need to establish green corridor within the region and with the EU
RCC hosts video-conference consultations with representatives of six Western Balkan Governments, EU and other regional stakeholders on joint actions to mitigate consequences of pandemic caused by Covid-19
Sarajevo – "These are days of rapid developments by a minute, both at the level of EU and our region and timing, information sharing and coordination is of essence. Cooperation is crucial in having the effective response to fight the pandemic. It is of utmost importance to leave the corridors open for the region to supply on medicine, medical equipment and food in the first place. We have the responsibility to act urgently and make a decisive contribution in ensuring the continuity of economic activity, preserving the operation of supply chains and preventing the worsening of the social and economic difficulties that our region is already experiencing", said Majlinda Bregu, Secretary General of the Regional Cooperation Council (RCC), addressing the participants of the video conference.
The meeting participants, including representatives from Governments of Albania, Bosnia and Herzegovina, Kosovo, Montenegro, North Macedonia, Serbia, European Union (EU), Transport Community (TC), and Central European Free Trade Agreement (CEFTA) presented respective situations in their economies/fields of work and future plans, with all actors in the region stressing the vital importance of establishing green corridors within the region and EU.
"The RCC is ready to continue facilitating this information sharing platform among all relevant stakeholders, and also widen the network to all our South East Europe participants, and neighbouring countries, with regular communication to check the situation on the ground and review the options for tackling it. Our next steep, as agreed, is to prepare joint conclusions to enable the region to work on setting up a green corridor enabling smooth circulation of goods within the region and beyond. It will build upon the principles of ensuring economic continuity, avoiding disruptions to the delivery of goods and essential services across Western Balkans and beyond, to protect health and livelihood of our citizens", said Bregu, adding that the regional request towards the EU would be to allocate the unused IPA funds for the potential emergency requests from the region.
Today's online meeting is part of the regional response to the global crisis caused by corona virus pandemic, posing primarily health risks for the citizens but also causing significant economic losses due to lockdowns of economies. To this date, four out of six Western Balkan economies have declared national emergency, with over 400 citizens infected with COVID-19.
#StayHome #StaySafe #StayHealthy #WorkingFromHome #BetterTogether
*This designation is without prejudice to positions on status, and is in line with UNSCR 1244 and the ICJ Opinion on the Kosovo declaration of independence.