Heart of Sarajevo for the Best Student Film 2020 goes to Zeynep Dilan Süren for "The Great Istanbul Depression"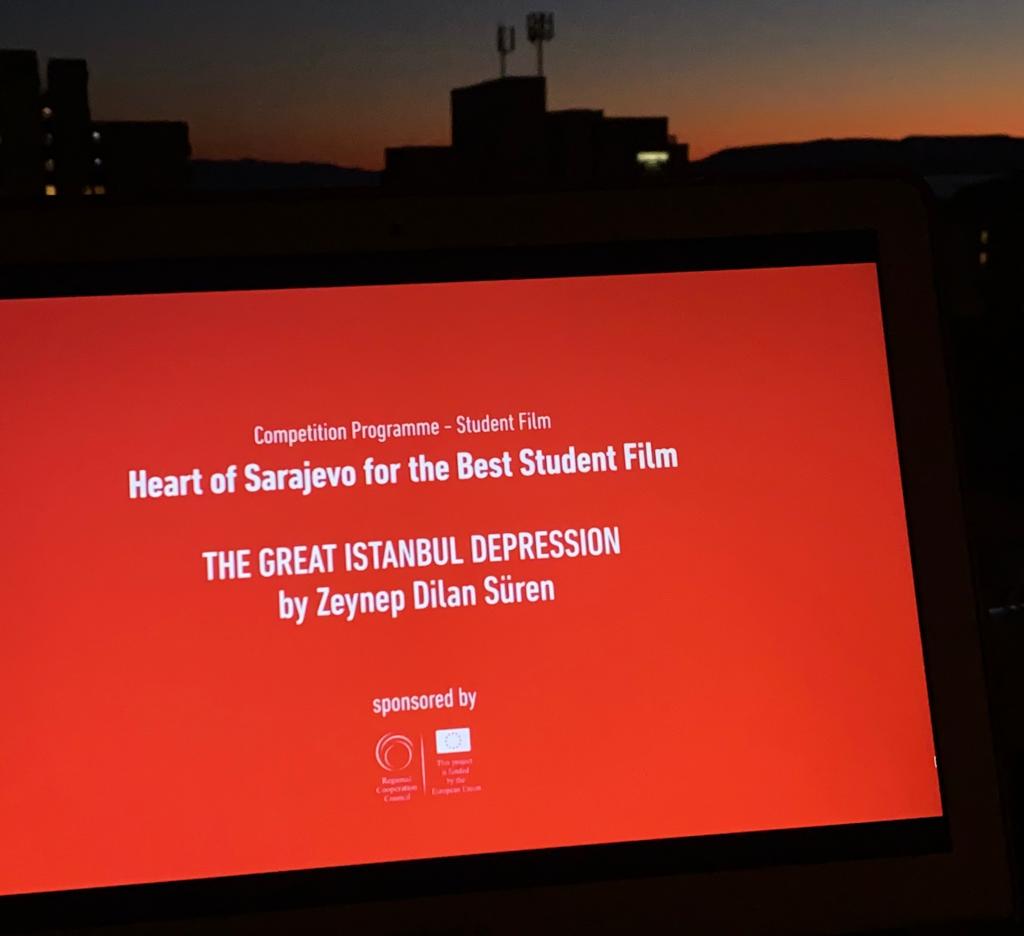 The Best Student Film Award Powered by RCC since inception of this competition category
Sarajevo – The Regional Cooperation Council (RCC) is delighted to confirm that the young director Ms Zeynep Dilan Süren from Turkey with the movie "The Great Istanbul Depression" won the Heart of Sarajevo for the Best Student Film, an award Powered by RCC since the inception of this competition category in 2017, at the official ceremony at 26th edition Sarajevo Film Festival (SFF), held last night in an online format.
"I am very proud that in cooperation with SFF we are supporting young filmmakers from our region as SFF has become a serious industrial platform that can help young people in their professional development, which is exactly what the RCC is also doing. Therefore I am very happy that this year's award for the best student movie goes to a young woman from South East Europe, from Turkey. Bravo, Aferin Zeynep! Our sincere congratulations go to you and your team! It is not easy to make a success in this region, especially for a young woman, but we hope this award will help you to jump start a very long, fruitful and successful career! It indeed is youth time!" said Majlinda Bregu, RCC Secretary General.
The RCC has been supporting the student film at Sarajevo Film Festival for 4 years now. This year, the competition in this category was among 15 great films from the region and wider, 10 of which had the world, 3 international and 2 regional premieres. The winning movie "The Great Istanbul Depression" is about two girls, Didem and Ayşe, who aren't able to find jobs, even though it has been a while since they graduated from university. They cannot find a way to earn money; neither can Didem concentrate on writing nor Ayşe on drawing. At the edge of the metropolis, they are stuck between the skyscrapers rising amid the terrace of their home and the ruined apartment buildings. WATCH THE MOVIE.
"We are glad to have RCC as our partner, who has been the sponsor of the Heart of Sarajevo Award for the best student film for the fourth year in a row. Support for young people is of great importance - SFF through its various programs works on education and promotion of young film workers. We are happy to have directors who were in the Talents Sarajevo program, this year they are participating in the Competition Program - student film with their films. Sarajevo Film Festival remains a platform for development, support and we are glad to have an RCC partner in that," said Mirsad Purivatra, SFF Director.
More information about the festival
More information about previous laureates for the best student film is available at the following links:
https://www.rcc.int/news/559/heart-of-sarajevo-for-the-best-student-film-2019-goes-to-nikola-stojanovic-for-sherbet
https://www.rcc.int/news/413/film-last-call-directed-by-hajni-kis-winner-of-the-heart-of-sarajevo-for-the-best-student-film-at-2018-sarajevo-film-festival
https://www.rcc.int/news/413/film-last-call-directed-by-hajni-kis-winner-of-the-heart-of-sarajevo-for-the-best-student-film-at-2018-sarajevo-film-festival