Bregu: With joint border crossing points Western Balkans could save 800 mil euro a year – we should set them among WB but also with EU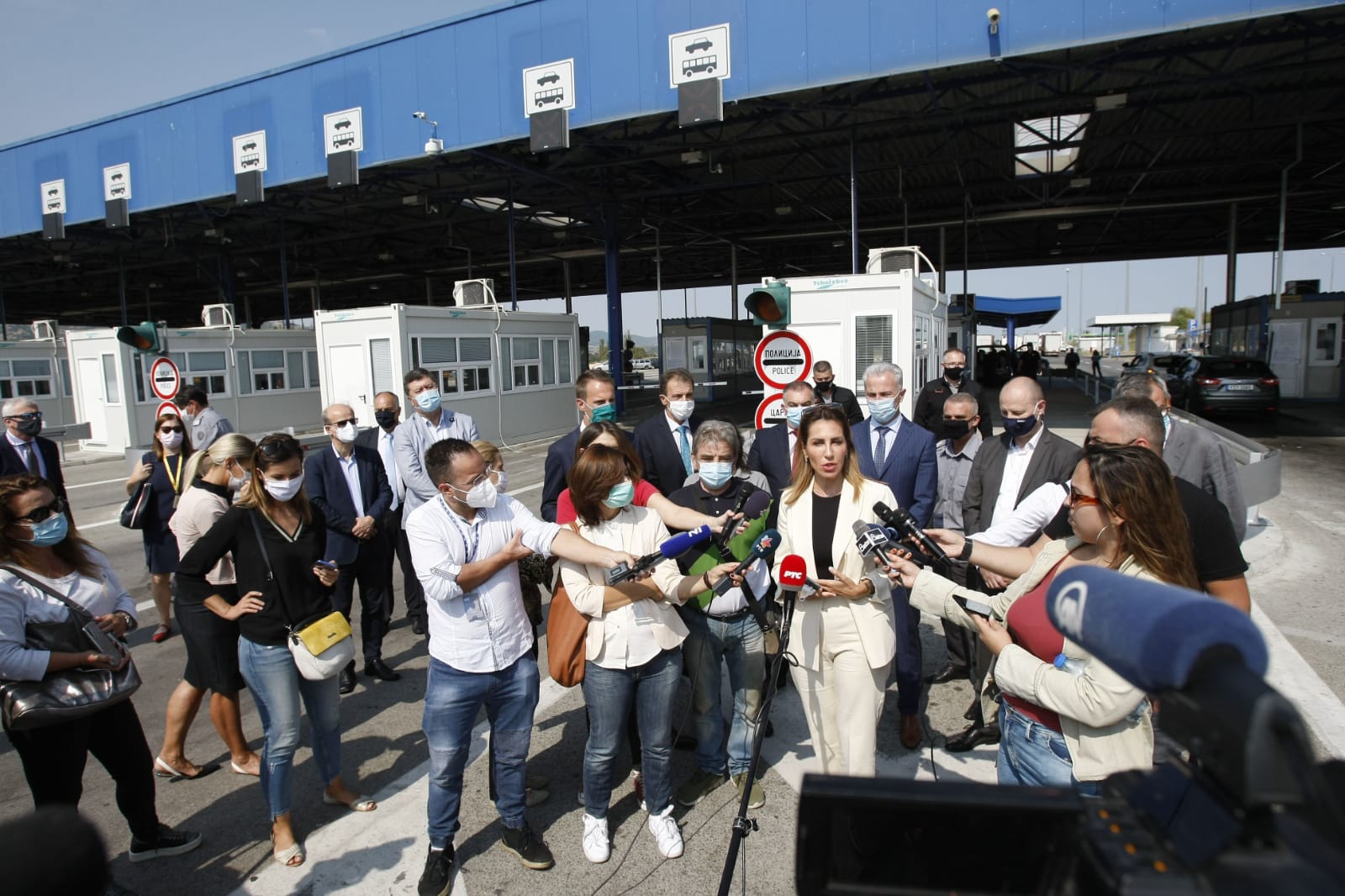 Sarajevo/Skopje/Belgrade – "If we would have more joint border crossing points and if those would be working 24/7, with all the regulation in place, phytosanitary procedures and customs regulations eased down, than we would, as a region, save 800 million EUR per year," said Majlinda Bregu, Secretary General of the Regional Cooperation Council (RCC), at the press conference at Tabanovci border crossing between North Macedonia and Serbia held today.
"The RCC initiated the green lanes during the pandemic lockdown together with the Transport Community Treaty Secretariat, CEFTA, European Commission and governments of six Western Balkan economies (WB6) that smoothed down the flow of goods and medicines in the region, and you will remember how anxious we were all about it at the beginning. We started with the flow of 2000 trucks per day, queuing for long hours, even up to 20hrs, at a border crossing point. You should not forget that if a truck driver keeps losing so much time he would spend 80% of his life at the border crossings. But this as well has an economic impact, because every minute a truck driver is late, 2 euros are lost. Make a calculation how much we lose as a region," added Bregu.
The press conference has been co-organized by the RCC, the Transport Community Secretariat, CEFTA and the Customs Administrations of North Macedonia and Serbia. The press conference, besides Ms Bregu, has been addressed by Emir Djikic, Director of the CEFTA Secretariat, Matej Zakonjsek, Director of the Permanent Secretariat of the Transport Community, and representatives of customs of North Macedonia and Serbia.
"Now we are at 13,000 trucks per day, and figures might be even higher. Truck drivers do not have to queue for so long hours, and this convinced us that whenever there is cooperation things will improve in the region. Now we should get not only our 14 WB border crossings a joint one that work 24/7, including phytosanitary regulation and certificates all in one place, but we also need to push for having green lanes between Western Balkans and EU member states," concluded Bregu.
***
Western Balkans 6, the Regional Cooperation Council, the Transport Community Treaty Secretariat and CEFTA, with the support of the European Commission and our bordering EU member states, helped governments in the region to set and open Green Lanes, a very much needed measure in the given situation to maintain the flow of goods, especially food, medicines and medical equipment within the region and between the region and the EU in the time of lockdown caused by the coronavirus outbreak.