Bregu: Economic integration among the Western Balkans 6, and with the EU, is the most important in this moment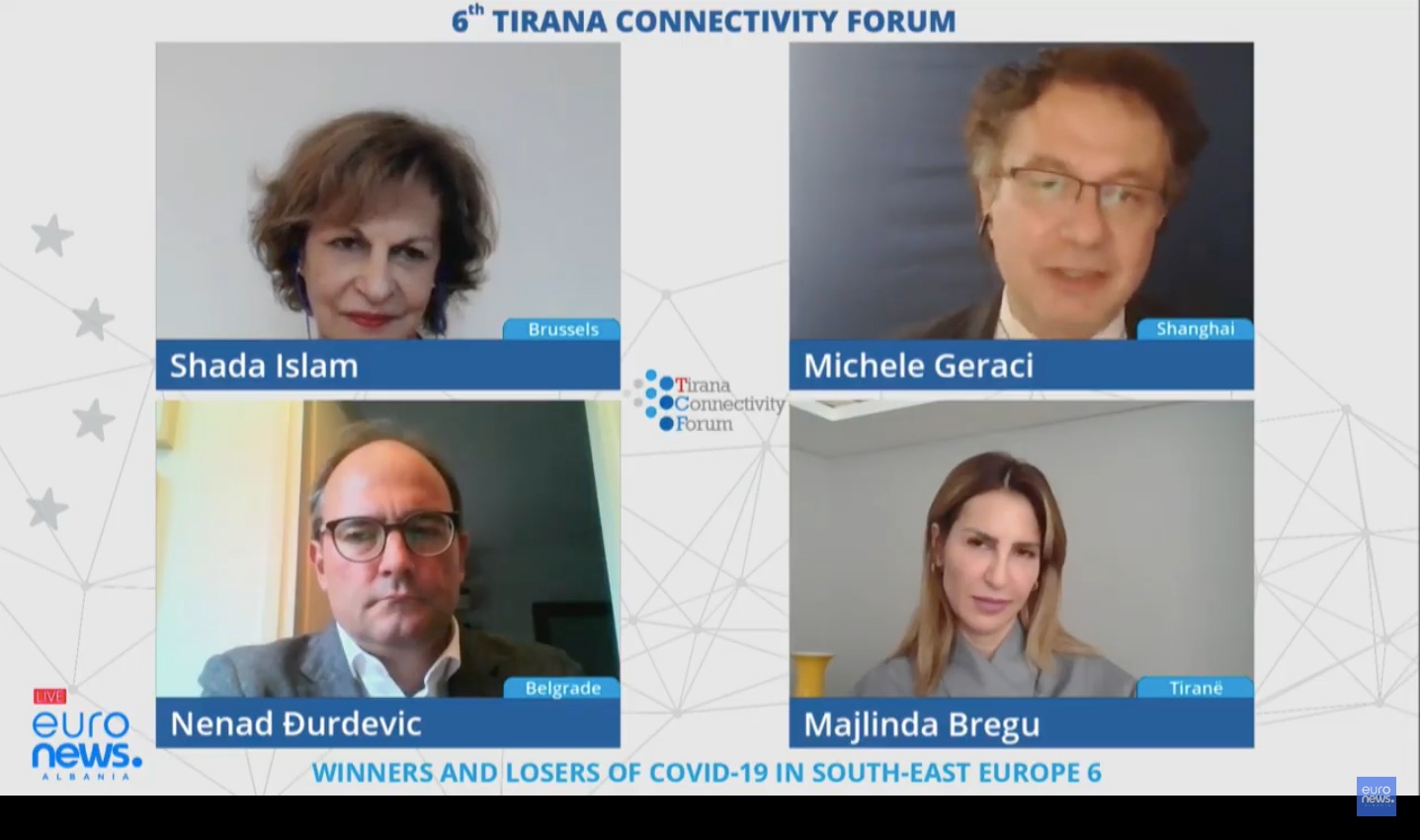 Tirana/Sarajevo – "I believe that closer relations in the process of European integration of the region, especially economic integration among the Western Balkans (WB) 6, and with the EU, are the most important in this moment. Because regional economic integration of the WB is not a self-standing process, but an instrument to increase region's convergence with the EU single market principles. This can help WB to participate in the EU value chains, to make SMEs more international, to upskill people and technologies" said Secretary General of the Regional Cooperation Council (RCC), Majlinda Bregu, at the Tirana Connectivity Forum (TCF)'s Panel 'Winners and Losers of Covid-19 in South-East Europe' held in Tirana today.
"To put this in the perspective, here is the snapshot of the general situation. The regional growth is forecasted to be between -3 and -5.6%, while FDI decline for 2020 is already at 40%. The region's current account deficit is at 6% of GDP, the highest level in the last 5 years. The pace of employment growth in the Western Balkans fell to 2.0% from 4.0% in the preceding quarter. International tourist arrivals decreased by 56% in the first months of the year, with numbers in May down by 98%; 1 in 5 trips booked for 2020 had been cancelled, while 42% tour operators had already released staff," added Bregu.
"These figures are clear indication that the regional cooperation has to continue, especially focusing our efforts on the maximum level of economic integration possible within the region and with the EU. It is possible, the region showed it during the pandemic lockdown by opening green lanes. That has to be widened now to other areas too. We need to increase the FDI in the region too, to serve the economic development. Some estimates show that regional economic integration can generate 1% - 3% of GDP should the level of integration reach EFTA level and between 2% and 14% in case of EU level of integration. So, regional economic integration, a common market, is the way we should pursue," concluded Bregu.
Beside Ms Bregu, the panel moderated by Shada Islam of New Horizon Project from Brussels, included Michele Geraci, Former Under-Secretary of State for International Trade, Ministry of Economic Development Italian Government, and Nenad Djurdjevic, Advisor to the President of the Managing Board of the Western Balkans Chamber Investment Forum.
****
Tirana Connectivity Forum (TCF) is an annual event that started in 2015. It is covering connectivity, reforms and enlargement in the South Eastern Europe region. TCF is organized, coordinated and administered by Cooperation and Development Institute, Tirana. This year the RCC is co-organizer of this distinguished Forum. More information is available at https://cdinstitute.eu/about-tcf/