RCC Tourism Project's FUTOURISMO competition entering into its final phase with 17 shortlisted projects Six best Western Balkans projects aimed at helping region's tourism to be awarded 15.000 EUR each, at a ceremony tomorrow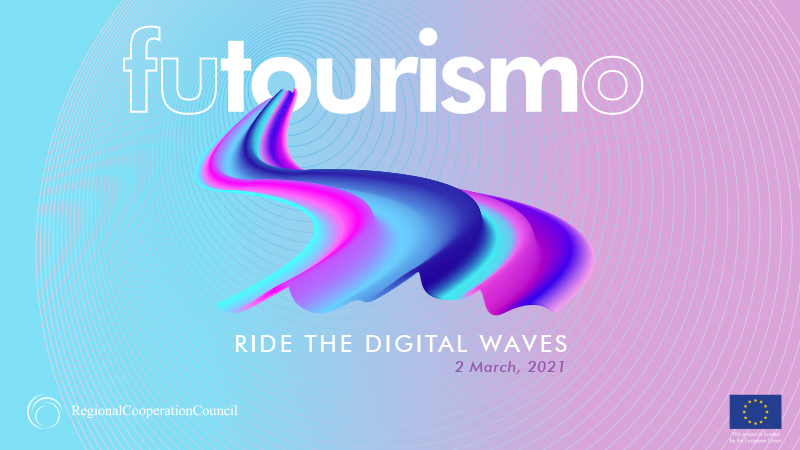 Sarajevo/Tirana – On 3 February 2021, the Regional Cooperation Council (RCC) and its Triple P Tourism Project launched the 1st regional FUTOURISMO competition, seeking innovative digital solutions that will help mitigate the negative impact of the COVID-19 pandemic in the heavily affected sector of tourism.
In the past month, 84 teams from all Western Balkans Six sent their digital solutions aiming to positively contribute to the Western Balkans tourism in terms of keeping jobs, maintaining their operations and promoting the region as a tourism destination, out of which 17 projects made it to the shortlist and will present their ideas to a jury of seven tourism and technology professionals during the FUTOURISMO Awards event which will take place tomorrow. The best 6 projects will be awarded a prize of 15.000 EUR each in order to develop their proposed ideas.
The FUTOURISMO Awards event will be livestreamd on Tuesday, 2 March 2021, from 11:00 to 13:30 CET on Facebook pages of RCC and Tourism Project, https://www.facebook.com/RegionalCooperationCouncil, https://www.facebook.com/TourismProjectsRCC
The event will be opened by:
• Ms. Majlinda Bregu, Secretary General, Regional Cooperation Council
• Mr. Colin Wolfe, Head of Unit, Directorate-General for Neighbourhood and Enlargement Negotiations, European Commission
After a short video presentation of the teams, each team will have 2 minutes to present their project to the Jury members and answer Jury's questions, which will be followed by a jury evaluation after which the RCC Secretary General Majlinda Bregu will announce the 6 winning projects.
Find more information about the competition here https://www.rcc.int/futourismo