RCC to present Western Balkans SecuriMeter - the first-ever regional Public Opinion Survey on Security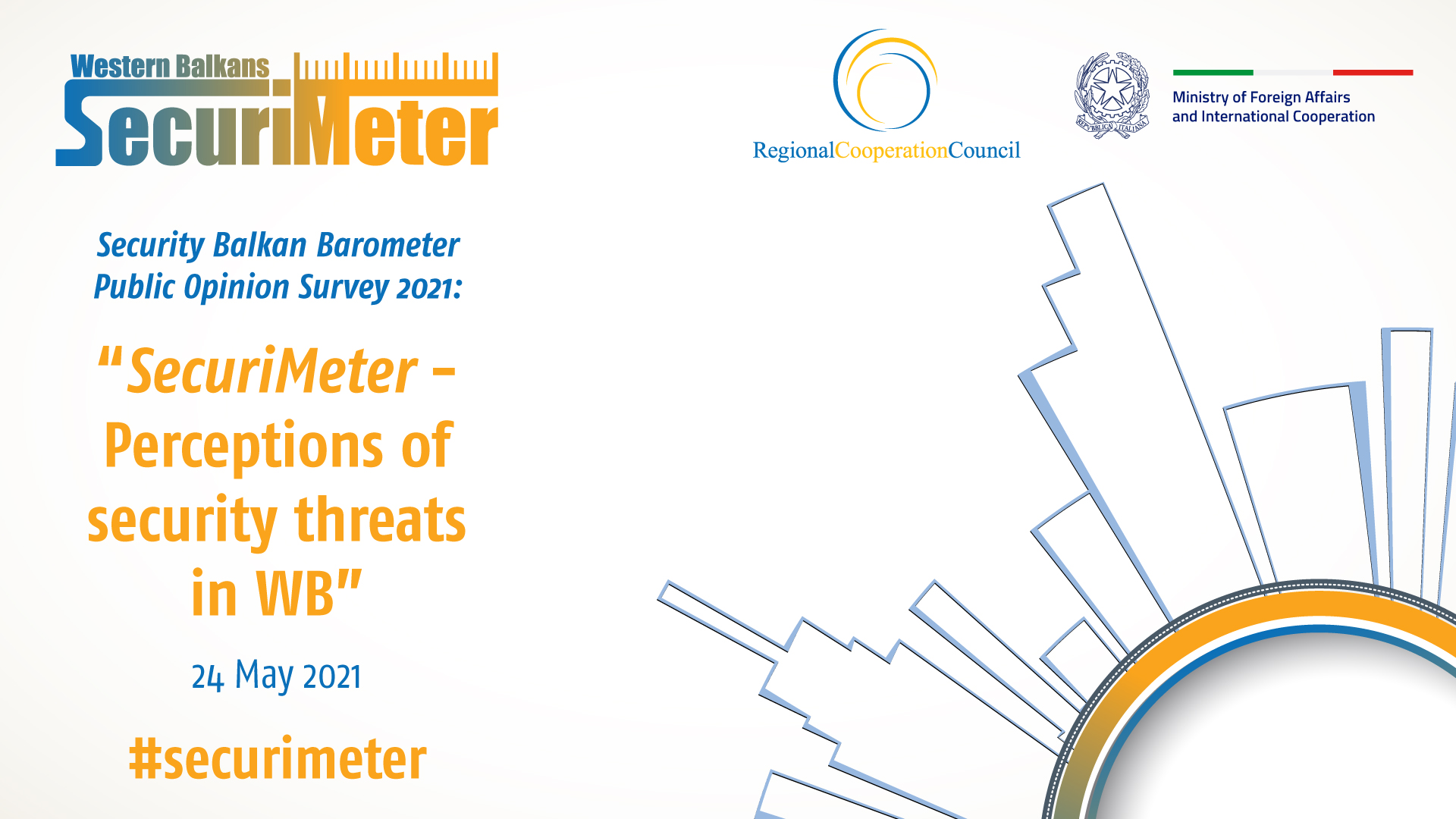 64% of Western Balkans citizens are satisfied with security situation in our region
Sarajevo - The Regional Cooperation Council (RCC) with support of Italian Ministry of Foreign Affairs and International Cooperation will present the first-ever regional Public Opinion Survey on Security issues – Western Balkans SecuriMeter on Monday, 24 May 2021, starting at 10:00 CET. The presentation can be followed on Zoom and live on RCC social media channels, Youtube and Facebook.
If you ever wondered what Western Balkans citizens think about security, organised crime, migrants, online radicalisation, owing a gun, or fake news, the SecuriMeter gives the answers to those questions in an attempt to help inform interested regional stakeholders and provide better understanding of the overall regional security.

The survey reveals that the region finds it very important to also work regionally on addressing security challenges in the Western Balkans, such as combating terrorism, fighting organised crime and strengthening border security, in order to ensure the internal security of the region. In this respect, the highest importance was given to addressing the challenges related to serious and organised crime and financial crime (92%), followed by work on combating terrorism (88%), migrant crisis (86%), and violent extremism and cybersecurity (84%).
Launch will be opened by the RCC Secretary General Majlinda Bregu together with high level representatives: Eric Folkestad, Brigadier General, Commander, NATO HQs Sarajevo; Andrea Cascone, Adriatic and Western Balkans Director, Directorate General for the European Union, Italian Ministry of Foreign Affairs and International Cooperation; and Constantin Prevelakis, Coordinator of the French centre of expertise on security in South-Eastern Europe, French Embassy in Serbia.
The SecuriMeter represents the next chapter in the steady evolution of the region's foremost survey of public opinions Balkan Barometer and is portraying attitudes towards current security challenges and trends in the Western Balkans.
The presentation will be livestreamed at:
www.facebook.com/RegionalCooperationCouncil/
www.youtube.com/user/RCCSec
You can register to follow directly on Zoom here.
More info with agenda
***
The Western Balkans SecuriMeter is the first-ever Public Opinion Survey on Security issues conducted by Indago among more than 6.000 citizens of the Western Balkans as a venture of the Regional Cooperation Council in cooperation with IISG, UNDP/SEESAC, MARRI, DPPI- SEE and OBCT.