Bregu: 70% of Western Balkans citizens are afraid their children or young relatives might be radicalised online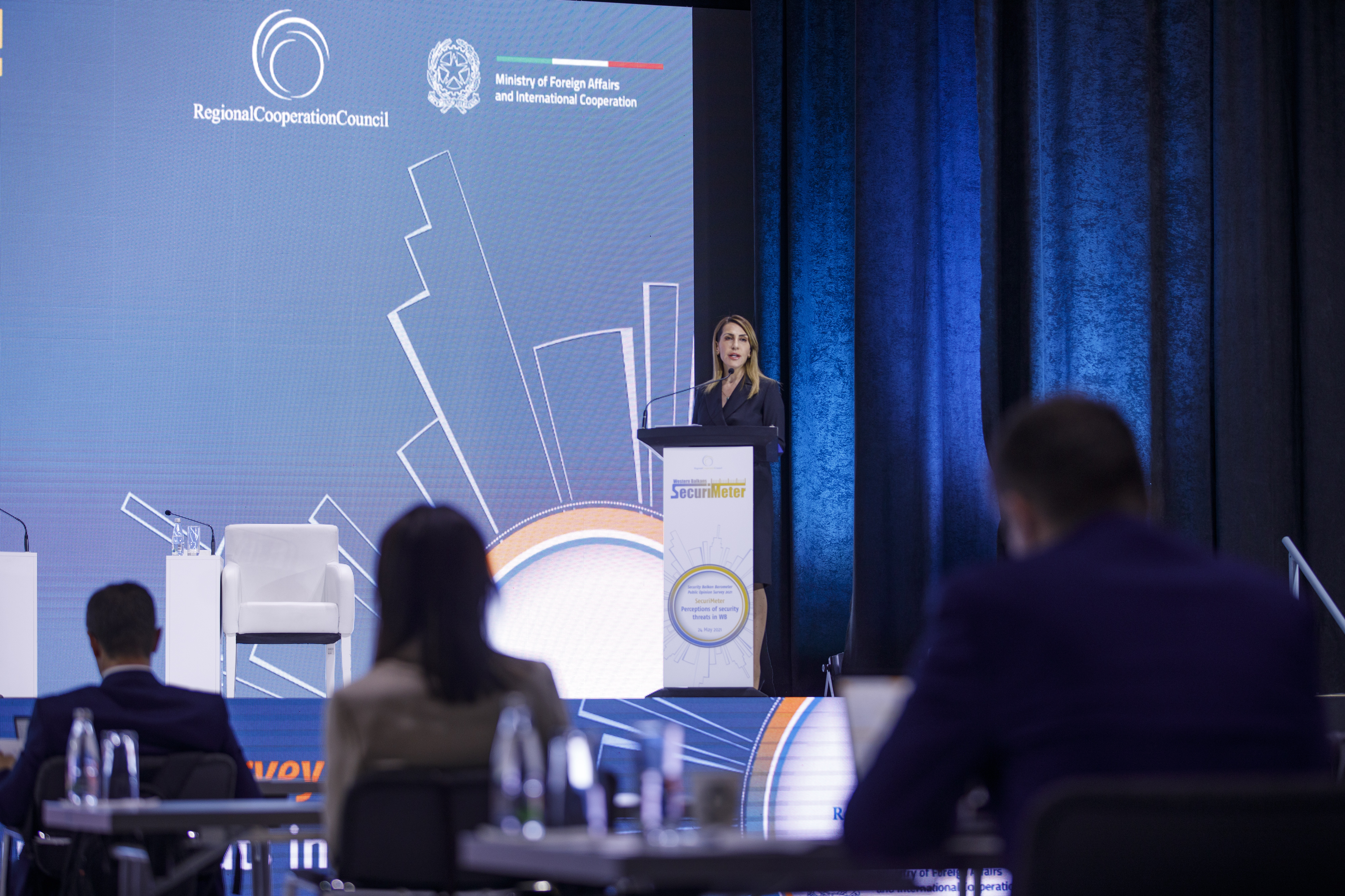 RCC present Western Balkans SecuriMeter - the first-ever regional Public Opinion Survey on Security
Sarajevo – "The current global pandemic made it clear that security threats are not taking any time off. The region finds it very important to work on addressing the security challenges in the Western Balkans. It is quite interesting that 55% of those 82% who point out organised crime as the main security threat say it is corruption that fuels its existence," said Secretary General of the Regional Cooperation Council (RCC) Majlinda Bregu at the presentation of the first-ever regional Public Opinion Survey on Security issues – Western Balkans SecuriMeter, in Sarajevo today.
CHECK OUT SecuriMeter database & short VIDEO recap
"Today we notice with pleasure that when asked how law enforcement authorities are doing in fighting terrorism, 56% of WB citizens strongly support their actions, but when it comes to transnational organised crime 48% are unsatisfied. For 70% of Western Balkans citizens, security threats have now been transferred to the digital world and they are afraid that their children or young relatives might be radicalised online. When asked about the impact of disinformation, 76% of citizens across the region consider disinformation as a new way of warfare, almost the same figure as 77% of those who see fake news as a big problem," added Bregu.
The Western Balkans SecuriMeter reflects the voice of the people of the region in a number of crucial matters, ranging from organised crime, migrants, online radicalisation, to disaster prevention, hybrid threats and disinformation. With this survey, which will be done annually, we are opening a new chapter in regional cooperation in the field of security by introducing to the wider public a tool which aspires to be of great usefulness and relevance for both institutions and citizens.
The Securimeter presentation, organised by the RCC with support of Italian Ministry of Foreign Affairs and International Cooperation, besides the RCC Secretary General has been opened by Eric Folkestad, Brigadier General, Commander, NATO HQs Sarajevo and Andrea Cascone, Adriatic and Western Balkans Director, Directorate General for the European Union, Italian Ministry of Foreign Affairs and International Cooperation.
The first-ever Western Balkans SecuriMeter - Public Opinion Survey on Security issues was conducted by Indago among more than 6.000 citizens of the Western Balkans in January and February 2021 as a venture of the Regional Cooperation Council in cooperation with IISG, UNDP/SEESAC, MARRI, DPPI- SEE and OBCT.
Full presentation is available here.