RCC to recognise Western Balkans Women Entrepreneurs of the Year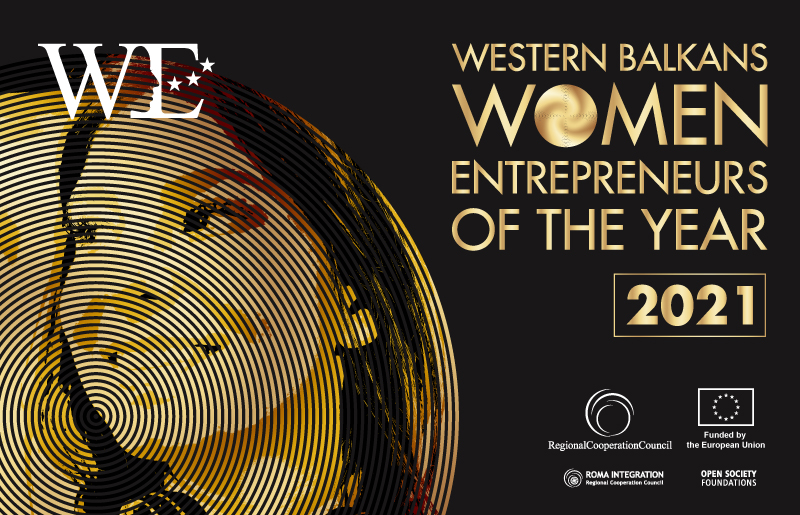 Nominations for women entrepreneurs in 6 categories are open until 4 March 2022
Sarajevo – The Regional Cooperation Council (RCC) has a pleasure to announce that we are launching the Western Balkans Women Entrepreneurs of the Year initiative, one that will hopefully become a tradition, to recognise women who have started and developed their own business and contributed to new and sustainable jobs for other women and men in our region.
Women entrepreneurs are vital contributors to the prosperity of the Western Balkans. Their hard work, innovative thinking and unwavering commitment truly helps our economies grow and our societies thrive. Through this initiative it is our intention to give a humble recognition to those brave and fierce women who dared to fight stereotypes and make the change.
The nominations are opened until 4 March 2022 and anyone can nominate a woman that is a citizen of and owns a business that operates in Albania, Bosnia and Hercegovina, Kosovo*, Montenegro, North Macedonia and Serbia. The RCC will select six women entrepreneurs to be presented with the Western Balkans Women Entrepreneur of the Year recognition in 6 categories: Green Woman Entrepreneur, Creative Woman Entrepreneur, Travel and Hospitality Woman Entrepreneur, Roma Woman Entrepreneur, Startup Woman Entrepreneur, and Young Woman Entrepreneur.
The specially established judging panel will select the winners, who will be announced and presented with the recognition at the Regional Conference for Women Entrepreneurs in the Western Balkans event on 11 March 2022 in Tirana, Albania, which will gather women entrepreneurs from all over the region, including the decision-makers, academia, and representatives of international organisations. The winners will also have an opportunity to present their businesses at the event.
The six Western Balkans Women Entrepreneurs of the Year (2021) will get a mentorship support for up to 20 days during a period of 5 months; membership and contributor's status in the Regional Women Entrepreneurs Hub (RWEH); promotion through RCC communication channels; and invitation to various RCC-organised events to showcase their success stories.

You know a woman just like this? We encourage you to nominate her! We invite everyone to take part and nominate their Western Balkans Woman Entrepreneur of the Year and provide our regional community with women entrepreneur role models, and we know we have many! Good luck to all!
****
This initiative is being organised in the framework of the Common Regional Market Action Plan 2021-2024 and RCC Women Economic Empowerment Agenda. The project is co-financed by the European Union.
*This designation is without prejudice to positions on status, and is in line with UNSCR 1244/1999 and the ICJ Opinion on the Kosovo declaration of independence