Bregu: To have wider choices, earn more, and live better - Choose STEM Future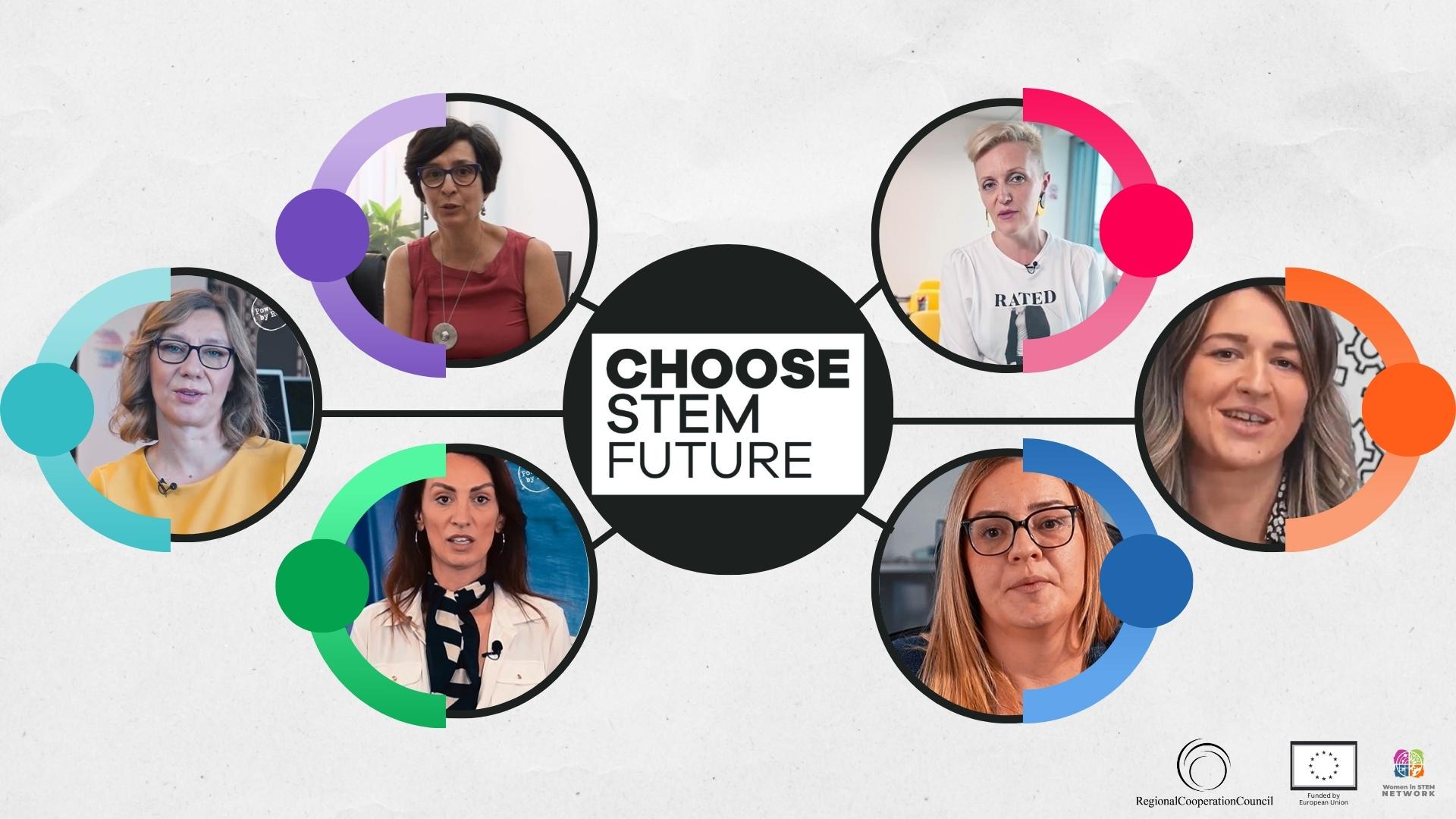 RCC launches a campaign to encourage young women and girls across Western Balkans to choose careers in STEM
Sarajevo – The Regional Cooperation Council (RCC) is launching a campaign dubbed "Choose STEM future" to encourage young women and girls to pursue careers in STEM (science, technology, engineering, and math) by bringing forth inspiring role models of successful women in STEM profession from the Western Balkans (WB). This campaign was created as part of the regional Women in STEM Network, a joint initiative of the RCC and the United Nations Development Programme (UNDP).
"65% of today's children will one day work in a job that does not exist yet. By 2030, between 40 and 160 million women will need to transition into roles requiring more complex digital, social, and emotional skills. Globally, in cutting-edge fields such as artificial intelligence, only one in five professionals is a woman. Growing and adapting our own skills and being up to date with new technologies is incredibly important for youngsters, women in particular, so is staying creative and open-minded as their future job might not exist just yet. So, if you want to have better job choices, earn more, live better, like Anica, Anila, Jana, Jasminka, Valentina, and Zana, who you'll meet in the stories we'll share with you in the next days, Choose STEM future. That is the best advice I can give you," said RCC Secretary General Majlinda Bregu announcing the start of the "Choose STEM future" campaign.

Six remarkable women, to whom we are grateful for agreeing to be the face of the "Choose STEM future" campaign, are:

Anica Pavlovic, MSc in electrical engineering and computer science
"Our accomplishment is that we built a generation of future innovators who will change this word for better."
STEM has become Anica's love since her early childhood, because of stories about famous scientists. She has completed her studies in Electrical Engineering and Computer Science in Belgrade. Founding an Innovation Centre has helped her to include more and more kids in STEM. Hobbies such as photography and sport are part of her everyday life.
Anila Paparisto, PhD in Biology
"By embracing science, we all embrace a path guiding us to happiness & creation of better society."
Constantly embracing science, challenges and incredible passions outside the office as well, Prof. Dr. Anila Paparisto has about 25 years of experience in scientific research in the field of Animal Biology, Education and teaching Biological Sciences. During the academic career, Prof. Paparisto has been involved in both national and international research, including also projects in the field of entomology, systematic and biodiversity, invasive species, insects as bio-indicators of river pollution and biological education.

Jana Klopchevska, PhD in food technology
"If you choose a STEM profession you will have many challenges, but you will be able to create your own free time."
Jana has completed her education in food technology and her post-doctoral studies at the Paracelsus Medical University in Salzburg. She started her entrepreneurship journey 6 years ago, and currently works on innovative projects on molecular gastronomy.
Jasminka Hasic-Telalovic, PhD in engineering
"Wisdom, strength and competence have no gender. We have to dismantle all gender barriers so our societies can make a full use of their talents."
An experienced academic, now a professor of Computer Science and Information Systems at Sarajevo based SSST University, Jasminka made a remarkable career in research of data science, artificial intelligence, bioinformatics, algorithms and machine learning.
Valentina Radulovic, MSc in natural science
"Women are the pillar, not only of family and society, but also of entire economy."
Valentina build a 17-year long career in telecommunications industry holding leading positions in big companies. Today, she is an entrepreneur, consultant, a mentor and a lecturer, and in her own words, she is free to work and manage her time the way she wants.
Zana Tabaku, Professor of English language turned leader of an ICT company
"It is crucial to have more women in STEM, because diversity enhances technological innovation. That is the future."
Zana didn't start her career in STEM, she graduated English Language and Literature. However, she recognised ICT potential from early on and changed her career path and her future. Now, Zana is leading an ICT company in Pristina, but also mentoring and inspiring young and talented women.
Join us as we follow their stories and discover why and exactly how they chose to pursue careers in STEM on RCC social media channels.