European Commission's Director General for Enlargement visits RCC Secretariat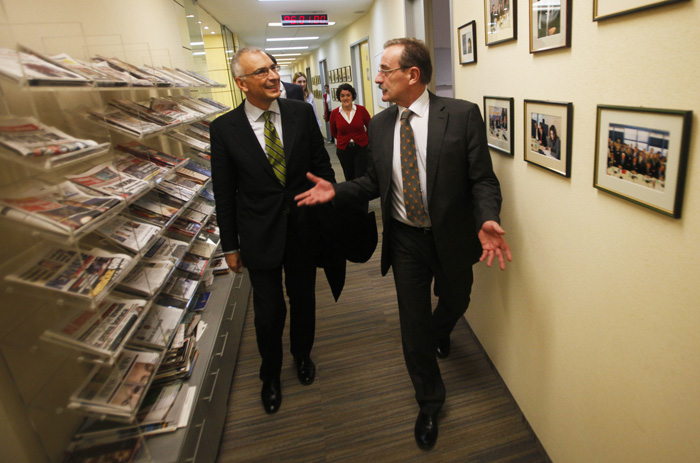 Director General for Enlargement of the European Commission, Stefano Sannino, visited the Regional Cooperation Council (RCC) Secretariat in Sarajevo today, to discuss regional cooperation with RCC Secretary General, Hido Biscevic.
Secretary General Biscevic informed about RCC activities and implementation of the organization's Strategy and Work Programme 2011-2013, designed to support a lasting consolidation of peace, stability, and economic and social development of South East Europe.
The two officials talked about political situation in South East Europe and the region's European integration, in view of the Commission's Enlargement Package 2011-2012, published last month.
"Regional cooperation is an important element of European integration, which in turn is an indispensible tool for a durable stabilization of the region. In this context, we also discussed the future RCC role", said Director General Sannino.
"The RCC's role in the context of the Enlargement Package is of particular importance. This is why we very much welcome implementation of the RCC Strategy and Work Programme 2011-2013, as it has been aligned with EC recommendations."
Secretary General Biscevic underlined a need for the region to reflect on the findings of the Enlargement Package, work out the unresolved bilateral issues, and focus on concrete, development-oriented cooperation, particularly in the field of transport infrastructure.
"By upgrading regional ownership to enhanced regional responsibility, delivering concrete and visible results to the benefit of the people of the region and relying on the stimulating effects of the EU enlargement policy, we could produce the best response strategy to the needs of the countries from the region. This can become an effective, long-lasting contribution to enhancing positive developments in South East Europe."
The two officials agreed to continue meeting on a regular basis to evaluate progress in the region and the contribution the two institutions can make in this respect.