Regional Cooperation Council Board meets in Sarajevo today, adopts budget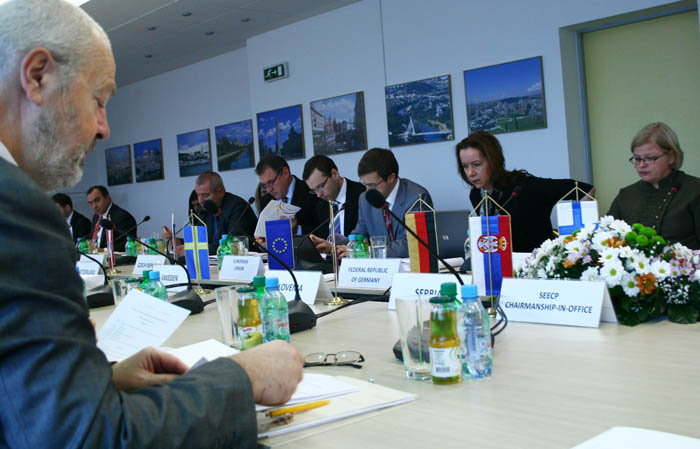 The Board of the Regional Cooperation Council (RCC) reviewed today in Sarajevo the activities of the organization over the past three months, adopted the RCC Secretariat's budget for 2012, and provided guidance for the future work of the organization.
"Despite residual complexities, South East Europe has continued to move forward, creating conditions for enhanced regional cooperation, ownership and responsibility", said Hido Biscevic, RCC Secretary General, in his report on the activities of the organization's Secretariat since September 2011 to the 28-member supervisory Board.
"This progress is also recognized in the European Commission's Enlargement Package 2011-2012. In the period ahead, the RCC Secretariat will focus on aligning its work more closely with the Package priorities, to foster EU accession of the enlargement countries."
In this light, Secretary General Biscevic informed about ongoing initial discussions on the ways to enhance, consolidate and stabilize regional cooperation.
The report reflects progress in implementing the RCC Strategy and Work Programme 2011-2013, with the main achievements including: the transfer of the South East European Investment Committee from the Organisation for Economic Co-operation and Development (OECD) to the RCC; the adoption of the Regional Strategic Document on Justice and Home Affairs, its action Plan, and monitoring and evaluation mechanism; development of regional security cooperation mechanisms; the establishment of the Task Forces on Culture and Society and on the Sustainable Energy Development Regional Initiative; as well as the signing of a protocol on regional cooperation in education and training among members of the European Association of Public Service Media in South East Europe.
The Board members stressed the need for the region to find ways to respond to the harsh effects of the current economic crisis by pooling resources around infrastructure and transport projects. The project of reconstructing and modernizing the railways systems in South East Europe was referred to as having a great potential.
At the meeting, Secretary General Biscevic shared information on the work planned for the next three months and on the coordination of activities between the South-East European Cooperation Process (SEECP) Troika (Montenegro, Serbia and The Former Yugoslav Republic of Macedonia), the European Commission and the RCC Secretariat.
The RCC Board meets quarterly and is chaired by the RCC Secretary General. The Board provides the RCC with operational guidance and supervision. It consists of those RCC members contributing to the budget of the RCC Secretariat as well as the European Union.