RCC Secretary General, BiH Foreign Minister meet in Sarajevo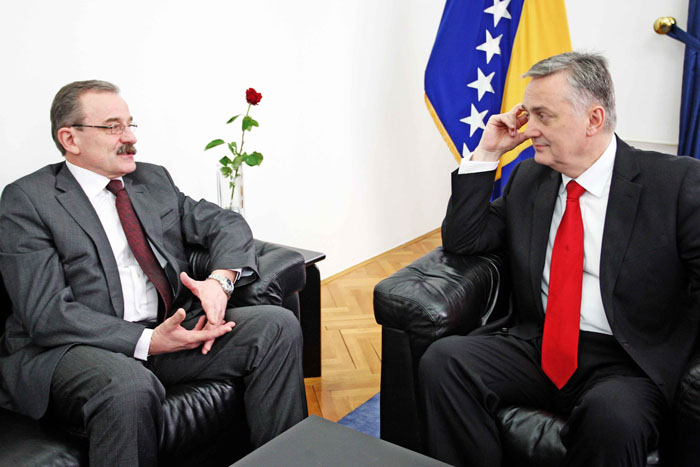 Secretary General of the Regional Cooperation Council (RCC), Hido Biscevic, held consultations with the new Minister of Foreign Affairs of Bosnia and Herzegovina, Zlatko Lagumdzija, in Sarajevo today.
Secretary General Biscevic informed Minister Lagumdzija of the evolution of the RCC since its establishment four years ago, as well as the ongoing discussion on possible new focus of the organization after 2013, amid current discussions about the future of the South-East European Cooperation Process (SEECP), of which the RCC is an operational arm.
In this context, the RCC Secretary General drew attention to a possible further alignment of RCC activities with the regional dimension of the EU accession process in South East Europe.
"The enlargement process needs to continue to avoid imbalance in the region. Croatia's accession in 2013 and recently-awarded candidacy status to Serbia are very encouraging. Giving Montenegro and Serbia a date for the start of accession talks would be the next logical step."
Secretary General Biscevic also welcomed the recently reached agreement between Belgrade and Pristina on participation of Kosovo in regional fora as an important contribution to an inclusive regional cooperation.
"In sum, I see three important preconditions for further development of South East Europe: continued EU enlargement, consolidation of regional cooperation, and implementation of regional developmental projects. As for the latter, we at the RCC are especially keen to see the Ljubljana-Istanbul railway and the Zagreb-Belgrade waterway reconstructed and restored, which would also benefit Bosnia and Herzegovina."
Minister Lagumdzija singled out regional cooperation as a priority of Bosnia and Herzegovina's foreign policy and pointed to the importance for the country of the RCC being seated in Sarajevo. He underlined that the RCC, as the only homemade regional structure, needs to be supported on a political, awareness-raising and technical level.
The meeting was part of the RCC Secretary General's regular consultations with political leaders in South East Europe to exchange views on developments in the region and perspectives of enhancing further regional cooperation as a key element on the way towards EU membership.