Press Releases
Istanbul conference creates platform for further advancing women entrepreneurs' networks in South East Europe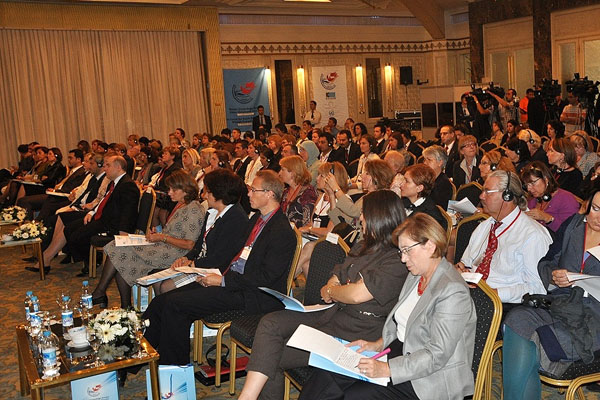 ISTANBUL/SARAJEVO – Participants of the First Forum for South East European (SEE) Women Entrepreneurs, agreed today in Istanbul to create a permanent platform for the exchange of experiences and good practices and promote further advancement of women entrepreneurs' networks in the region.
The Forum was organized by the Small and Medium-sized Enterprise Development Administration of Turkey (KOSGEB) and the Regional Cooperation Council (RCC) Secretariat, in cooperation with the United Nations Economic Commission for Europe (UNECE), under the auspices of the Government of the Republic of Turkey.
This two-day event targeting women entrepreneurs who intend to expand or innovate their businesses is part of a project developed by the RCC Secretariat and the UNECE, and launched in Sarajevo in October 2009.
The project addresses five main issues faced by women entrepreneurs in South East Europe: networking opportunities through regional forums, policy design, reliable statistics through the development of relevant indicators, access to credit through innovative financing schemes and the improvement of specific knowledge and skills through capacity building efforts. The activities of the project are designed to address these difficulties and foster women's entrepreneurial potential. A joint statement to this end was also adopted by the Forum participants.
Opening remarks were delivered by the RCC Secretary General, Hido Biščević; Minister of Family Affairs of Turkey, Selma Aliye Kavaf; Minister of Industry and Trade of Turkey; Nihat Ergün; President of KOSGEB, Mustafa Kaplan; Head of Balkans Department at the Ministry of Foreign Affairs of the Republic of Turkey, Gül Büyükerşen Oral; and Senior UNECE Social Affairs Officer, Malinka Koparanova.
"Women entrepreneurs from SEE can and should give a strong contribution to the development of the region, reviving of economic growth and job creation", said Secretary General Biscevic in his opening remarks.
"It takes courage, know-how and perseverance to launch a business and make it succeed. I am confident that today's meeting will provide a starting base for a strengthened networking among women entrepreneurs in SEE. You can count on RCC's support for this very important initiative."
Biscevic recalled that launching of the project coincided with the renewed emphasis by the European Commission on a more entrepreneurial Europe and on women's entrepreneurship, which is considered a priority pillar within the recently enacted European Small Business Act.
"As the countries of the region move towards EU accession, we look up to EU member states to contribute to this important regional initiative through their wealth of knowledge, expertise and resources. I am confident that by joining forces, we can achieve what is best for the well-being of our people and the development of our region."
Participants of the event included national women entrepreneurs associations as well as prominent individual women entrepreneurs from South East Europe.
More information about this event, including joint statement and presentations, is available HERE.
More news