Press Releases
Serbian Prime Minister Aleksandar Vucic visits Regional Cooperation Council Secretariat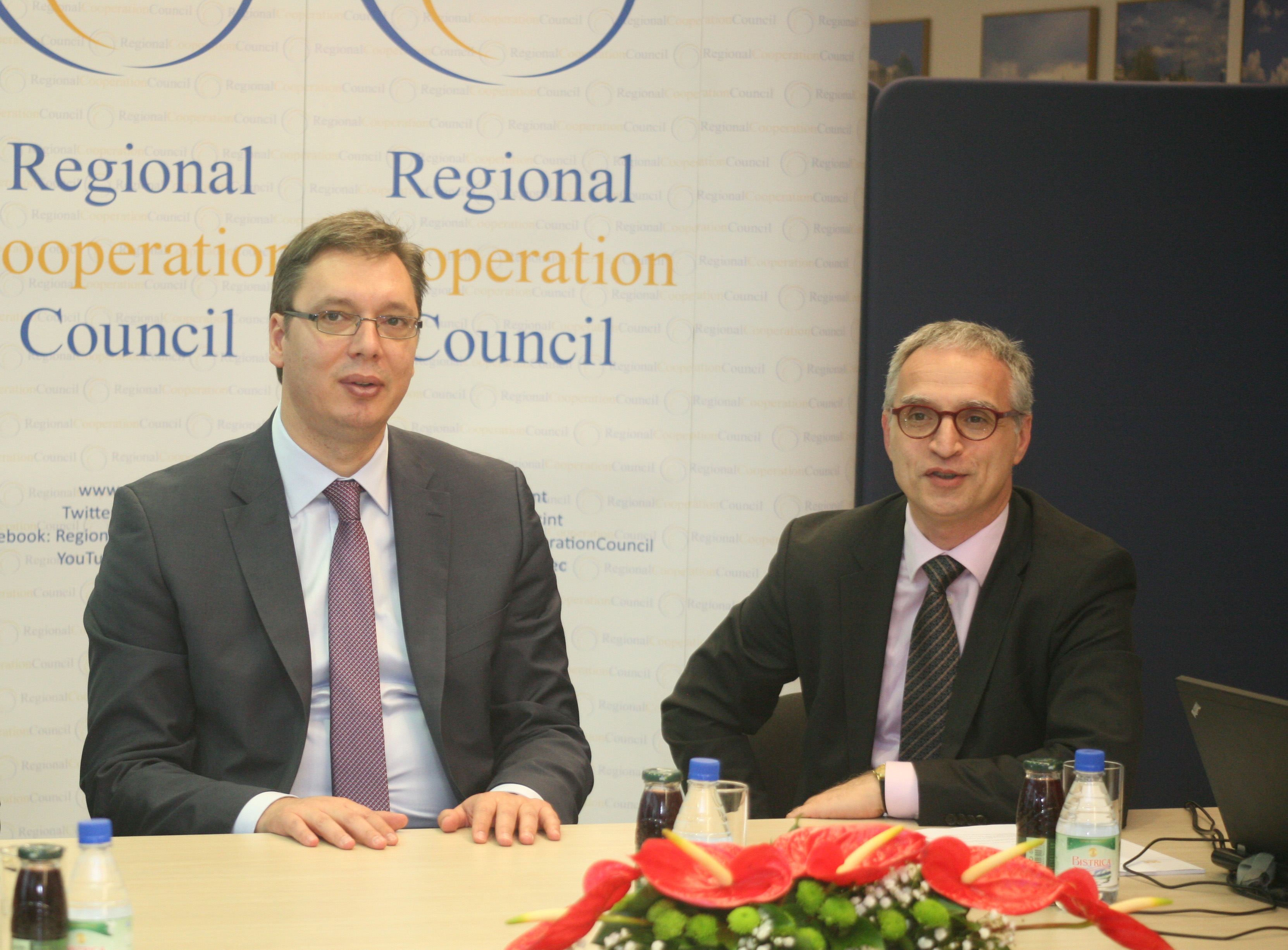 SARAJEVO – Regional Cooperation Council's (RCC) Secretary General Goran Svilanovic welcomed Serbian delegation led by the Prime Minister Aleksandar Vucic at the RCC Secretariat in Sarajevo today.
While congratulating Prime Minister Vucic on the appointment and the new mandate of his Government, Secretary General Svilanovic highlighted the importance of the Government's continued commitment to regional cooperation.
"Serbian Government has shown great courage in tackling very sensitive issues, primarily in terms of fight against corruption, organized crime and recession, while at the same time continually enhancing cooperation in the region. We are certain that the Government headed by Mr Vucic will embark on difficult economic and social reforms which will improve the living conditions of Serbian citizens and lead the country towards the European Union (EU) on the fast track. On this path, Serbian Government can expect full support by the RCC through implementation of regional growth strategy "South East Europe 2020: Jobs and Prosperity in a European Perspective".
Svilanovic also underlined the importance of cooperation of all countries in the region to tackle region's largest issue – high unemployment rate, and other detrimental social effects of the economic and financial crisis.
Prime Minister Vucic expressed satisfaction over the meeting with the RCC Secretary General and once again underlined Serbia's full dedication to enhancing good neighbourly relations.
"Busy days and big challenges are ahead of Serbian citizens. I primarily here refer to the crucial economic reforms the present Serbian Government will implement, taking account of the strong support citizens of Serbia voiced during the elections. The process has started. Even in the course of this month, Serbian National Assembly will pass several reform laws the Government prepared."
Speaking to the RCC Secretary General, Prime Minister Vucic said that strengthening cooperation with the countries of the region remains the top priority of his Government as one of the prerequisites of Serbia's EU accession.
The visit to the RCC Secretariat was a part of the one-day official visit of the Serbian Prime Minister to Bosnia and Herzegovina. Serbian delegation, including Lazar Krstić, Minister of Finances, Đerđ Matković, Foreign Policy Advisor to the Prime Minister, Suzana Vasiljević, Media Advisor to the Prime Minister, Stanimir Vukičević, Ambassador of Serbia to Bosnia and Herzegovina, and Gordana Božić, Minister Counselor at the Embassy of Serbia to Bosnia and Herzegovina, has also met with the country's top officials.
More news