Press Releases
RCC connecting SEE and Turkish business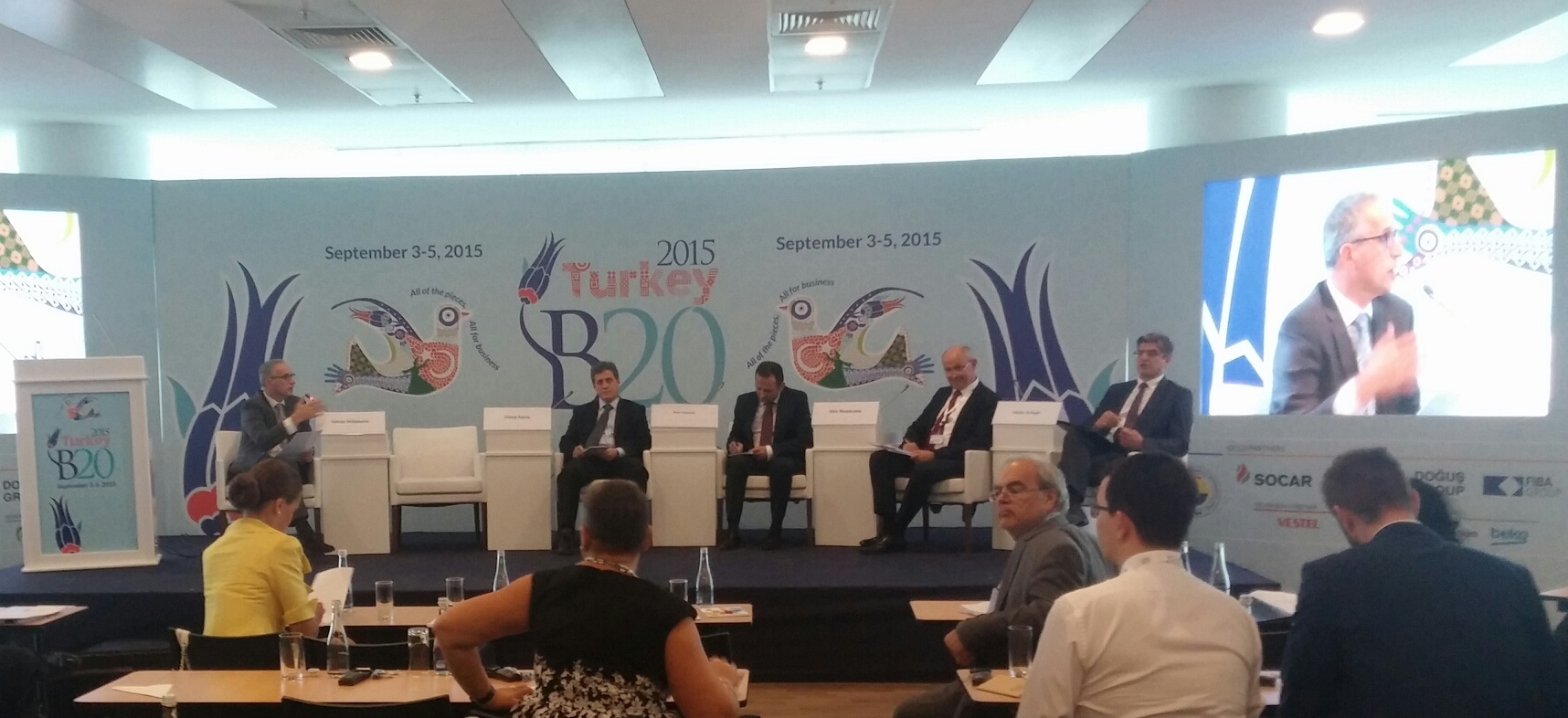 "There is a lot of noise about more and better economic cooperation between Turkey and South Eastern Europe. It is time to turn that noise into harmonious music."
This quote by Esen Caglar, the Deputy Director of the Economic Policy Research Foundation of Turkey (TEPAV) sums in a nutshell the panel discussion held today in Ankara as a part of a major B20 meeting. The panel, co-organised by the Regional Cooperation Council (RCC) and the Union of Chambers and Commodity Exchanges of Turkey (TOBB), was an integral part of the B20 meeting of businesses and governments from G20 countries ahead of the next summit of the 20 most developed world economies later in the year.
Better economic links between South Eastern Europe (SEE) and Turkey and joint endeavours on other global markets are a necessity, said Ender Yorganicilar, the Deputy President of TOBB adding "it is high time we found new ways to address that necessity."
Chairing the panel, Goran Svilanovic, Secretary General of the RCC emphasised that opening new jobs, enlarging regional trade and raising SEE's GDP are a must for growth in the region. Apart from doing that between ourselves, said Svilanovic, "we need to connect beyond our borders and strengthen links with high-growth countries like Turkey, an important and viable partner".
Many speakers emphasised the geographical proximity, cultural similarities, and complementarities of the economic structures of SEE and Turkey which offer a lot of space for synergy, still far from being fully utilised. Despite the similarities, there are also differences; Turkey having four times the population of SEE and an expanding economy while the SEE ones are contracting.
Today's meeting in Ankara also saw the launch of a major Report conducted by TEPAV and commissioned by the RCC and TOBB. It offers a detailed analysis on the Business Synergies and Connectivity between South Eastern European Economies and Turkey. The report's findings include Diagnostics with an emphasis on future growth potential; Identifying underutilised areas of business opportunities and Outlining of ideas and recommendations to policy makers, chambers of commerce and cluster managers on concrete joint action projects.
The methodology for this study, said Mr. Caglar, "was a 'bottom up' one, looking primarily at different products, cities, needs and visions at the micro level. And, focusing also on connecting the actual reality on the ground with those who can change that reality – Governments, Businesses, NGOs…" Potential priority areas for boosting cooperation could be trade, investments, education, human capital, energy and infrastructure.
Goran Svilanovic described the report as "a comprehensive instrument of economic diagnostics which shows the complementarities between SEE and Turkish businesses, key strategic areas of government to government collaboration, and also contains project ideas and policy recommendations to inspire the private sectors of the SEE end Turkey for business ventures." The full version of the Report will be available on the RCC and TEPAV website next week.
Today's discussion in Ankara also included Timur Kaymaz, one of the main authors of the TEPAV-RCC Report; Maya Dobreva, Director of SEE Directorate and RCC National Coordinator, at the Ministry of Foreign Affairs of Bulgaria (SEECEP Chair in Office), Gizep Sayın, CEO Office Coordinator of Şişecam; Bojan Stojanoski, Vice General Manager of Halkbank Skopje; Alex Munteanu, Chair of the SEE Business Advisory Council and Sanjin Arifagic, SEE 2020 Strategy Coordinator at the RCC.
More news