Press Releases
"EU incomplete without the Western Balkans"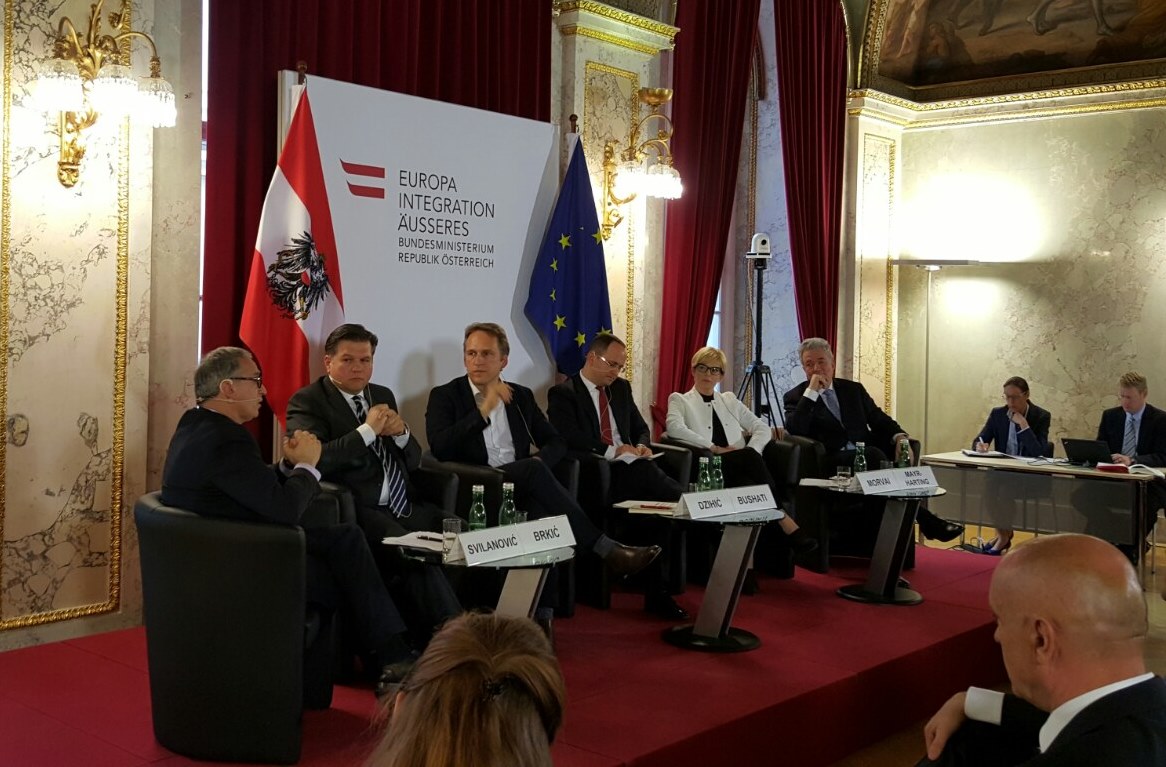 Vienna/Sarajevo – An impressive public panel hosted last night by Austrian Minister for Europe, Integration and Foreign Affairs, Sebastian Kurz, rounded off a two day conference in Vienna called "Energizing the Enlargement Process by Solving Bilateral Disputes". Set up by the European Fund for the Balkans (EFB) and supported by the Austrian and French Ministries for Foreign Affairs, the Renner Institute and the Regional Cooperation Council (RCC), the initiative on resolving bilateral issues in the Western Balkan 6 (WB6) aims to give yet another boost to the EU integration process of South East European aspirants. The process started a year ago and had its first success at last August's WB6 summit in Vienna when the foreign ministers signed a commitment to resolve "all open bilateral questions in the spirit of good neighbourliness and a shared commitment to European Integration".
The EFB's Balkans in Europe Policy Advisory Group has been working on tools and mechanisms which can take this process forward at this year's WB6 Summit in Paris on July 4th and the Vienna conference lauded their efforts, underlying the importance of both tackling bilateral issues and finding solutions which will speed up rather than hinder the EU accession process of the whole region.
Opening the debate last night, Minister Kurz said that "the EU is incomplete without the Western Balkans" and promised that Austria will continue "to be a strong voice of support for our WB friends". Albanian Foreign Minister Ditmir Bushati stressed that bilateral disputes can slow down and even stall the enlargement process and expressed his confidence that "the region is showing that it can deliver on its promises".
RCC Secretary General, Goran Svilanovic, who also provided conference input from his previous experience as Serbia's Foreign Minister and gave different examples on the ways and means but also obstacles to resolving bilateral issues, explained that the road ahead is far from easy, but that the work so far on finding ways to resolve Bilateral disputes is promising and encouraging.
EFB's Executive Director, Hedvig Morvai, spoke about the role that the civil society can play in the accession process, including the search for solutions for bilateral issues. She said that the civil society can "build bridges, nurture dialogue and assist governments to overcome difficulties". All the participants also stressed the role of regional cooperation on the EU route and the role that the RCC has and will continue to have in the process.
More news