Press Releases
RCC, UNDP to organize ministerial conference on generating public private partnerships in South East Europe, in Sarajevo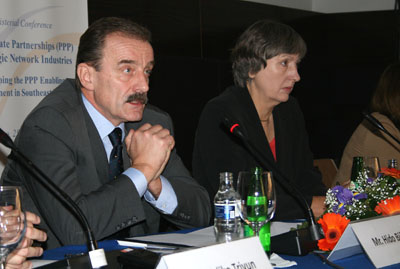 SARAJEVO – A ministerial conference aimed at generating public private partnerships in South East Europe will be held in Sarajevo tomorrow, 25 September, co-organized by the Regional Cooperation Council (RCC) Secretariat and the United Nations Development Programme (UNDP) in Bosnia and Herzegovina.
The Ministerial Conference "Public Private Partnerships (PPPs) in Strategic Infrastructure Networks: Developing the PPP Enabling Environment in Southeast Europe" will examine the opportunities, risks, and constraints to PPP development in South East Europe, as well as the role these partnerships could potentially play in the context of national and regional development strategies.
The event will be opened by Hido Biscevic, RCC Secretary General, Christine McNab, UNDP Resident Representative, and Veljko Trivun, Dean of the Faculty of Economics at the University of Sarajevo.
The participants will propose a Ministerial Declaration on enhancing the region's PPP potentials and launch a South East European PPP Expert Network. These efforts are expected to facilitate future interaction and knowledge exchange between emerging PPP professionals in South East Europe, and develop a tailor-made capacity building programme for the region.
This high level event will bring together regional policy makers, international experts, and representatives of the private sector from South East Europe in order to explore the possibilities for generating Public Private Partnerships in the region.
Journalists are invited to the opening of the conference on Friday, 25 September 2009, at 9.00 a.m., at Hotel Europe, Vladislava Skarica 5, 71000 Sarajevo, Bosnia and Herzegovina.
The opening address by the RCC Secretary General Hido Biscevic at the conference is available HERE.
More information on the conference is available HERE.
More news