Documents and Publications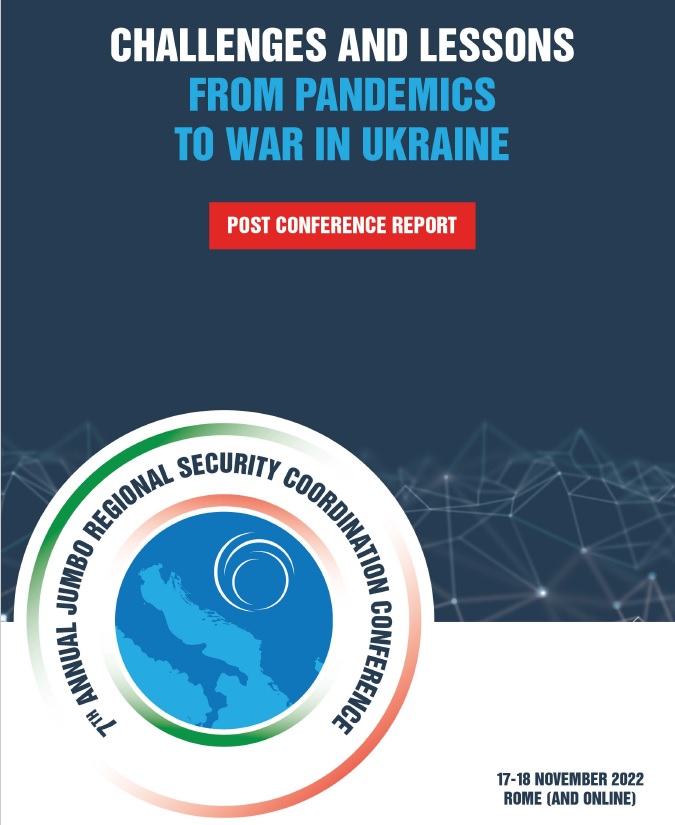 Challenges and Lessons from Pandemics to War in Ukraine - POST CONFERENCE REPORT
20 Mar 2023 | REPORT
The 7th Regional (Jumbo) Security Coordination Conference titled Security Cooperation in the Western Balkans - Challenges and Lessons from Pandemics to War in Ukraine was held in Rome on 17 and 18 November 2022, co-organised by the Regional Cooperation Council (RCC), International Relations Service of the Office for the Coordination and Planning of Police Forces of the Ministry of Interior, and Ministry of Foreign Affairs and International Cooperation of the government of Italy, at the premises of the Police Institute of Advanced Studies in Rome.

The conference convened 49 speakers from 14 economies, and more than 100 participants and security practitioners from the Western Balkan economies, Italy, and other European Union (EU) member states, as well as representatives of the EU Commission, Frontex, IOM, IISG, MARRI, GI, and other relevant regional and international organisations, civil society organisations (CSOs), and law enforcement agencies.

The conference's main objective was to map out, assess, and explore prevalent security challenges facing the Western Balkans region and the EU in the context of the Covid-19 pandemic and the ongoing war in Ukraine. Particular attention was given to sharing good practices and taking stock of lessons learned from participating stakeholders in tackling common transnational challenges. The ultimate goal of the conference was to streamline and strengthen security cooperation and coordination in the Western Balkans at the political, strategic, and operational levels between all relevant stakeholders, including international and regional organisations and initiatives.

This report provides a summary of the conference discussions, key points made by the participants during the thematic sessions, as well as some observations and preliminary recommendations on how future iterations of the Jumbo Security Conference could be fine-tuned to better respond to the needs and organisational goals of participating stakeholders and achieve the strategic objectives of the organisers.

Download: EN
---