RCC to present its Balkan Barometer 2017 – a perception survey of citizens and business communities on the situation in the region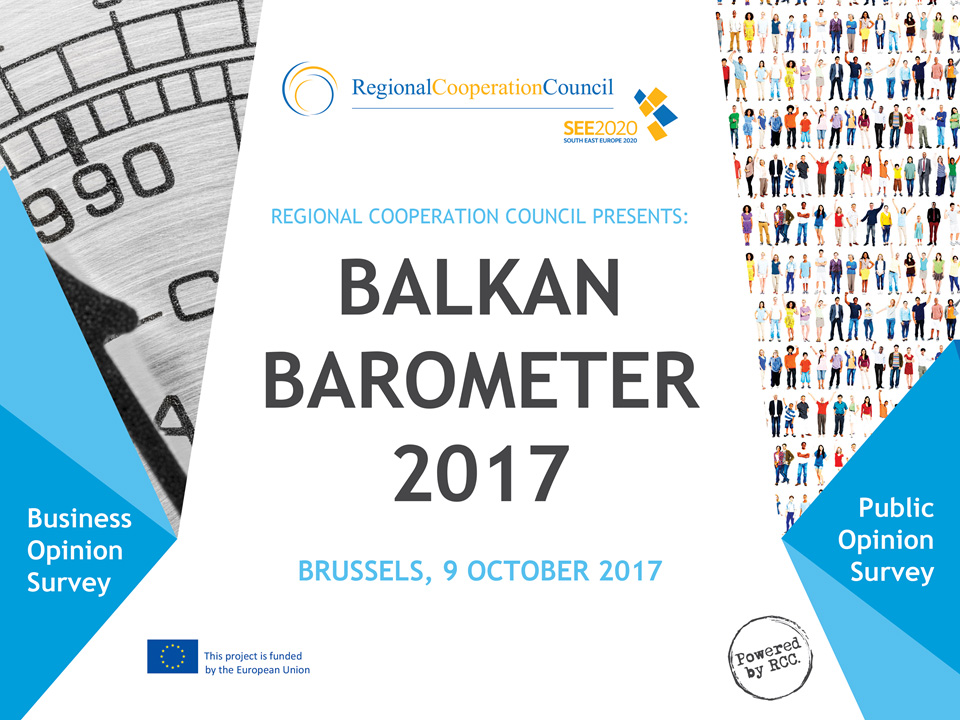 Brussels – The Regional Cooperation Council (RCC) is to present its 3rd edition of the public and business opinion survey – Balkan Barometer 2017 in Brussels, Belgium, on 9 October 2017.
The launch, organised by the RCC in cooperation with European Policy Centre (EPC) – an independent think-thank, envisages presentation of key findings of the Balkan Barometer public and business opinion surveys followed by panel discussion tackling key priorities in South East Europe.
The host, Goran Svilanovic, RCC Secretary General, and Maciej Popowski, Deputy Director-General for European Neighbourhood Policy and Enlargement (DG NEAR), are to deliver welcome addresses that are to be followed by presentation of key findings from the recent examination of attitudes, experiences, aspirations, perceptions and expectations across the seven economies of the SEE 2020 process featured in Balkan Barometer 2017 by Vladimir Gligorov, GfK Expert Consultant, Researcher at the Vienna Institute for International Economic Studies.
Participants of the panel discussion are: Vedran Dzihic, Co-Director of Center for Advanced Studies, South East Europe and Senior Lecturer at the Institute for Political Sciences, University of Vienna; Nikica Mojsoska Blazhevski, Dean, School of Business Economics and Management in Skopje; Jesper Johnson, OECD SIGMA; Mark Vasic, Senior Manager for International Regulatory Affairs, Deutsche Telekom AG; Davor Dubravica, Chairperson of the Regional Anti-corruption Initiative; and Orhan Usein, Team Leader of the RCC's Roma Integration 2020 project. It will be moderated by Corina Stratulat from EPC.
Balkan Barometer (BB) is an annual opinion survey commissioned by the RCC and conducted by GfK, collecting and analysing data from region's citizens and businesses across a variety of thematic areas such as employment, trade, investments, corruption, etc. Its 3rd edition included 8000 citizens and 1600 companies in the course of 2016.