Bregu: Support of Western Balkan citizens to regional cooperation remains stable at 76%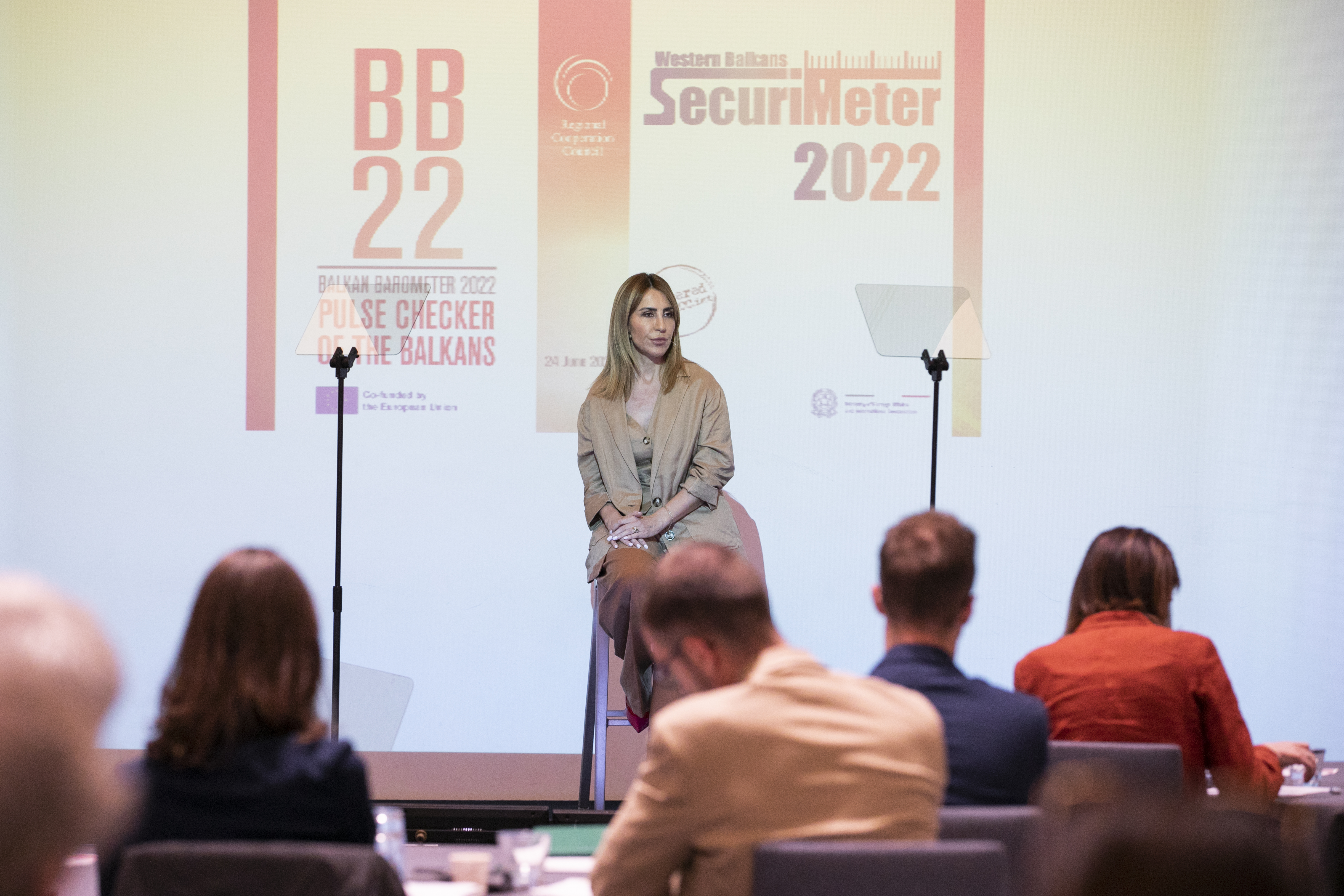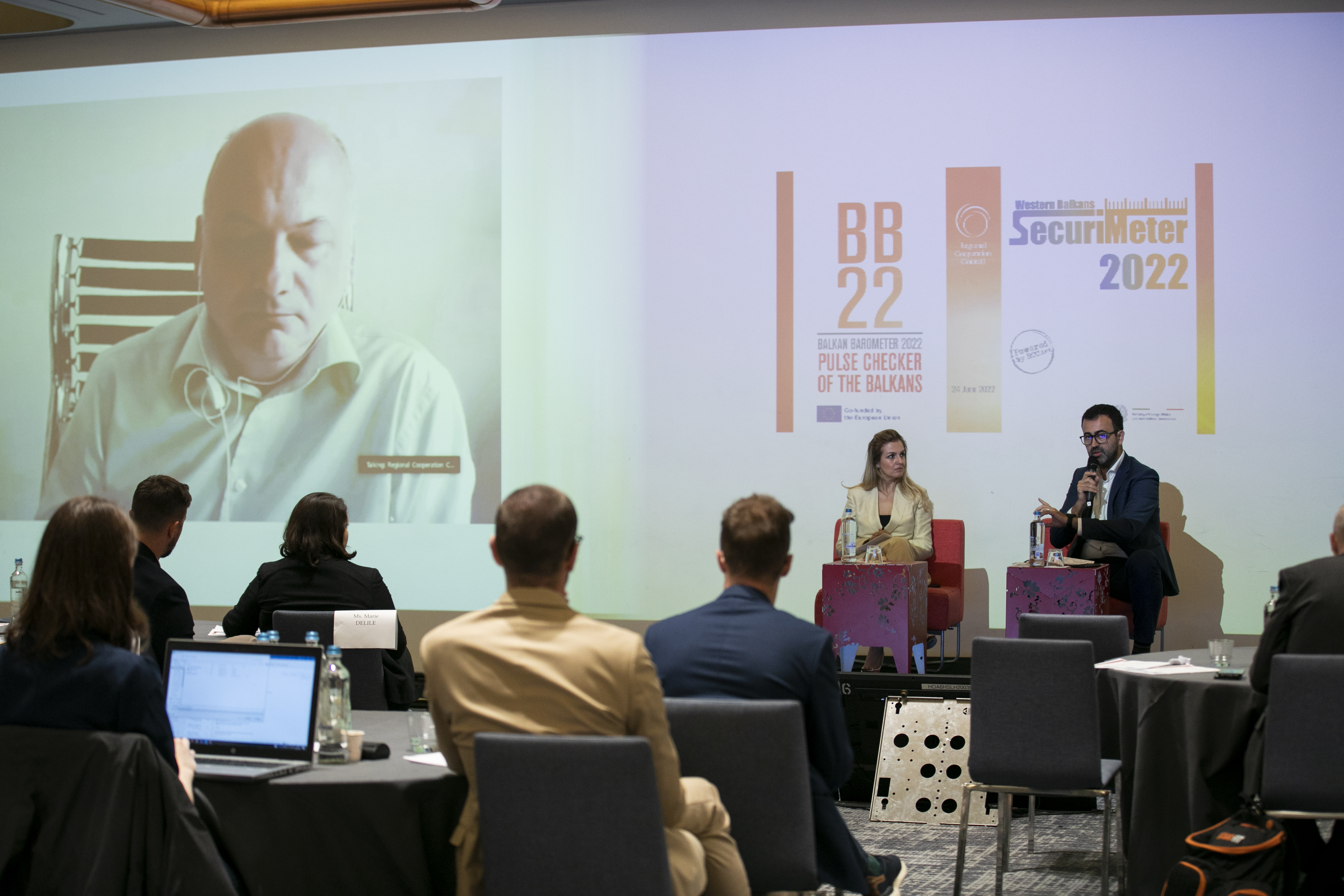 RCC presents 2022 editions of Balkan Barometer and SecuriMeter

Brussels – "While many things change, our public and business perceptions surveys remain a truthful source of sentiments across the region. At times, the results surprise us, sometimes they serve as a wake-up call, while on other occasions they confirm that our efforts are not in vain as citizens and businesses feel the benefits of our work. 76% of Western Balkan citizens find regional cooperation a great approach," said Majlinda Bregu, Secretary General of the Regional Cooperation Council (RCC), welcoming the guests at the presentation of the 2022 editions of Balkan Barometer and SecuriMeter, held back-to-back with yesterday's EU-Western Balkans Summit, in Brussels today.
Balkan Barometer and SecuriMeter are annual public and business opinion surveys commissioned by the RCC, which examine Western Balkan citizens and businesses perceptions and expectations towards a variety of thematic areas, such as the EU integration and regional cooperation, digitalisation, employment, security, organised crime, migrants, online radicalisation, etc. This is the 8th edition of Balkan Barometer, and the second one for Western Balkans SecuriMeter.
"Today, I'd like you to remember a few numbers. 60 – is the percentage of Western Balkan citizens supporting the EU membership, a majority still even though last year it was 62%. But if we asked our citizens today on their opinion on EU integration, I believe we'd get a different number due to frustration coming from 'NO news on EU enlargement' for our region. 74 – is the percentage of WB citizens agreeing disinformation is a security threat to their economies, while 1 in 3, again and again, see corruption as a major threat to their lives. 67 – is the percentage of young people who say they are considering living and working abroad. Only 21% trust the political parties, while 75% do not. 66 – is the percentage of people who view pollution in their place of living as problematic. And last but not least, 43 – is the percentage of WB businesses saying roaming free in our region had a positive impact on their business operations," added Bregu.

"Let me conclude with this. There is no EU perspective supported at the level of 60% without regional cooperation being supported by 76% of people. But there are less chances to convince the tough liners at the EU that we will cause no problems to EU if corruption and organised crime are still a concern for more than 80% of the citizens. It will be hard to innovate and upskill the region, while trying to turn it in a great investment hub, if 67% of youth would like to leave. Well. Social media connect people, but disinformation is a threat to national security worldwide. The same goes for air pollution. People living in the Western Balkan cities lose up to 1.3 years of life to air pollution, as the population is exposed to some of the highest concentrations of air pollution in Europe. And finally: where there is a will there is a way. That is the lesson learned from the Roam Like at Home the region embarked on and successfully made it happen," concluded Bregu.
Alessandra Viezzer, Deputy Head of Unit Western Balkans Regional Cooperation and Programmes at European Commission (DG NEAR), Marie Delile, Counsellor in charge of the Balkans at the Permanent Representation of France to the EU, and Andrea Cascone, Adriatic and Western Balkans Director at the Ministry of Foreign Affairs and International Cooperation of Italy, joined the RCC Secretary General Ms Bregu in opening the event.
The presentation concluded with the panel discussion moderated by Radu Magdin, CEO at Smartlink Communications, with panellists: Gentian Elezi, from the Albanian Centre for Competitiveness and International Trade, Dimitar Bechev, Visiting Scholar at Carnegie Europe, Valbona Zeneli, Chair of the Strategic Initiatives Department at George C. Marshall European Centre for Security Studies, and Dejan Jović, Professor at Faculty of Political Science at the University of Zagreb.

More INFO on Balkan Barometer and SecuriMeter, including database, publications, infographics, videos: rcc.int/balkanbarometer & rcc.int/securimeter

Full speech by the Secretary General Majlinda Bregu

***

Balkan Barometer is commissioned by the RCC and financed by the European Union. It is conducted each year since 2014 by an independent agency among more than 6,000 citizens and 1,200 companies throughout the region. The Balkan Barometer is firmly established as a reliable source of regional data widely employed and referenced by media, business, civil society and decision-makers alike.
The Western Balkans SecuriMeter is a Public Opinion Survey on Security issues, conducted among more than 6,000 citizens of the Western Balkans as a venture of the Regional Cooperation Council, finance by the government of Italy.