RCC to present Western Balkans Women Entrepreneurs of the Year 2022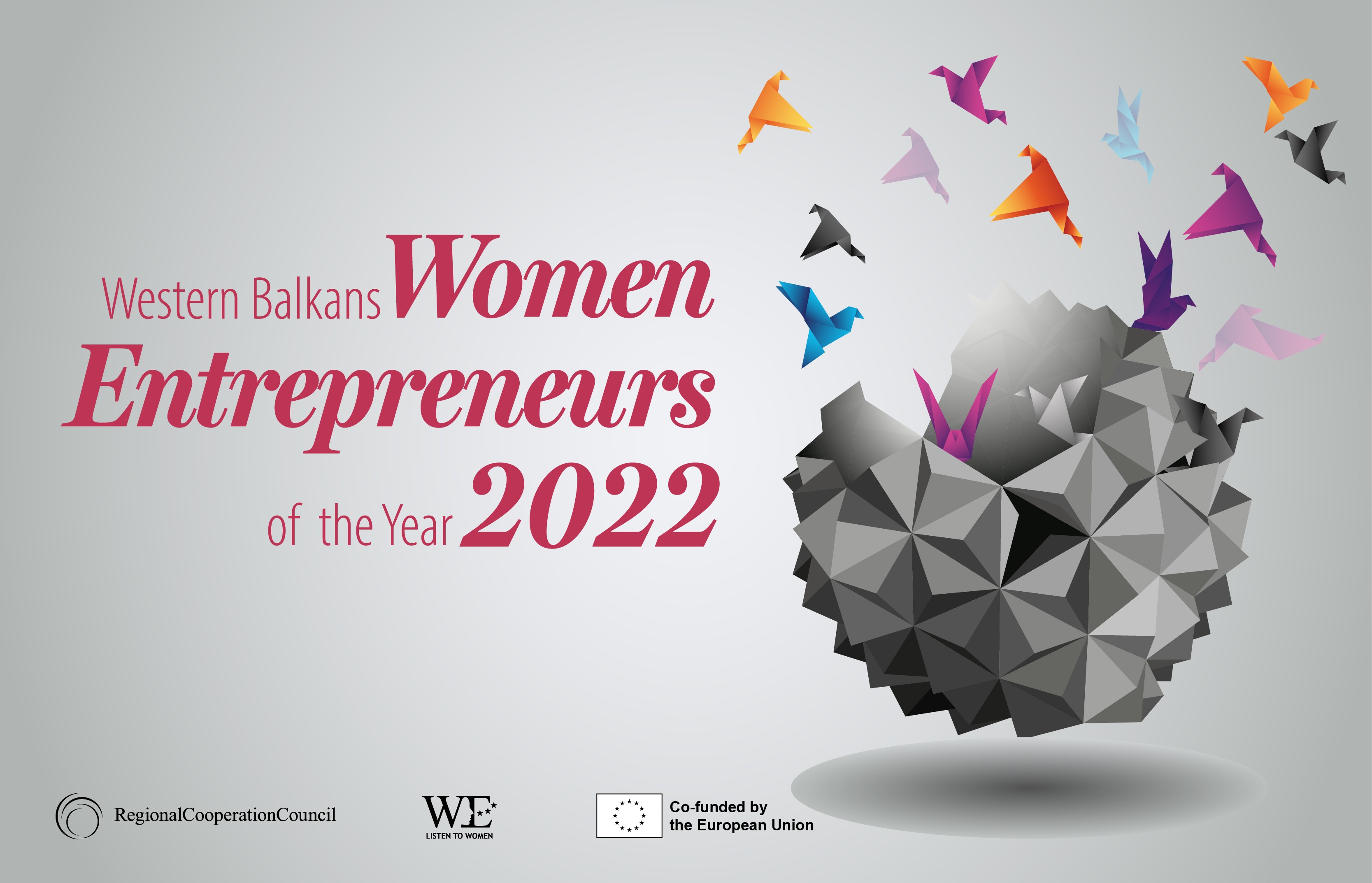 Sarajevo/Tirana – On the International Women's Day, the Regional Cooperation Council (RCC) is to present the Western Balkans Women Entrepreneurs of the Year 2022, at a ceremony to be held on 9 March in Tirana.

Out of 400 nominations we received from all over our region, 6 jury members (Vesna Miceva, General Manager, Congress Service Centre; Alida Kondi, Board Member, Women Economic Chamber of Albania; Mirlinda Kusari, Executive Director, SHE-ERA Women Business Association; Ljubica Kostic Bukarica, President, Business Women Association of Montenegro; Vesna Beganovic, Founder and Partner of Via Media; Iva Vuksanovic, Senior Advisor, Chamber of Commerce and Industry of Serbia) selected 6 remarkable women in 5 categories: Young Woman Entrepreneur, Green Woman Entrepreneur, Creative Woman Entrepreneur, Travel and Hospitality Woman Entrepreneur, and Start-up Woman Entrepreneur. The names of the recognition recipients will be announced at the ceremony.

The RCC launched this initiative last year in the framework of the Common Regional Market Action Plan 2021-2024 and our Women Economic Empowerment Agenda to recognise women who have started and developed their own business and contributed to new and sustainable jobs for other women and men in our region. It was not easy to choose only six among many great nominations last year, however Blerina Ago, Aida Zubcevic, Valentina Taseva, Dragana Calija, Pakize Pajazitaj and Arta Shehu Zaimi carried this prestigious title Western Balkans Women Entrepreneurs of the Year 2021 proudly and justifiably, and we are certain this year will not be different.

Exactly four years ago on this date the RCC launched the campaign aimed at Empowering Women in Entrepreneurship (WE) in the Western Balkans. WE started with the promotion and continued with numerous tangible activities, including supporting women businesses through small tourism grant programmes, competitions such as Balkathon, Regional Butterfly Innovation Award and Futourismo, encouragement of young women to choose STEM careers, and finally creation of the Regional Network of Women in Entrepreneurship, whose key intention is to unlock the women potential of this region, enhance their partnerships and economic empowerment, spark the debate on creating an inclusive environment and address challenges and needs of diverse women entrepreneurs across our region and across key Common Regional Market value chains.
Prior to the Ceremony, RCC and UN Women will sign a letter of intent, furthering cooperation of the two organisations on the empowerment of Western Balkans Women Entrepreneurs, but also technology, innovation, as well as digital and green agendas.
Women entrepreneurs are vital contributors to the prosperity of the Western Balkans. Their hard work, innovative thinking and unwavering commitment truly help our economies grow and our societies thrive. Through this initiative, it is our intention to give a humble recognition to those brave and fierce women who dared to fight stereotypes and make the change.
More info on Regional Network of Women in Entrepreneurship
Women Who Launch | Welcome (rcc.int)
More info on Women Empowerment activities of the RCC at https://www.rcc.int/priority_areas/52/women-empowerment
More info on WB Women Entrepreneurs of the Year 2021
More info on WE Regional Cooperation Council | WE – Women Empowerment (rcc.int)