Regional Butterfly Innovation Award 2022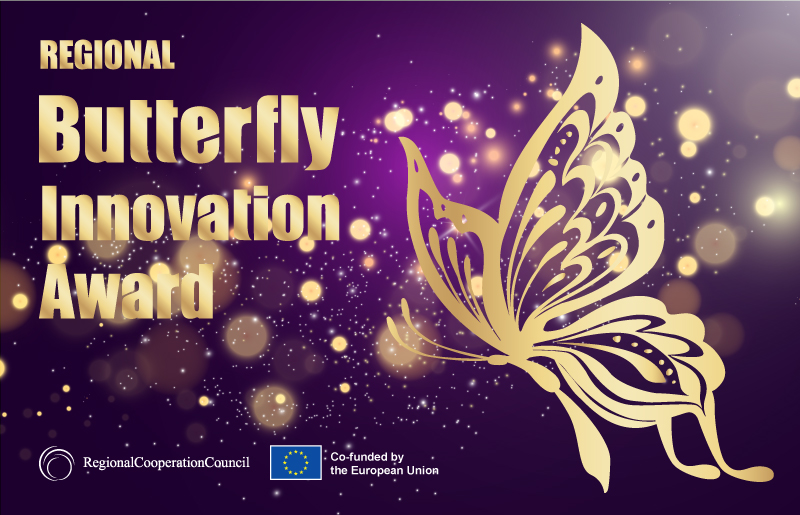 Winners
What is it about?
The Regional Cooperation Council is launching the Regional Butterfly Innovation Award for innovative, scalable, and market-based solutions from the Western Balkans.
The Award aims to support the Western Balkans' economic development by embracing digital transformation and fostering environmental sustainability.
The purpose of the Butterfly Innovation Award is to promote innovation culture in the Western Balkans through showcasing successful innovative achievements and empowering sensitive groups such as youth and women.
The RCC welcomes applications from innovation teams/individuals from the region for the categories presented below.
Who is eligible?
Applicants must be citizens or permanent residents from the Western Balkans (Albania, Bosnia and Herzegovina, Kosovo*, Montenegro, North Macedonia, and Serbia).
Entries must fit within one of the official award categories.
The nominated innovative solutions must demonstrate an active impact in the Western Balkans.
Categories
The Butterfly Innovation Award has the following six categories.
Industry Innovation Award
aims to recognise innovative solutions that are making waves in the industry and may be of interest to European and global markets. It covers any of the following topics:

Automotive industry,
Metal-processing,
Creative industries,
Agrofood,
Green & Circular Economy,
Tourism, and
Fintech, Edtech, Biotech, Healthtech and similar fields.

Green Innovation Award
aims to raise awareness of sustainable and environmentally-friendly innovative solutions that support the green transition of the Western Balkans. The award targets the following topics:

Climate action aimed at mitigation and adaptation measures,
Sustainable energy, mobility & agriculture,
Fight against pollution,
Nature and biodiversity protection.

STEM Innovation Award
aims to recognise individuals, informal groups or organisations for outstanding achievements in STEM (Science, Technology, Engineering and Mathematics) fields. Its purpose is to shine a light on enthusiastic teams in secondary and higher education that have significantly contributed to promoting the importance of STEM for the Western Balkans' industry (e.g. innovative STEM education or training programmes designed to encourage high school students – preferably girls or young women – to enroll in higher education STEM courses or enter STEM careers).
Youth Innovation Award
aims to recognise undergraduate university students or high school students' innovative achievements in any of the above topics.
University Innovation Award
aims to promote entrepreneurial culture at universities for innovative solutions created by university staff or students in any of the above topics.
Women Innovation Award
aims to identify, promote and empower women with innovative solutions that will inspire future women innovators and entrepreneurs in the Western Balkans. (Note: If an applicant is a company, a woman or a group of women should have at least 51% of ownership or hold managing position(s) in the company.)
Selection process
The best innovative solutions should be able to demonstrate how they have solved or aim to solve problems on the market. For example, through the increase of productivity or profitability, the introduction of new or improved technologies that contribute to high-skill job creation, etc.
Specific criteria include:
Practicality (50%) – Ability of an innovative solution (technology, product, or process) to practically solve clients' problems,
Impact (30%) – Clear evidence that the implementation of innovation could impact the development of an industry or economy in the Western Balkans and beyond,
Scalability (20%) – Ability of an innovative product to achieve repeatable and sustainable organic growth.
What's in there for the winners?
Financial reward in the amount of 5 000 euro (one prize per category)
A possibility to promote winning innovative solution through the Regional Cooperation Council's network of contacts
Press and media attention to promote winners as leading innovation role models
Opportunities to take their projects to the next level through exposure to technical/mentorship support and potential investors
Participation in person or online (up to two participants from the winning entry) at the Butterfly Innovation Award ceremony
Timeline
The deadline for applications is 13 May 2022.
The Butterfly Innovation Honourees to be announced on 27 June 2022.
Terms and conditions
To evaluate an entry, the Selection Committee may ask for additional information.
If improperly categorised, an entry may be moved to a different category based on the recommendation of the Selection Committee, without the applicant's consent.
Incomplete and hard copy applications will be automatically disqualified.
RCC is not responsible for the follow-up of incomplete and hard copy entries.
RCC reserves the exclusive right to set, modify, and interpret all conditions regarding this competition without claim for damage or recourse of any kind.
Each innovation team/individual selected as an awardee grants RCC permission, without compensation, to use its name and photograph/likeness and/or entry in promoting this or similar award programmes in the future.
All entry forms are property of the RCC. Applicants can make or print a copy of their application after they submit/finish their application form.
RCC reserves the right to annul any awards granted to honourees that have misrepresented in any way their product or entry in this competition.
RCC Secretariat shall use the applicant's data in line with the Law on Data Protection of Bosnia and Hercegovina and internal rules and regulations. All information is considered confidential and shall be used only for the purposes of this activity.
In case you need further information, please write to ButterflyInnovationAward@rcc.int
---
* This designation is without prejudice to positions on status, and is in line with UNSCR 1244/1999 and the ICJ Opinion on the Kosovo declaration of independence