Press Releases
RCC'S Balkan Barometer Presented at the Regional Cooperation Day in Brussels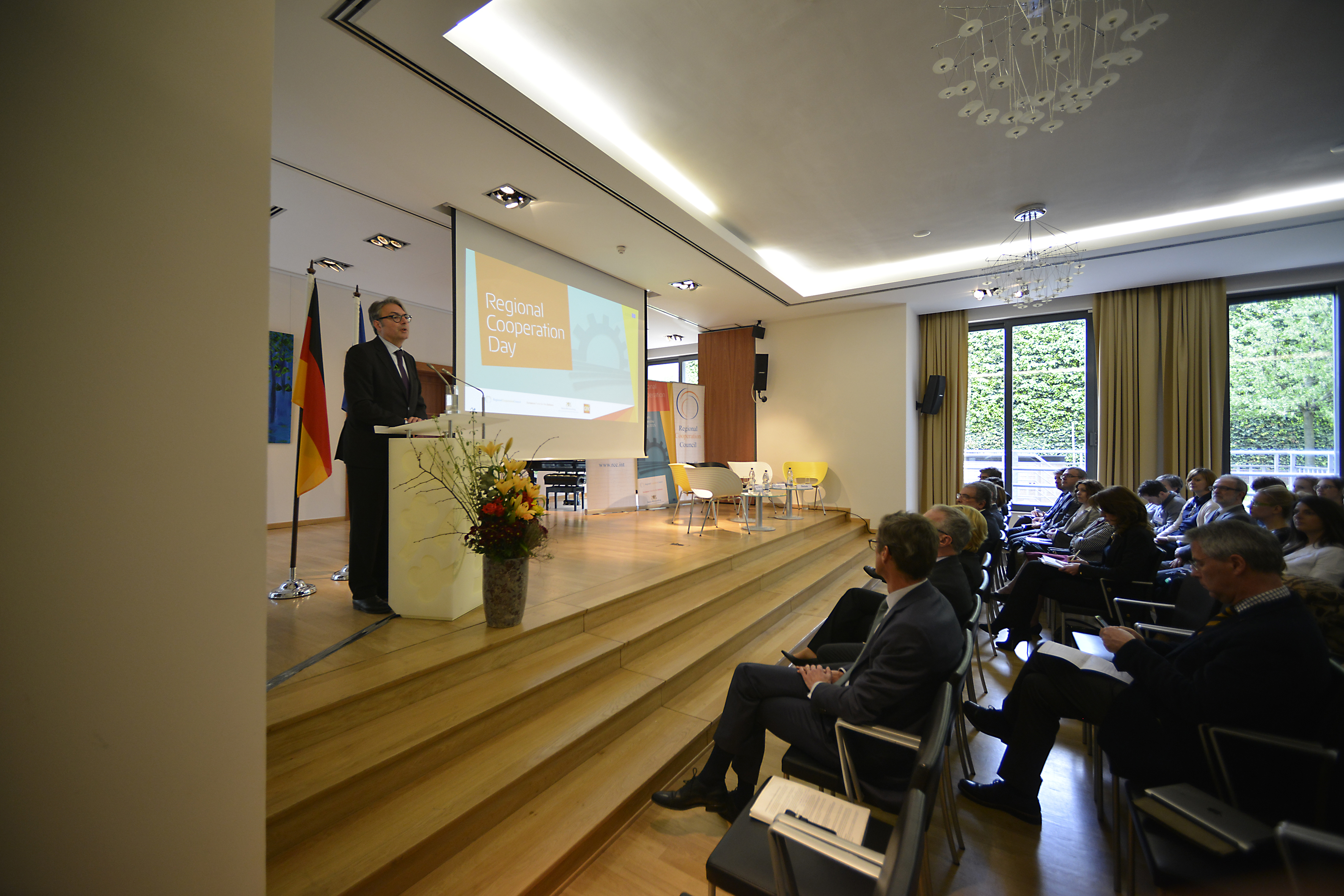 Sarajevo/Brussels – The Regional Cooperation Day (RCC) kicked off in Brussels with a premiere of the Balkan Barometer (BB), a comprehensive survey encompassing public and business opinion and sentiment on crucial economic and development issues. The Balkan Barometer is a part of an RCC's "toolbox" in tracking the progress of the South East Europe 2020 Strategy (SEE 2020).
The BB study included 7000 citizens and 1400 companies from seven South East Europe economies - Albania, Bosnia and Herzegovina, Croatia, Kosovo*, Montenegro, Serbia and The Former Yugoslav Republic of Macedonia. Both, Balkan Business Barometer 2015, and Balkan Opinion Barometer 2015, including the full reports, are available at RCC website http://www.rcc.int/seeds/results/2/balkan-opinion-barometar, and http://www.rcc.int/seeds/results/3/balkan-business-barometar. The overall RCC's SEE 2020 Strategy implementation monitoring tool – South East Europe Development Scoreboard (SEEDS), will be available to the public via RCC web page www.rcc.int later this month.
Today's series of events was opened by the Head of the Representation of the State of Baden-Württemberg, Johannes Jung, who said that "even in wealthy societies it is not easy to foster regional cooperation, and participants need to do their best to get along with each other". Mr. Jung expressed the commitment of the State of Baden-Württemberg to the development of the Western Balkans through "investments, tourism and the fact that 15% of our citizens have their family roots in the region covered by the RCC".
Professor Vladimir Gligorov, from the Vienna Institute for International Economic Studies, presented some of the main results of the Balkan Barometer: "Both the public and the business community consider regional cooperation as a crucial element for progress towards the EU membership. Therefore, regional cooperation is perceived as a chance, an opportunity."
"There is not much change in the sentiments of the people when compared to a similar survey, the Balkan Monitor, which was last conducted in 2010", said Fabrice de Kerchove from the King Baudouin Foundation.
RCC's SEE 2020 Coordinator, Sanjin Arifagic, presented the monitoring system for the implementation of RCC's SEE 2020 Strategy. "These tools are mostly directed towards policy makers, but can also be used by any citizen or businessperson from the region who wants to check how their micro or macrocosm is doing in comparison with others".
The Regional Cooperation Day is a joint effort of the RCC, the Representation of the State of Baden-Württemberg to the EU and the European Fund for the Balkans.
More news