EU boosts support for regional cooperation in the Western Balkans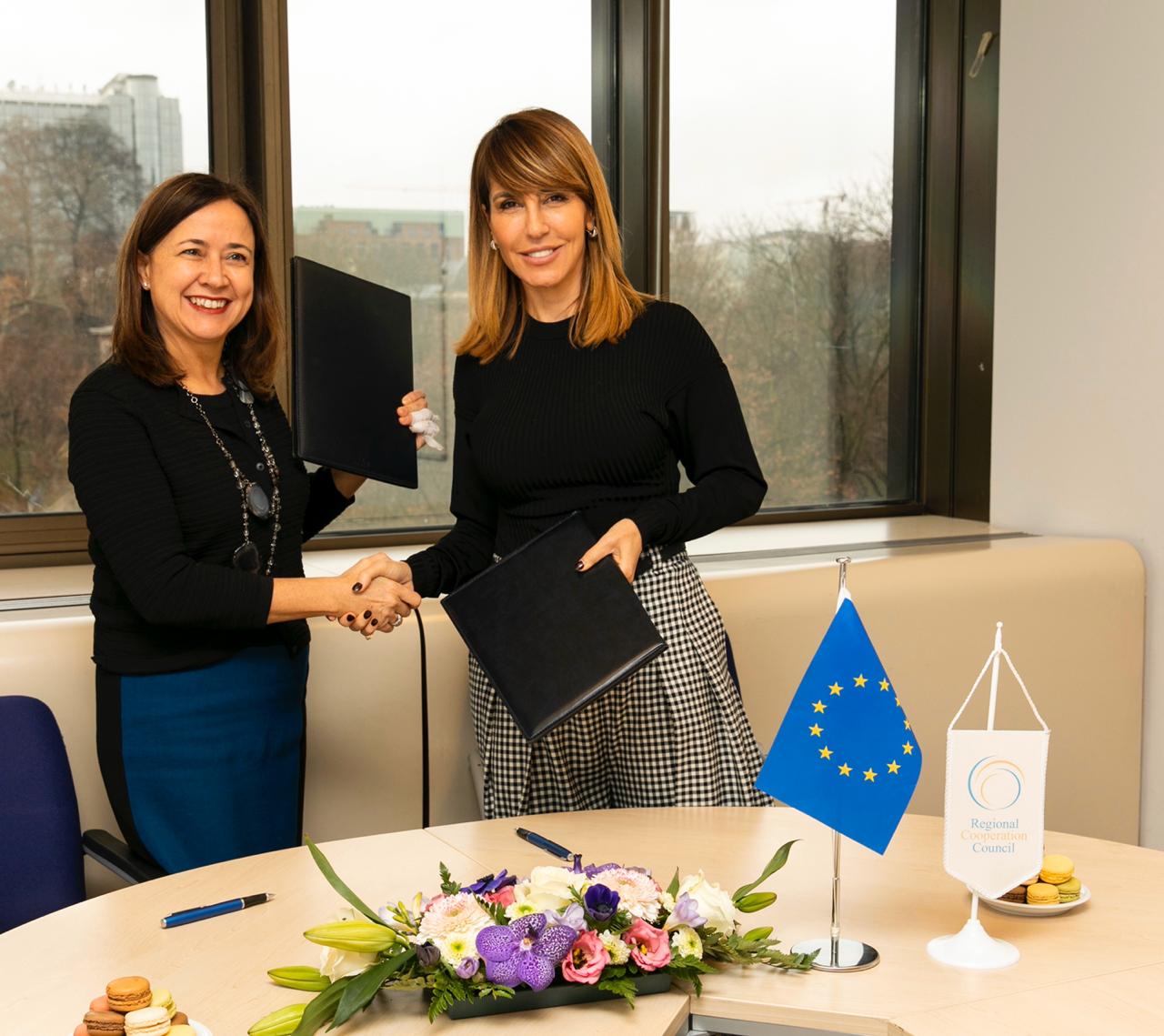 Regional cooperation is an essential element of the European perspective for the Western Balkans. EU commitment to regional cooperation was further reinforced by the signature of a EUR 12.5 million contract with the Regional Cooperation Council
Brussels - In the margins of the Western Balkan Sherpas meeting, which took place in Brussels today in the run-up to the EU-Western Balkans Summit in May 2020, the European Commission reinforced its support to regional cooperation in the Western Balkans. The signed contract for continued cooperation with RCC worth EUR 12.5 million aims at further strengthening RCC's activities over the next three years in the six Western Balkans economies: Albania, Bosnia and Herzegovina, Kosovo*, Montenegro,North Macedonia, and Serbia.
With EU's backing,the RCC will continue working with the Western Balkans to support a sustainable socio-economic transformation and increase the economic competitiveness of the region notably through the development of a competitive Regional Economic Area (REA).This will unlock the sources for long-term growth and convergence with the European Union. By committing to the development of a Regional Economic Area, the Western Balkan leaders can help the region make the most of its economic potential. Consolidating a market of 18 million citizens will create new opportunities for citizens and business alike. A deeper level of economic integration would bringabout significant benefits for the region – an opportunity the region cannot afford to miss.
"We are grateful to the EU for continuous support and trust both in the RCC and the process of regional cooperation in the Western Balkans. Closer integration is a must for the Western Balkans to prepare for the European perspective and improve the quality of life of our citizens. In all areas, there is so much to gain from a successful Regional Economic Area. The RCC will work hard to include a strong societal dimension in the REA. Our focus in the coming three years will be on a stronger involvement of women and youth, as well as innovation,competitiveness and the protection of the environment," underlined Majlinda Bregu, Secretary General of the Regional Cooperation Council (RCC).
Genoveva Ruiz Calavera, Director for the Western Balkans at the Directorate-General for European Neighbourhood Policy and Enlargement Negotiations, who signed the contract on behalf of the European Commission,expressed the expectation to see tangible results for the benefit of citizens of the Western Balkans: "The Commission's vision is clear: regional cooperation must be built on EU standards, unleash the region's growth potential and at the same time support the region's European perspective. This additional funding will create opportunities in the areas such as mobility and human capital development, digital economy, green growth and climate chang eresilience, and good governance. RCC plays an instrumental role in fostering regional cooperation to make it a success story."
The European Commission has been supporting the RCC since its establishment in 2008.
* This designation is without prejudice to positions on status,and is in line with UNSCR 1244/1999 and the ICJ Opinion on the Kosovo declaration of independence.