Press Releases
South East European foreign ministers voice support to RCC activities, endorse its Annual Report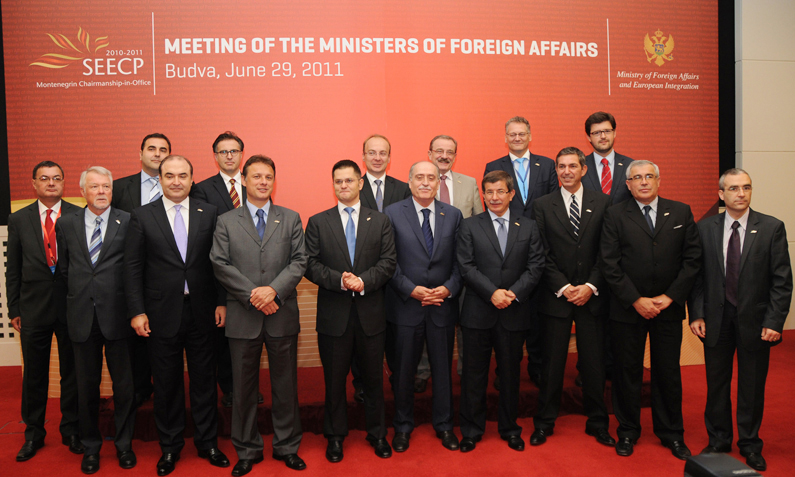 BUDVA/SARAJEVO – Ministers of Foreign Affairs of the South-East European Cooperation Process (SEECP) countries commended today the work of the Regional Cooperation Council (RCC) and its Secretary General at a meeting in Budva, Montenegro.
They extended full support to the implementation of the RCC Strategy and Work Programme 2011-2013 and endorsed the organization's Annual Report 2010-2011.
The ministers underlined the importance of regional cooperation and stressed that "it should become a way of life in South East Europe", as Milan Rocen, Minister of Foreign Affairs and European Integration of Montenegro, said.
The foreign ministers pledged their countries' continued participation in a wide range of RCC projects, in the fields of economic and social development, infrastructure, energy, security, justice and home affairs, culture and building of human capital.
"The RCC has proven to be a valuable, regionally owned framework for cooperation, profiled by now as a key platform for guiding and monitoring cooperation in South East Europe", said Hido Biscevic, RCC Secretary General, while thanking the ministers for their permanent support.
A key impetus to achieving such results was the successful synergy between the RCC and the SEECP.
"With the support of our founders from the region and from international partners, we cultivated the spirit of cooperation, steered by the all-inclusive character of our organization. We advocated a genuine dialogue, particularly in this period when the project orientated feature of cooperation increasingly prevails."
The RCC Secretary General stressed that EU accession goals need to be complemented by a common devotion to an accelerated economic development and social modernization.
"The time is ripe to pool together, on the sectoral and functional basis, around critically needed projects of a wider regional character in vital areas such as energy, infrastructure and transport."
He further informed that the RCC has initiated activities to assist regional initiatives in South East Europe associate themselves with the EU's Europe 2020 Strategy.
Secretary General Biscevic congratulated Croatia on finalizing negotiations for the EU membership tomorrow.
"For all of the enlargement countries in the region this can only be taken as a proof that efforts pay off, thus inspiring vigorous efforts to met the necessary requirements and make the best use of enlargement opportunities in the coming period. I am sure that this will in the end lead to our common goal – mapping the entire South East Europe within the EU, hence completing a Europe free, democratic and undivided."
More news