Newsletter 22/2012 - In focus
CITIZENS' SECURITY AND WELLBEING, AIM OF REGIONAL COOPERATION, by Predrag Vujicic, Expert on Justice and Home Affairs, RCC Secretariat
The ministers of justice and interior of the countries participating in the South-East European Cooperation Process (SEECP) endorsed the Regional Strategic Document (RSD) on Justice and Home Affairs and its Action Plan in March 2011. This is not the first strategic document addressing priorities in the justice and home affairs (JHA) area in South East Europe. But it is the first one that suggested parallel establishment of a high level steering group, implementation of the Action Plan and development of a functional Monitoring and Evaluation Mechanism (M&EM) that will follow JHA cooperation on the regional level. These activities should help get a precise assessment of the results and processes in the regional cooperation, definition of all problems, bottlenecks and duplication efforts, identification of possible solutions or measures that should be undertaken in order to have holistic, efficient, effective and result oriented cooperation.
Following conclusions of the RSD Steering Group, RCC Secretariat's experts together with other national and international experts developed online data collection system with database that will serve as a foundation of the Mechanism. The system will be used to input data from relevant national authorities and regional initiatives and will automatically generate aggregate indicators. The generated report will be a starting point for the experts who will prepare analytical and synthetic report after clarification of all disputable elements. Work of experts will include necessary missions in order to get additional data relevant for the Regional Cooperation Report (RCR).
At the same time, aggregate data will be used to establish the Regional Cooperation Index (RCI), over-viewing five areas in the regional cooperation (vertical pillars): 1. fight against organized crime, 2. anti-corruption, 3. migration, asylum and refugees, 4. law enforcement cooperation, and 5. judicial cooperation) together with correlating indicators (horizontal pillars): 1. data/info exchange, 2. operational activities, 3. strategic activities, 4. outcomes/results, 5. human resources, and 6. financial resources. Furthermore, general idea of the Mechanism is to try to use identified problems as a subject of research for master and doctoral theses, and try to use academia's fresh ideas to suggest modern and viable methods for improvement of the regional cooperation to decision makers.
In addition to the Regional Strategy and development of the Mechanism, the RCC Secretariat has been dealing with another very important activity in the previous period: preparation and organization of meetings of the Expert Group on Cooperation in Civil and Commercial Matters and the Expert Group on Cooperation in Criminal Matters, which also has a strategic dimension. Derived from the Declaration of the Meeting of the Ministers of Justice and Interior held in Belgrade in November 2011, these activities intend to improve the mentioned areas by means of negotiating legal instruments that will help faster and more efficient judicial cooperation in line with acquis communautaire. Together with representatives of national administrations from South East Europe, experts from Deutche Gesellschaft fur Internationale Zusammenarbeit (GIZ) are trying to formulate conclusions and prepare documents that will enable the EU aspirants to accept and implement the Union's standards even before the start of the negotiation process. So far, discussions point out towards possible development of a regional judicial atlas and regional arrest warrant, instruments that could improve significantly judicial cooperation and bring closer direct cooperation.
The coming autumn at the RCC Secretariat will be full of activities that should further improve cooperation in justice, home affairs and security. We are aware of all the difficulties that might arise on our path but also dedicated to an important goal set in our work – to improve wellbeing and security of our citizens. In these times of crisis it is a rather challenging task. Still, we could not agree more with the famous motto "only those who dare – win".
Predrag Vujicic is Expert on Justice and Home Affairs at the RCC Secretariat. During his career he performed numerous managerial duties and his professional focus was on police training and development of officers. Vujicic, a Serbian national started his international career as Executive Secretary of the Southeast Europe Police Chiefs Association, regional organization of police directors. In this position, he strengthened the Association and significantly improved work of its Secretariat. He holds a Bachelor of Science in Defence Management from the Serbian Military Academy and Advanced Diploma in Diplomacy, at the Ministry of Foreign Affairs and Faculty of Political Studies at the Belgrade University.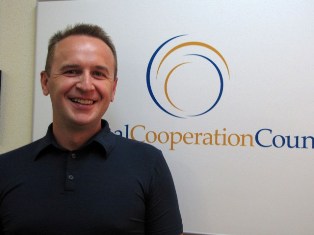 NEWSLETTER ISSUES