Newsletter 28/2013 - Our South East Europe
Mutual trust generates power for more intensive regional cooperation in protection and exchange of classified information
Protection and exchange of classified information to a great extent equals protection of national security interests. Exchange of information in particular carries yet another layer of this complex security issue that involves protection of classified information not only by its originator but also by its recipient authority. In this regard reaching agreements on exchange and protection of classified information between countries signal high level of mutual trust.
While experiencing traditional but also security threats of a modern age, which frequently exceed individual national borders, countries from South East Europe (SEE) embraced cooperation on regional level and mutual security agreements that tackle treatment of classified information.
For Bosnia and Herzegovina, for example, one of the most important aspects of classified information protection is international cooperation, stresses Mate Miletic, country's Assistant Security Minister and Head of National Security Authority (NSA).
"In the modern world in which everything is inter-connected and mutually linked, we have responsibility to share data and information that are of importance for security of the state and its citizens. Therefore signing of security agreements on exchange and protection of classified information represents one of key activities of the NSA because these agreements make balance between a need for protection of classified information and a need for their exchange."
NSA of Bosnia and Herzegovina has started operating at the end of 2006, aiming to establish modern protection system of classified data in the country, explains Miletic, adding that making such a functional system from the scratch was a big challenge.
"In the short period of time Bosnia and Herzegovina has managed to set in place system for protection of classified information in accordance with international standards, which guarantees adequate protection of classified information of the country but also of other European Union (EU) and North Atlantic Treaty Organization (NATO) states."
Miletic further adds that through their experience so far they had learned that cooperation with the countries from the region is the most important for strengthening of security sector and political stability.
"For security and economic reasons as well as for movement of population, countries of SEE have an interest and a need for close and intensive cooperation. This especially applies to the area of classified data protection, in which exchange of classified information between SEE countries is a precondition for cooperation in other security sectors."
Savo Vucinic, Director of NSA of Montenegro agrees with Miletic. He adds that with European and Euro-Atlantic integration as the most important foreign policy goal of the countries in the region, and with strengthening of regional cooperation and good neighbourly relations as prerequisite for their progress, cooperation in the area of exchange and protection of classified information is positioned as a basis for quality cooperation in the field of security.
"Montenegro will be focusing on signing of inter-state agreements on protection and exchange of classified information with the countries from the region. They are necessary for quality police, defence and intelligence cooperation. The country has already signed such agreements with Bulgaria, Albania and Bosnia and Herzegovina."
Vucinic points out to one specific dimension of classified information present in the SEE region countries particularly - security checks for individuals who have access to classified information, which are treated as special segment of these bilateral agreements.
"It requires continued cooperation of institutions in charge of security checks aimed at getting a complete insight into circumstances regarding the conduct of these checks. I highlight this issue specifically because in the region's countries there are many individuals who have worked and served in countries of the region and there is a need to exchange data on them mutually, for purposes of quality security checks."
For Moldova, promoting development of regional cooperation and long-term security and stability in SEE is both an important policy aspect and the basic point in the country's approaching to the EU, stresses Vadim Vrabie, Deputy Director of Moldovan Security and Intelligence Service.
"In order to enhance mutual protection and exchange of classified information, Moldova has signed a bilateral security agreement with Bulgaria. The bilateral agreement on mutual protection of classified information with Romania is in the negotiation stage. Also, the internal procedure of coordinating the Czech Republic's initiative of signing the bilateral security agreement is being carried out."
During the implementation of its Strategy and Work Programme 2011-2013, the Regional Cooperation Council (RCC) undertook an in-depth analysis of existing mechanisms of cooperation in this field, says Sorin Sterie, Expert on Security Issues at RCC Secretariat.
"In this context, the South East European National Security Authorities (SEENSA) forum has developed as one of the most important regional initiatives and the most comprehensive one in the area of security cooperation, having a horizontal impact also in Justice and Home Affairs (JHA) and economic areas, and representing a 'must do' in the EU and NATO accession processes."
According to Sterie, through the SEENSA forum, which since its establishment successfully applies all-inclusiveness principle, important objectives in the mutual protection of classified information could be achieved by using efficiently limited resources in building administrative capacities and by deepening co-operation in the field of the regional security.
Miletic tends to agree with positive estimate of SEENSA initiative's success stressing that common work of the countries from the region leads to development of mutual trust, respect and cooperation, which are cornerstones on which successful exchange and adequate protection of classified information rests.
"Number of signed and ratified agreements between the countries of the region is getting higher. Also, new, potential mechanisms of cooperation are being explored, which could utilise fast growth in the area of modern technologies."
In Vucinic's mind SEENSA thematic working groups are valuable instruments for further development of regional cooperation on various issues tackling classified information, and Montenegrin NSA would certainly continue to actively support and take part in SEENSA activities.
Still, as Miletic concludes, signature to an agreement on exchange and protection of classified information would not do the job by itself.
"That is one continued process requiring team work of interested parties, with outcomes such as learning, progressing and developing new exchange and protection mechanisms as well as improvement of the existing ones. It is a process that represents a big challenge but which we always approach with enthusiasm and energy."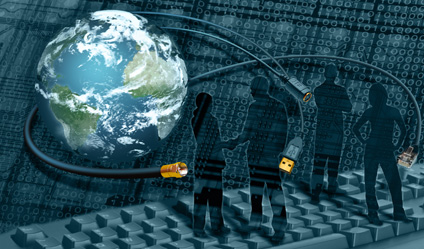 NEWSLETTER ISSUES