Newsletter 29/2013 - In focus
INFRASTRUCTURE IN SOUTH EAST EUROPE – NEW VEHICLES OF COOPERATION, by Svetlana Gligorovska, Expert on Infrastructure, RCC Secretariat
"Transport is vital to the European economy. Without good connections Europe will not grow or prosper. This new EU infrastructure policy will put in place a powerful European transport network across 28 Member States to promote growth and competitiveness. It will connect East with West and replace today's transport patchwork with a network that is genuinely European."[1]
Globalization has created a demand for goods and services that make improved infrastructure and more efficient transport systems a precondition for economic development. Transport systems worldwide are undergoing rapid change. The challenge is to ensure transport services that are affordable, secure and sustainable, and at the same time building a more competitive economy, while making efficient use of resources, protecting the environment and reducing emissions.
By providing the physical networks and services upon which the economy and society depends for the movement of people and goods, transport increases the access of businesses and consumers to markets and services, promotes economic diversification and regional integration, supporting growth of the wider economy.
From a social perspective, transport supports individual mobility so all people can benefit from access to essential public services such as health and education, and access to labour markets, which can also have important implications for economic inclusion and gender equality. It is also an enabler of international trade since in the modern global economy no nation is self-sufficient, each relies on goods produced elsewhere, and transport provides the means for emerging markets to integrate into the global economy. This integration creates opportunities for businesses in the region to expand and develop, thereby enhancing job creation.
In the most radical overhaul of European Union (EU) infrastructure policy since its inception in the 1980s, on 17th October 2013, the Commission, on the TEN-T days event in Tallin, Estonia has published new maps showing the nine major corridors which will act as a backbone for transportation in Europe's single market. To match this level of ambition, EU financing for transport infrastructure will triple for the period 2014–2020 to euro 26 billion.
Transport is a complex system that depends on multiple factors, including the pattern of human settlements and consumption, the organization of production and the availability of infrastructure. Owing to this complexity, any intervention in the transport sector must be based on a long-term vision for the sustainable mobility of people and goods, not least because policies of a structural character take a long time to implement and must be planned well in advance.
Modernization and development of the transport sector in the South East European (SEE) region is of utmost importance for reviving many other sectors of national economies at the time of current long-lasting economic crisis. Just as liberalization of trade can open new markets for developing countries, efficient transport systems and routes can increase the volume of trade and movement of people, thus contributing to higher growth.
Recognizing this, the Regional Cooperation Council (RCC) has identified the need of improvement of conditions in the different transport modes within the SEE 2020 strategy, in its third pillar named "Sustainable Growth". SEE 2020 strategy is a regional response to the Europe 2020 strategy and its basic goal is to improve living conditions in the region and bring competitiveness and development back in focus, thus the developed transport infrastructure in the region plays a crucial role while striving to achieve these goals.
Development of the regional South East European Transport Observatory (SEETO) Comprehensive Network, up to the TEN-T standards with the aim of attracting international traffic flows and increasing the regional mobility along the Network, remains a prevailing goal of the regional transport cooperation. Enforcement of market rules in transport, removal of border crossing bottlenecks and transport non-physical barriers, as well as enhancing the rules and practices in the areas of transport safety, are important issues for transport facilitation.
In addition, successfully completed negotiation of a Western Balkan Transport Treaty will prepare this region for integrating transport network into that of the EU on the basis of fair competition and mutual access to infrastructure.
The long-term aim of the SEE 2020 strategy is to ensure transport services that are affordable, reliable and sustainable, and at the same time building a more competitive economy, while making efficient use of resources, protecting the environment and reducing emissions.
Svetlana Gligorovska has joined the RCC Secretariat in June 2013 as Expert in Infrastructure. Before that, among her many duties, Gligorovska worked four years as National Expert in European Commission at Directorates General Transport and Energy (TREN/MOVE), she was Assistant Minister and Head of EU Department in the Ministry of Transport and Communication, PHARE CBC Director, etc. She graduated at Skopje University, Faculty of Engineering and Architecture, and among many trainings and specializations she is finalizing Master thesis on Economy-European Studies.
---
[1] From the opening speech of the European Commission Vice-President/Commissioner for mobility and transport Siim Kallas, on the TEN-T days held in Tallin 16-18th October 2013.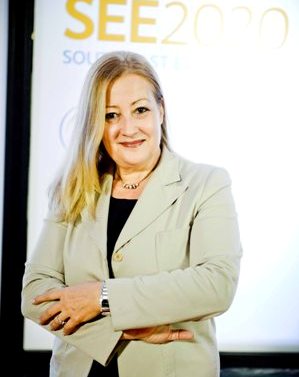 NEWSLETTER ISSUES