Newsletter 6/2010 - In focus
REGIONAL SECURITY AND DEFENCE COOPERATION IN SOUTH EAST EUROPE, by Ljubica Jelušič, Minister of Defence of Slovenia
International security environment has changed significantly over the past decade. Constantly evolving threats and challenges combined with limited financial and other resources call for pragmatic regional cooperation in the field of security and defence. Due to comparable views and mutual ties , the countries in South East Europe can, by working together, enhance their efforts with tackling common problems, challenges and fulfil commitments they have to international organizations. In times of economic difficulties and accompanying budget cuts more effort has to be put in synchronising available resources, knowledge and experiences that would add value and bring mutual benefits in pursuing common efforts. We can easily acknowledge regional cooperation as a mechanism with a very positive impact on the Euro-Atlantic integration process.
Focusing on defence and security aspects of regional cooperation in South East Europe, we can determine that it is diverse and very well developed. Sometimes it seems that the flood of different initiatives and formats has almost overwhelmed the countries with limited financial and personnel resources. The list of existing initiatives and other formats and activities of regional cooperation that focus on some partial aspect of defence and security sphere is long and therefore duplication in some areas seems almost inevitable. The countries of the region sometimes face difficulties with keeping track of all available activities and are hard pressed to ensure effective participation.
Due to the special linkage that Slovenia has towards Western Balkan countries, which are a result of historical, geographical, economical and cultural connections, it has a rich tradition of regional cooperation in Western Balkans. I have to stress that Western Balkans and our regional responsibilities remain on the top of Slovenia's foreign and security policy priority list. Therefore, Slovenia remains a reliable Partner and Ally in this respect, as well as a strong promoter and staunch supporter of the Euro-Atlantic aspirations of the countries of the region.
The process of Euro-Atlantic integration, as we can say from our own experience, is anything but easy and enormous amount of hard work at the political and operational level is required to reach the final objective. The process is performance-based and demands dedication and solid political understanding of the path that would ultimately bring benefits to the countries' entire population. This understanding, especially by the politicians and the people, should be built through the accession period and then continued also during the membership. Strong and solid political commitment is therefore of great importance.
One of the most important, time-consuming and financially burdening precondition for membership is definitely implementation of defence reforms. Consequently, in the field of defence reforms, when one goes through available tools and mechanisms, one encounters a wide and complex spectrum of formats and activities on bilateral and regional level, as well as in the context of NATO and the EU. All these activities and information are sometimes hard to process and manage.
Slovenia supports and promotes pragmatic approach to regional cooperation. We believe that the countries of the region and regional initiatives will have to find a way to reasonably integrate, manage and interlink these processes, activities and resources in order to maximize the results. The main element of evaluation should be "added-value" element.
One cannot deny the fact that one of the most useful platforms for sharing lessons learned, knowledge, expertise and experiences from the process of Euro-Atlantic integration and defence reforms is through regional cooperation initiatives. A good example is South East Europe Clearinghouse (SEEC), a mechanism that has in recent years brought about important changes in the sphere of regional cooperation and the way we do business by striving to streamline and rationalize our efforts and also avoid duplication. Streamlining, rationalizing, avoiding duplication and promotion of added value are the elements that we should take into account in the area of regional cooperation, if we want to ensure its success.
Our long term vision for the whole region is continued stability, economic development and prosperity. This vision can become a reality with integration of some countries in the Euro-Atlantic community of nations, and that requires a lot of hard work. A lot of it has been done and will have to be done by the countries of the region. The tough times that we currently live in are a strong and sober reminder for the Allies, the candidates and the partners of our interdependence, and also of the very demanding challenges that our societies will continue to face in the future.
Ljubica Jelušič was appointed Slovenian Defence Minister in November 2008. Prior to this, she had worked at the Faculty of Social Sciences of the University of Ljubljana since 1985 – first as a researcher, then as an Assistant and Associate Professor and from 2005 as Full Professor for Defence Studies. Dr Jelusic graduated cum laude in international relations and defence studies at the then Faculty of Sociology, Political Sciences and Journalism in Ljubljana. She earned her PhD in defence studies at the Faculty of Social Sciences of the University of Ljubljana and completed her post-doctoral studies in military sociology at the Royal Military Academy in Belgium. As a researcher at the Defence Research Centre she headed several basic and applied research projects in the areas of civil-military relations, defence restructuring, peacekeeping and the role and management of human factor in the army.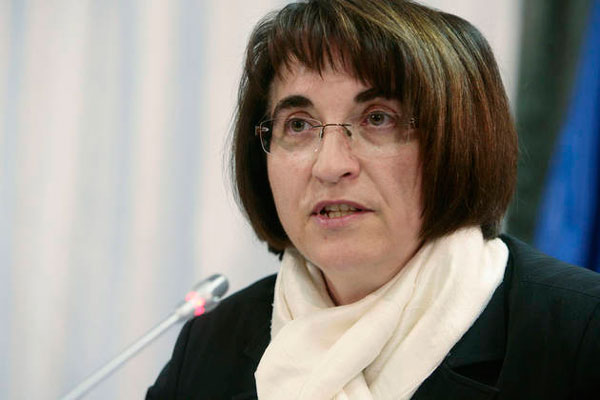 NEWSLETTER ISSUES