Newsletter 6/2010 - Our South East Europe
Stepping up women's representation in military structures
Women have been engaged in military for thousands of years in the past throughout the world. Although frequently granted only supporting, logistics roles, women maintained continuous presence in military or security structures due to their proven skills, knowledge, courage, commitment and efforts.
Nowadays, many countries and organizations around the world encourage participation of women in military structures by removing all potential legal and other obstacles for their career advancement thus making it ever so attractive.
The role of women in security has received increasing attention in recent years. The position and participation of women in the security sector in South East Europe is an issue that receives constant attention by various organizations and it has been addressed through the development of action plans for implementation of the UN Security Council Resolution 1325 on Women, Peace and Security in some countries of the region, explains Diman Dimov, Team Leader of the South Eastern and Eastern Europe Clearinghouse for the Control of Small Arms and Light Weapons (SEESAC).
Dr. Elisaveta Zdraveska, Chief of the ROLE1 Medical Team of the Army of the Former Yugoslav Republic of Macedonia contributing to the EU led operation ALTHEA in Bosnia and Herzegovina, started her military career in 2000. Four years later, she was promoted and started working in the 1st Border Brigade as an Officer for Medical Service.
When talking about the reasons for joining the army, Zdraveska highlights the importance of equal opportunities for women and men in the field of security, to increase women's active participation in all military segments.
"The opportunity to go on a mission abroad and thus be part of the effort to make a change in today's world is another issue that made joining the armed forces more appealing to me", says Zdraveska.
According to her, there are no legal or gender restrictions related to engagement of women in any position within the Ministry of Defense and/or Army of the Former Yugoslav Republic of Macedonia.
"The only obstacle that may arise is age. No applicant (be it man or woman) over the age of 33 can be considered for applying for any job position within the armed forces."
In Armed forces of Bosnia and Herzegovina women participation is 5,1%. According to Colonel Mersida Mešetović, one of the four female Colonels in the countries' Armed Forces, this number would probably increase soon given the relatively short history of these Armed Forces (established in 2006).
Although this percentage is still lower compared to other countries like Hungary (20%), USA (12%) or Croatia (8%), a positive signal is that women in our Armed Forces have all the ranks from a soldier to a brigadier, says Mešetović.
"There are many different factors that influence a decision of women to join the Army. There are no legal obstacles and women are represented in security institutions in our country. However, we must not forget that this is not a gift to women but a result of achievements and work through their engagement. In this way, women currently serving in the Armed Forces have opened the doors to new generations of women to come."
Zdraveska and Mešetović agree that gender equality in military is one of the reasons for military service to become more attractive for young girls. There are also many opportunities for professional development and training in the country and abroad that are a great challenge for newcomers.
Dimov from SEESAC adds that a democratic society is one in which women and men work equally and complementarily, drawing mutual enrichment from their differences.
"While significant progress has been made by some Western military institutions to incorporate women and provide them with equal access to career progression, in South East Europe little is known of the measures that security establishments have adopted to attract more women, and of the effects of those measures."
Dimov explains that this was one of the main reasons for the SEESAC to incorporate these issues in its current regional project on women police officers (WPON), hoping to be able to provide more detailed information and feedback from a regional perspective in 2011.
The SEESAC is laying the ground for work to be done in promoting gender mainstreaming in the militaries, explains Dimov and adds that experiences of NATO member states in this respect should be carefully studied.
The Regional Cooperation Council (RCC) considers the gender issue as a very important one not only from the national point of view but also from the regional perspective, highlights Efrem Radev, Senior Expert on Security Issues at the RCC Secretariat.
"Most of the countries in South East Europe are members of NATO and the rest are active Partnership for Peace NATO partners", adds Radev. "All are participating or planning their participation in Peace Support Operations in different parts of the world. This by itself shows the importance of addressing the gender issue in a manner that will increase the interoperability of the military and police contingents in the out-of-territory operations and further contribute to the Euro-Atlantic integration of the region."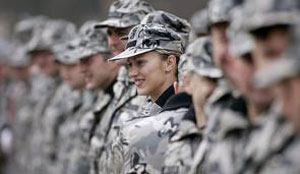 NEWSLETTER ISSUES