Newsletter 5/2010 - Our South East Europe
INTERVIEW with Rudo Vidovic, Minister of Communications and Transport of Bosnia and Herzegovina
Road to the European Union starts in the region
Minister Vidovic, how important is regional cooperation in infrastructure and transport?
Regional cooperation is of great importance for development of transport and transport infrastructure. Through regional institutions such as the South East Europe Transport Observatory (SEETO), the South-East European Cooperation Process (SEECP), the South East European Transport Axis Cooperation (SEETAC) and the Southeast European Cooperative Initiative (SECI), Bosnia and Herzegovina (BiH) participates in drafting multiyear activity plans and databases, defining priority projects, securing project funding and implementing the European Union (EU) directives in transport and transport infrastructure sector.
What are the main benefits of successful cooperation of countries in South East Europe when in comes to transport and infrastructure networking?
Bosnia and Herzegovina is signatory of the Stabilization and Association Agreement between the European Community member states and Bosnia and Herzegovina (Luxemburg, 2008) and through continuous cooperation with the countries from the region aims at having facilitated operations of international transport, as well as development and integration of transport network. Legal basis of successful regional cooperation among the South East European countries is the Memorandum of Understanding (MoU) on development of the South-East Europe Core Regional Transport Network (Luxemburg, 2004) and Addendum to the MoU for railway transport area (Tirana, 2007) which are inserted into the Stabilization and Association Agreement.
Main benefits of successful cooperation are as follows:
Transport Network of Bosnia and Herzegovina integrated into Trans-European Transport Network;
Improving quality of services and use of advantages of all forms of transport;
Improving transport safety level;
Strengthening transport market to improve competitiveness among all forms of transport;
Reduction of negative environmental impact of transport;
Establishing reliable funding of transport system development.
What are the most important achievements so far?
The greatest successes of regional cooperation thus far are: extension of the SEETO core regional transport network, which was approved by the European Commission (EC) and has prerequisites for joining Trans-European network (TEN-T) network; receiving grant for development of feasibility studies for infrastructural projects; participation in the Rail and Road Transport Safety projects which resulted in a number of bilateral and trilateral agreements, EU standards training and implementation workshops; etc.
Looking at the future – what tasks lay ahead of Bosnia and Herzegovina in regional transport cooperation until the end of this year and what are the long-term plans?
Bosnia and Herzegovina has a number of tasks regarding regional cooperation. Transport infrastructure is a major instrument for regional development. In order to implement signed agreements, it is necessary to define and implement harmonized rules and procedures regulating transport activities in an open market. Through membership in the SEETO Managing Board, the National Coordinator, Rail and Intermodal Transport Group and the Road Safety Group, the BiH Ministry of Communications and Transport directly participates in establishing the Transport Community, strengthening regional cooperation and development, and applying the acquis which covers all forms of transport. Currently, BiH is undergoing negotiations on signing a Transport Community Treaty which will succeed the MoU on development of the South-East Europe Core Regional Transport Network and assist the region's European integration.
Which are the main challenges towards integration of Bosnia and Herzegovina transport sector into the Trans-European network (TEN-T)?
Integration of Bosnia and Herzegovina into TEN-T network represents a great challenge and also a final goal of BiH Ministry of Communications and Transport. BiH network joining the Trans-European Network implies financing network projects, development of corridors and trans-European axes, reduction of bottlenecks, i.e. modernisation of transport infrastructure, which is a priority of economic development of each country.
Could you tell us something about the participation of Bosnia and Herzegovina in negotiations on the Transport Community Treaty?
BiH Negotiation Team is actively participating in negotiations on the Transport Community Treaty. The Treaty wording is in the final phase and another regional meeting between the EC and SEE countries is foreseen for September 2010. The Treaty initialling is planned for December 2010, signing by the end of June 2011, and implementation from the beginning of 2012.
What is the status of and ongoing activities on Corridor Vc?
The length of Corridor Vc motorway through Bosnia and Herzegovina is 336 km, out of which 37 km has been constructed. Another two sections the length of which is 5 km ( Sarajevo bypass) and 9.4 km (Kakanj-Bilješеvo) are presently being constructed.
Construction of another two sub-sections to the length of 3.1 km (Bilješеvo-Gorica) and 2.9 km (Gorica-Drivuša) are to begin this year.
Funds have been secured through the loans from the European Bank for Reconstruction and Development (EBRD), the European Investment Bank (EIB) and the Kuwait Fund for Arab Economic Development (KF) for construction of around 70 km of motorway section as follows:
Loan Agreement with the European Bank for Reconstruction and Development amounting € 180 million signed on 28 October 2008,
Loan Agreement with the European Investment Bank amounting € 75 million signed on 18 December 2008,
Loan Agreement with the Kuwait Fund amounting € 30 million signed on 24 November 2009,
Planned Loan Agreement with EIB amounting € 205 million for co-financing the same sections as those covered by the EBRD loan.
BiH Council of Ministers has provided funds from its own budget for construction of an interstate bridge over the river Sava and the Bijača border crossing on the south border with Croatia where Metković "Schengen" border crossing is planned on the Croatian side.
It is realistic to expect 1/3 of the motorway construction to be completed in 2014 (funds have been provided) while the final completion could depend on financial potentials of Bosnia and Herzegovina but is planned to be finalized no later than 2020.
Funding basis of this motorway consists of revenue generated from collection of motorway excise on fuel sold (0.05 €/l), over € 60 million annually, collected tolls and other revenues of the road directorates. Additional € 2.6 billion has to be provided for construction of the remaining section of the motorway through Bosnia and Herzegovina.
How do you see a role of Regional Cooperation Council in South East Europe?
The Regional Cooperation Council (RCC) is seen to have a role of the key EU partner of great importance for cooperation in South East Europe and finalization of European integration process. The RCC's task is to promote infrastructural projects, organise regional conferences aimed at development of transport infrastructure, and activities on provision of project funding, i.e. to utilize, to the best possible extent, funds available within the EU Multi-beneficiary Instrument for Pre-Accession Assistance Programme as well as those from international financial institutions. The RCC has to be in a continuous contact with ministries of transport from the region, open for cooperation and providing support for development of joint regional development action plans and necessary bilateral agreements.
Rudo Vidovic was appointed to the position of Minister of Communications and Transport of Bosnia and Herzegovina on 1 July 2009. Prior to that he was performing duties of Manager of Telecommunications Centre "Central Bosnia" in Vitez and Manager of Executive Authority –Canton of Central Bosnia. Mr. Vidovic holds Master of Science degree in the field of technological science, scientific area technology of traffic and transport, branch of postal-telecommunications traffic. He is an active member of several professional and scientific associations.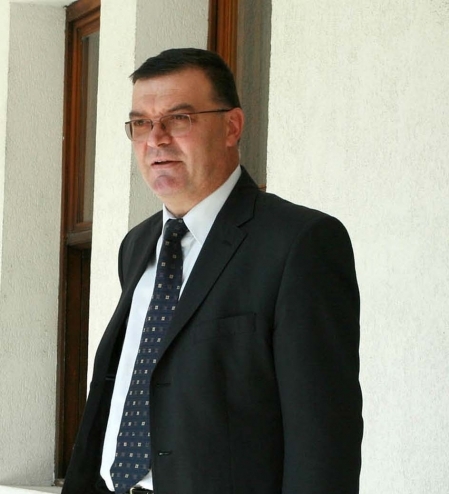 OTHER LANGUAGES
NEWSLETTER ISSUES