Newsletter 9/2011 - Our South East Europe
INTERVIEW with Branislav Micunovic, Minister of Culture, Montenegro
Joint effort, the best way to preserve regional cultural uniqueness
Mr Minister, what are your country's priorities in the area of culture in 2011?
In culture everything is always a priority. However, at the times of recovery from global crisis, we make sure to focus all our efforts on a couple of key points that will allow us an unhindered work in the years to come, which will, I am sure, bring significant relief.
Upon a proposal of the Ministry of Culture, the Government of Montenegro has adopted a comprehensive Programme "Cetinje – city of culture 2010-2013" whose core essence is revitalisation and protection of Montenegrin capital. Taking into account historical and cultural importance of Cetinje for Montenegro, the aim of this programme is to strengthen and preserve the Montenegrin identity.
Therefore, one of the steps planned by this programme was relocation of the Ministry of Culture to Cetinje, where our home is today. Harmonised with a management plan for Cetinje's historical centre, adopted earlier, the programme "Cetinje – city of culture 2010-2013", thorough protection of numerous cultural goods, envisages reorganisation of institutions of culture that are located in Cetinje, establishment of new institutions and organisations, marking of grand jubilees of Montenegrin history, etc. For us, it is very important that through this programme we shall include Cetinje in the UNESCO list of cultural heritage. This year we are finalizing the Nomination Dossier that will be submitted to UNESCO at the beginning of 2012 and we are confident that we shall fulfill all the criteria set by this organisation. The programme "Cetinje – city of culture 2010-2013" will be a breath of fresh air to Montenegrin capital. For this reason, the Ministry of Culture, in cooperation with other departments, is dedicated to the realisation of this programme in full capacity.
Our priority is adoption of National Programme for development of culture. This comprehensive document defines all important points in Montenegrin culture, problems that we come across, means for their resolution but also sets the directions in which Montenegrin culture will be developing in the coming five years. The Government will adopt the final text of the National Programme with the Action Plan and immediately after that we are to start with the implementation of the tasks set therein.
In the last three years, we have created a normative framework for development of culture by adopting the Law on Culture, the Law on Protection of Cultural Heritage, laws on museums, libraries and archives. In this year, we are to adopt a Law on Cinematography and Law on Publishing, as well as a whole series of bylaws. Modern laws, harmonised with international standards, will certainly enable development of Montenegrin culture, contemporary art work, adequate protection of our rich heritage and good international promotion.
I shall not forget to mention international cooperation within our priorities. Based on numerous cooperation agreements in the area of culture that we have signed with all the countries in the region, the United States of America, China, Russia and soon France, we have a very dynamic international cooperation.
From the position of a prospective EU member, what are the benefits and what are the major challenges of the EU membership in the sphere of culture?
Before all, benefits are possibility to use the European funds dedicated to projects from the sphere of culture and broader opportunities for exchange and mobility of artists. On the other hand, major challenge is – preservation of one's own identity, especially when it comes to small countries such are the countries of our region. In an interactive EU culture space, when you have so many simple opportunities to give and take, the challenge is to preserve your own specificities and cultural identity. That is why it is so important to be well prepared to enter the big family of European cultures. I am positive that multi-cultural and multi-ethnical Montenegro has a lot to offer to Europe but also that it is open for new, diverse experiences.
How will the Task Force on Culture and Society contribute to long-term culture goals of your country?
I am very thrilled with the fact that the seat of the Secretariat of the Task Force on Culture and Society of the Regional Cooperation Council (RCC) will be in Cetinje, in the same building where the Ministry of Culture is located. My colleague, Minister of Foreign Affairs and European Integration, Milan Rocen, and RCC Secretary General Hido Biscevic, signed recently in Budva a protocol on arrangements for the host country, based on our initiative supported by the countries of the region.
I expect that the Secretariat of the Task Force on Culture and Society will contribute to Cetinje and Montenegro becoming a meeting point for many experts from all fields of culture, exchange of ideas and realisation of cultural projects. Also, strengthening of regional cooperation through the work of this Secretariat will forge stronger links among our cultures, peoples and states.
The seat of the Secretariat in Cetinje will contribute to promoting Cetinje as an international cultural capital that it used to be, with 12 embassies and numerous international representatives. Let me repeat, this is one of the priorities of the programme "Cetinje – city of culture 2010-2013" that I have already mentioned.
To what extent is regional cooperation important in preserving cultural heritage of a country?
It is very important. Preservation of cultural heritage for Montenegro is one of the most important tasks in this period. Multi-cultural, multi-confessional and multi-ethnical richness, that Montenegro treasures, is the essence of our regional policy. In general, cultural heritage of our region is interlinked, diverse and unique, which is why the countries are directed to each other in its protection and promotion. My opinion is that this is the best way for us all – to work together, step out together and with this unity preserve our uniqueness. With such common work we shall come to better results and better positions for all the countries in the region.
How is the Government of Montenegro involved in the set up of the Task Force on Culture and Society?
The Ministry of Culture, as I have already stressed, provided offices for the work of the Secretariat in our building in Cetinje. The Government has formally supported the establishment of this Secretariat by Minister Rocen's signature on the Protocol on Host Country Arrangements. Also, the Secretariat will constantly have full logistic support of the Ministry of Culture, the Government, the capital Cetinje and of all other subjects the assistance of which it would require.
Where do you see a role of the Regional Cooperation Council when it comes to promotion of culture in South East Europe?
I see the Regional Cooperation Council as a link between countries of the region and international organisations. It proved to be a reliable partner to our region in promoting and achieving priority goals and in creating common cultural area. In order to realize these tendencies, it is of crucial importance that we have significant institutional support from the Regional Cooperation Council - a political body that was created by us.
Branislav Micunovic has been performing duties of Minister of Culture since April 2010, prior to which he was Minister of Culture, Sports and Media. He currently teaches acting at the Faculty of Drama in Cetinje and is a member of the Board for theatre arts of the Montenegrin Academy of Science and Arts. Micunovic is a renowned theatre director who served as director of Montenegrin national theatre for 6 years. For his work in the theatre, he has been awarded with numerous national and international, professional and social awards.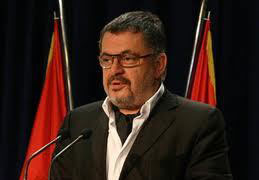 OTHER LANGUAGES
NEWSLETTER ISSUES