Newsletter 15/2011 - From Brussels angle
INTERVIEW with Olivier Pascal, Directorate General Information Society and Media, European Commission
Information and Communication Technologies – Europe's tool for sustainable and inclusive growth
Mr. Pascal, how does the European Union (EU) encourage use of Information and Communication Technology (ICT) for smart, sustainable and inclusive growth?
EU action to support and promote the role of ICTs, including the internet, for smart, sustainable and inclusive growth in the Union has been a long-lasting initiative. It began over a decade ago with the earliest strategies for information society (e-Europe Action Plan in 2000-2005 and i2010 from 2005-2010) to culminate most recently with the adoption of the 'Digital Agenda for Europe' on 19 May 2010 as the first flagship of Europe 2020 strategy.
The overall aim of the Digital Agenda is to deliver sustainable economic and social benefits from a digital single market based on fast and ultrafast internet and interoperable, trustworthy solutions. IT contains over 100 concrete actions which can benefit people and businesses, including developing pan-European access to legal content on-line, providing very fast internet access, increasing and upgrading the digital skills of all EU citizens, using ICT for sustainable healthcare, for improved e-government functioning, including to support small and medium enterprises (SMEs) in their cross-border businesses, or to reduce Europe's environmental footprint.
What are the benefits of regional cooperation in ICT based on EU's experience?
You can cooperate in many different ways on a regional basis: from the perspective of regulation, of research and innovation, and of policy development. In the field of regulation, the ERG (European Regulators Group, established in July 2002) made a positive contribution towards consistent regulatory practices among national telecoms regulators in the Member States, and between national telecoms regulators and the European Commission. The creation of the Body of European Regulators for Electronic Communications (BEREC) in November 2009 has strengthened the role of ERG to ensure more transparent approach in the way the EU's telecoms rules are applied across the EU, and also, serving as a pool of expertise and advice for the European Parliament, the Council and the Commission.
In terms of research and innovation, the ICT component of the EU's 7th Research Framework Programme (FP7) and of the Competitiveness and Innovation Programme (CIP) are both instrumental in stepping up adequate funding and cooperation in research and innovation to enhance Europe's competitiveness.
The Digital Agenda aims to boost Europe's potential and strength on the world stage through increased coordination and pooling of resources with Member States (MS) and industry. In these tough economic times, I'm sure you will agree that we need to work together to get the best results for our future growth, including close SEE participation.
Implementation of actions outlined in the Digital Agenda need close coordination and monitoring among interested parties across the EU: it is not a Brussels-driven policy action but requires conducting a real dialogue that will help us achieve real results. Active involvement of South East European (SEE) stakeholders in this dialogue would require joint efforts from EU and from governmental authorities.
How would you assess current development of ICT in South East Europe (SEE) and its contribution to EU accession process?
SEE countries have different relationships to the EU, some count among the "club" of 27 which have now joined the EU, others are candidate or potential candidate countries. In any case, the accession process and 'Chapter 10' negotiations (on information society) have been a strong leverage to encourage all SEE countries to align their national legislation with EU rules in the information society area and to implement them.
As far as electronic communications are concerned, the most important steps are for SEE countries to ensure a high level of predictability of the regulatory and legal environment (and its alignment with most recent EU rules), including the transparency and independence of national telecoms regulators, to secure fair and technology neutral market entry conditions for services using wired infrastructure, and for services using frequency spectrum, to limit imposition of special taxes or administrative fees to cover administrative costs, and to provide appropriate conditions for boosting demand and supply of internet services. A limited number of SEE countries are currently offering an investment-friendly environment, but considerable progress has been achieved since full liberalisation of public fixed voice telephony, and to some extent the introduction of a general authorisation regime in most countries.
In the field of research and innovation, SEE countries generally benefit from the same status as EU Member States for participating in EU-funded research and the Competitiveness and Innovation Programme. All Western Balkan Countries, with the exception of Kosovo (as defined by UNSC resolution 1244 of 10 June 1999), are associated to FP7, and organisations with a legal basis in these countries are consequently treated in the same way as organisations from EU Member States.
Some of the SEE countries are already participants or observers in the Digital Agenda 'High Level Group' to monitor action plans with Member States. Close approximation with the EU strategy has generally been ensured through various regional cooperation channels, including the Regional Cooperation Council (RCC), and are monitored during the yearly Stabilisation and Association Subcommittee meetings with the European Commission.
What is the scope for further cooperation between regional SEE and EU structures on ICT?
In the regulatory area, BEREC and its working groups offer a key platform for developing and disseminating best practices on the implementation of the EU telecoms rules. Since some of the SEE countries are already participants or observers in this body, there would be a natural scope to strengthen assistance and cooperation in this matter with the other regional SEE partners. I trust the BEREC international agenda will foresee such cooperation with SEE and neighbouring countries in general.
From a general ICT policy perspective, some candidate countries have also expressed their commitments to realising the Digital Agenda's ambitions by participating in the 'going local' awareness raising exercise. This is indeed a welcome initiative where declared commitments would need to be translated into active support in the Digital Agenda's implementation with national stakeholders.
Both funded research and the Competitiveness and Innovation Programme function on a competitive basis (through calls for proposals), and proposals are selected following a thorough evaluation of their merits. However, past experience (both from new EU Member States and Associated Countries) shows that success rates often increase over time as a result of more awareness about opportunities and better information about the ingredients of successful proposals. Further technical assistance at regional level for strengthening project development capacity in the research area should be envisaged.
How do you see the role of Regional Cooperation Council (RCC) in supporting collaboration among SEE countries in ICT?
As a follow-up to the eSEE Agenda+ 2007-2012, the Regional Cooperation Council should continue to be instrumental in creating an enabling environment for ICT development in the region, including in the ICT research and policy fields, by stimulating its members' commitments to approximate with the Digital Agenda targets.
Olivier Pascal joined the European Commission in 1987 and become an Official (Principal Administrator) in Directorate General (DG) Information Society in 1989. Since 2004, Pascal's tasks cover International Relations with EU Accession and Neighbouring Countries on Information Society and Media. His earlier posts addressed regional telecommunications, Trans-European Telecommunications Networks and regional and societal aspects of Information Society. He holds Master degree in Finance and Management from ESCAE Marseille Business School and Doctorate in Economics from Aix-en-Provence University.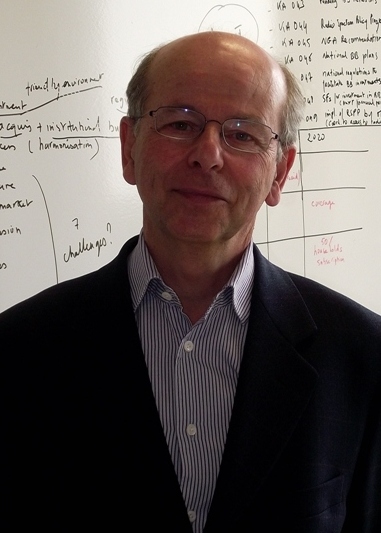 NEWSLETTER ISSUES