- Our South East Europe
INTERVIEW with Sanja Vlahovic, Minister of Science, Montenegro
Focus of science on the future leads to reconciliation and cooperation in the region
Ms Minister, how would you assess the current state of play in the domain of research and innovation in your country?
The Ministry of Science of the Government of Montenegro has invested huge efforts in the last year to significantly strengthen the research community that was in some segments falling behind the desired level, and these efforts will be continued in the future. Such a situation is mostly due to a lower level of investments in the scientific institutions and researches, since we do not lack good ideas and quality projects. Therefore, we attempted to make a significant step forward in that regard. The Ministry of Science has triggered an initiative of joint funding of national scientific projects by seven Ministries, which notably increased the level of financing from earlier 1,4 million to 5 million euro. Also, following the European trends, we initiated the establishment of centres of excellence and scientific-technological parks. Through a loan for higher education and science of around 12 million euro, the World Bank supported the excellence centres project. We do believe that through planned activities in the next three years we could bring a level of investments into science to a European standard, and through new initiatives strengthen domestic scientific community.
In your mind, how important are research and innovation for the future of a country? Why?
They are extremely important! Science, or more precisely research and innovation, is the main development generator of any country. The best evidence on how the European Union (EU) values the importance of science is the new framework programme for research and innovation called Horizon 2020, the budget of which is no less then 80 billion euro for the period 2014-2020. Through this programme the EU intends to increase growth and development, create new jobs, and overcome the present gap between science and market by helping companies to offer, through research and innovation, and in accordance with priorities, specific product or service to the market. The focus on priorities is especially important for small and financially less strong countries, such as Montenegro, that could by investing into these very areas achieve its further progress. Having this purpose in mind, the Ministry of Science, when established, formed a Council for Science, a body that has identified, by analyzing potentials of scientific community on one side and development needs on the other, key research priorities for the next couple of years and these are: energy; identity; information and communication technologies; competitiveness of national economy; medicine and health of people; science and education; new materials, products and services; sustainable development and tourism; agriculture and food, and traffic. The reason for identification of key priority directions was primarily because scientific researches need to follow strategic development directions so that science would be put in a function of the societal development.
How well is cooperation in research and innovation positioned in Western Balkans?
I am of the opinion that there is very good cooperation in research and innovation in the Western Balkans region, which has been made stronger in the last couple of years through very important European and regional initiatives. Here I would like to mention a project from previous EU framework programme for science - Sixth Framework Programme (EU-FP6) that was followed by FP7, SEE-ERA.NET[1], which laid the grounds for partnership cooperation and reinforced efforts of our countries on the way to join the EU in the science domain. In FP7 – and through a key project for coordination of research policies – WBC-INCO.NET[2], the cooperation, capacity building and representation of Western Balkan countries before the European Commission were continued. In this project, there is a separate activity of maintenance of regular regional dialogue lead by Montenegro. I think that this activity strongly influences fostering of regional interest in the context of the EU integration. Simultaneously with this project there was a process of joining of the countries of our region to FP7 and now almost all of us are part of the European Research Area. When talking about regional cooperation, the role of the Regional Cooperation Council (RCC) is certainly essential since it recognized the potential of cooperation in the field of research and innovation and coordinated creation of common regional strategy for research and innovation. I expect that this strategy would enable a step forward in cooperation, especially towards strengthening innovation in the region. I also think that cooperation is fruitful on bilateral level, which provides for a new basis for a really stable regional research and innovation space.
How could this kind of cooperation affect position of an individual country and the Western Balkans region as such when it comes to the European future?
The cooperation in the area of science and innovation is a part of a broader context of political cooperation of the countries from the region and therefore it is important for a political position of a country, which is of great significance for us. In my opinion, cooperation within the region secures better positioning of our sector in the European framework. A voice of an individual country is not as loud as when we all come together and perform as a region in which for the most part there is a similar economic heritage as well as similar problems in science and technology. Integration of the region is also what the European Union expects and supports, and has built it in its development vision Europe 2020, as a policy of smart specialization of the region.
Montenegro held the Chairmanship-in-Office of the South-East European Cooperation Process (SEECP) for a year, until June 2011. What was done in that period and what do you see as priorities for the future when it comes to regional cooperation in research and innovation?
During the Montenegrin SEECP Chairmanship-in-Office numerous initiatives that could be of great significance for the region had a very important position. These include: green economy, sustainable development, fight against corruption, energy. In the said period, many efforts were also focused towards establishment of closer cooperation between the countries' governments and ministries, especially in the priority areas.
I am very pleased that the RCC selected building human capital, and science in that context, as one of priority areas for cooperation and the organisation's work, since it gave credibility to its role in development of communities in the region and their rapprochement. Science is surely the best way towards reconciliation and cooperation, and since science is turned towards the future that poses enormous challenges before us, I believe that cooperation in science would ensure focus on problems we have in common but also provide an opportunity to join capacities. We all want science to provide results for our better joint future and that is what I personally expect from regional cooperation.
How do you see the role of the Regional Cooperation Council in further promotion of regional cooperation in research and innovation in Western Balkans?
Upon adoption of the Regional Strategy, the role of the RCC could be focused on pilot realization of key initiatives that come out of the Strategy, taking care of balanced representation of countries and building competitive positions in a wider, European context. I think that structures established at the EU level via FP7 projects enabled good coordination within the region and if there would not be a possibility for their extension in the forthcoming framework programme Horizon 2020, the RCC could take over that role. In any case, it is important to coordinate quality relations of the countries from the region in the area of science and research, as well as exchange of scientists and students, which is the most efficient mean for enhancement of innovation and creation of knowledge-based society.
Sanja Vlahovic has been Minister of Science of Montenegro since 2010. Following specialization in human resources management and leadership at universities in Italy, Canada, Ireland and Cyprus, in 2006 Vlahovic obtained a PhD in "Leadership as a Determiner of the Success of Contemporary Organizations". She has built career in academic institutions in Montenegro and abroad. She teaches Strategic Management, Leadership and the Theory of Management at "Mediteran" University's Faculty of Tourism in Bar, where she worked as dean from 2009 until her appointment as Minister of Science. She has published a book entitled "Leadership in Contemporary Organizations" (by CID Podgorica), and was the reviewer of the Montenegrin edition of the book "According to Kotler" by the acclaimed author Phillip Kotler. As a long term Rotarian and the first President of Rotary Club Bar, she has initiated and participated in a range of humanitarian projects in the country and has been honoured with the most prestigious award of Rotary International – a "Paul Harris Pin" for her outstanding contribution to humanitarian work.

---
[1] The Southeast European Era-Net SEE-ERA.NET is a networking project aimed at integrating EU member states and Southeast European countries in the European Research Area (ERA) by linking research activities within existing national, bilateral and regional Research and Technological Development (RTD) programmes http://www.see-era.net/start.html
[2] The Western Balkan Countries INCO-NET enhances integration of the Western Balkan countries (WBC) in the European Research Area (ERA) http://www.wbc-inco.net/about/index_en.html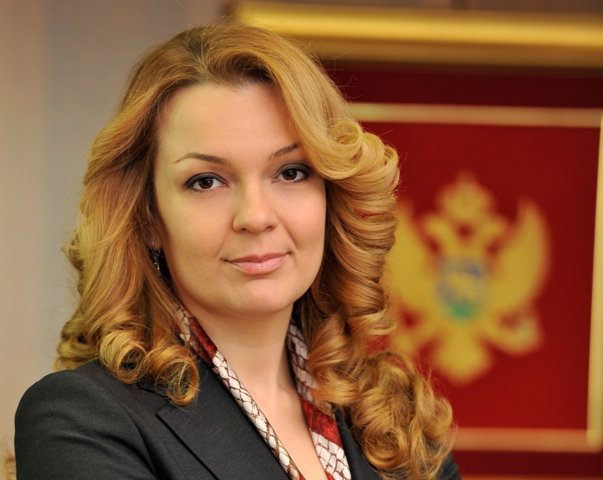 OTHER LANGUAGES
NEWSLETTER ISSUES