Newsletter 29/2013 - Our South East Europe
INTERVIEW with Ilir Meta, Speaker of Parliament, Albania
Focusing regional cooperation on economic challenges and tackling unemployment, a solid ground to move forward
In your speech after election to the position of the Parliament Speaker you stressed that unemployment and poverty were true country's challenges, adding that the best measurement of your policies is wellbeing of the Albanian people. In that context, what are the priorities of the Parliament for the coming period?
The Parliament is a body elected by the people, and as such should serve the people. This means that we need to focus on addressing concrete problems and concerns of our citizens. I am convinced that by fostering an all-inclusive constructive political dialogue in Parliament, we will be able to shift attention from political conflicts of the past, towards real issues of today, which require solutions. It is my conviction that through a cross-party approach to the functioning of our Parliamentary life, from the drafting, discussing and voting of legislation, to its implementation on the ground, we will be able to increase the quality of our legislation and strengthen the oversight role of our Parliament. We will work hard to increase the transparency of our work, so that we can bring the legislative process closer to the people. This should also give civil society and various groups of interest a bigger say in parliamentary affairs and increase civic participation. In addition, we have already started to work closely with independent institutions such as the Ombudsman, looking carefully at their reports, which I believe will bring a huge contribution to the Parliament and the quality of its work. As a result, this will be a contribution towards the good governance that the citizens rightly require.
Addressing these challenges would require significant reforms. If reviewing current relations between various levels of government and level of their mutual cooperation, how would you assess the situation in your country and do you find a room for improvement?
You are right. The Government has embarked upon a new stage of undertaking important reforms in Albania, which are desperately needed for the economic well-being of our country and the future of our economy. In this context, inter-institutional cooperation is crucial. There are challenges in terms of cooperation between various levels of Government and we plan to address them firmly. I believe that our next challenge will be to find cross-party support for the huge territorial and administrative reform badly needed in our country. This huge reform will aim to slim down the size of our local administration, increase its efficiency and improve its communication with the central government. Parliament will continue to increase its oversight role, in order to make sure that the European Union (EU) recommended legislation we vote, finds application at the most remote municipality on the ground.
How do you see current cooperation of parliaments in the region and what, in your mind, could be done to advance it, considering the region's European perspective?
I have recently returned from Budapest, where I participated in the 6th Conference of the Speakers of Parliaments of the Countries of the Western Balkans, and I was pleased to witness a genuine will from all Parliaments to increase regional cooperation, especially at the parliamentary level. Albania prides itself in its positive constructive regional approach, because we are convinced that regional cooperation serves not only each country's European aspirations, but also the prosperity of our citizens. I said in my speech that the best security policy in our region is cooperation itself. In this context, we should increase parliamentary exchanges across our region and combine our efforts to prepare the ground for EU membership for all of our countries.
The countries from South East Europe created a joint front aiming to increase economic and social growth by the year 2020. It is reflected in a growth strategy SEE 2020. Amongst other things, it envisages continuous improvement of the competence of public officials. What is your opinion on the competences of public officials and why is the continuous improvement important?
A professional administration increases efficiency of the Government and prepares a better picture for foreign investors. We have all much to learn from each-other, but most importantly from those countries in the region that have recently become EU members, such as Croatia. Increasing the professional credentials of our administration will result in a more efficient fight against corruption, and better prospects for investment and employment.
How would you assess the regional initiative to start jointly addressing mounted social and economic issues, foreseen by the SEE 2020 strategy, and the role of the Regional Cooperation Council (RCC) in the entire process?
I believe that focusing our regional cooperation on economic challenges and tackling unemployment, is a solid ground to move forward. Unemployment, especially among our youth, presents us with a huge social challenge for the future, and we need to act fast in order to coordinate our efforts and national strategies in order to stimulate the economy and generate growth across our region. We live in an era when Europe is going through an unprecedented economic crisis, where our two old EU friends Italy and Greece are facing numerous challenges, and we live in an increasingly competitive globalised market. If we want to present an open and competitive region to foreign investors, then we need to be smart and contribute towards the success of strategies like SEE 2020, by finding integrated, sustainable and inclusive solutions to our shared economic challenges. In our view, an open border policy and freedom of movement of our people, workers and goods, will be a major step ahead for all of us. In this context, the coordinating role of the Regional Cooperation Council and its work with each government in the region becomes more important and necessary for our regional integration. For that reason, I would like to wish the RCC all the best in its work and assure you that the Albanian Parliament will always be open to cooperation with you.
Ilir Meta is an Albanian politician who he has been Speaker of the Albanian Parliament since 2013. Prior to that, he was Minister of Foreign Affairs (2002-2003 and again 2009-2010) and was Prime Minister of Albania (1999-2002). He also held positions as Deputy Prime Minister and Minister of Economy, Trade and Energy. He graduated from the Faculty of Economy, in Political Economy, at Tirana University, Albania.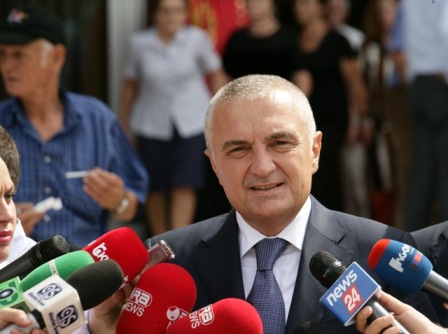 NEWSLETTER ISSUES