Bregu: With slowed growth & inflation Western Balkans will have to amp-up regional cooperation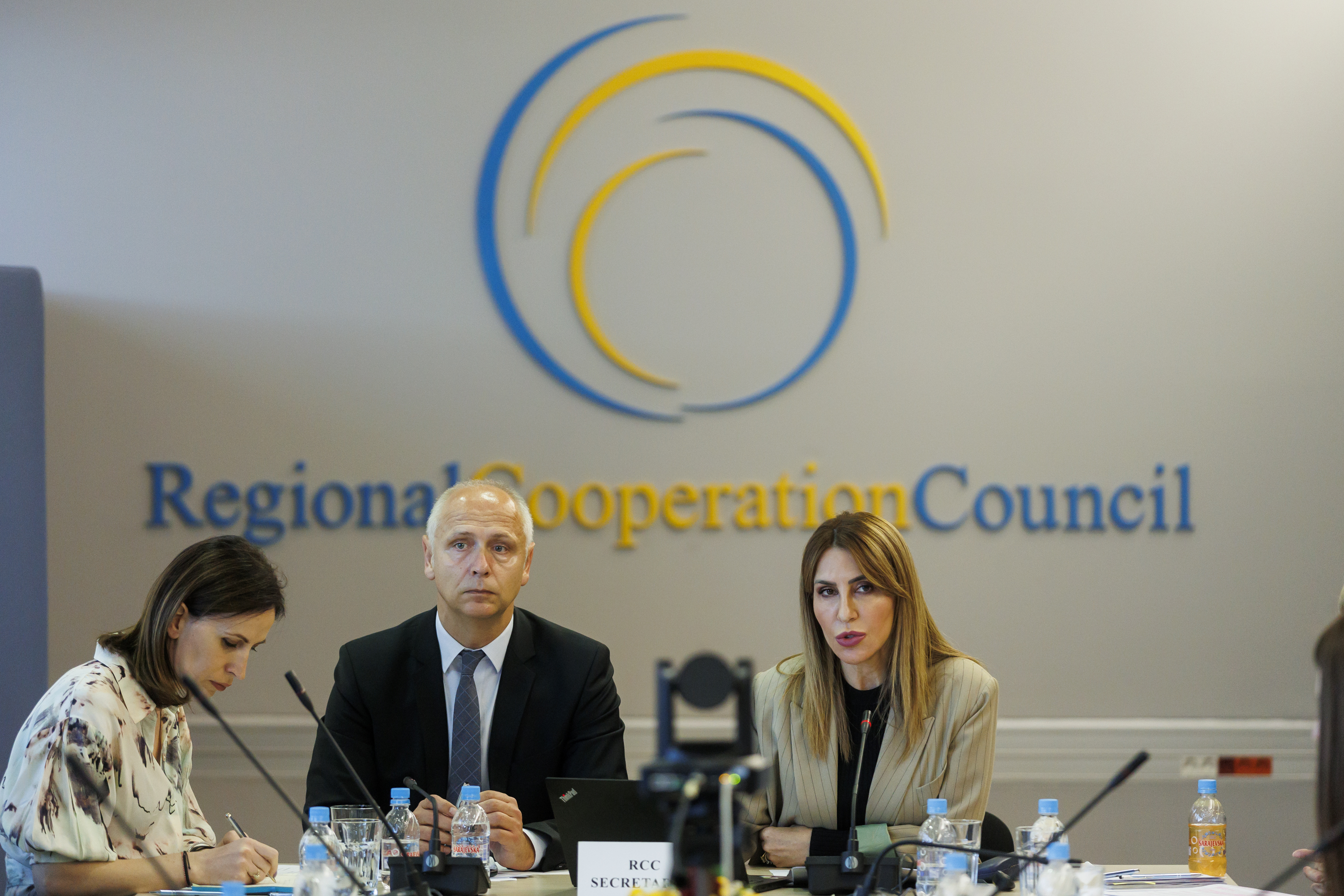 RCC Board endorses organisation's Strategy and Work Programme 2023-2025 and the Annual Report of the RCC Secretary General
Sarajevo - It is very difficult to sugar-coat the severity of economic effects of the war on the Western Balkans. It is equally difficult to accurately predict the true and longer-term impact, or to identify the opportunities for the region along the way. Our realities today are drastically different, with the war in Ukraine sending shockwaves and exacerbating two trends that were already in the making: slowed growth and inflation – leading to higher energy and food prices, disruption in supply chains, trade, investment, financial and tourism flows. The recent projection of economic growth of the region has foreseen a downward by a whole percentage point to 3.1%. To illustrate, food and beverage prices increased between 7% and 13%," said Majlinda Bregu, Secretary General of the Regional Cooperation Council (RCC), opening the 46th meeting of the RCC Board held in Sarajevo today.
"When it comes to regional cooperation, there has been progress in some areas and some stagnation in others, but it is certain that regional cooperation will have to amp up. Consumer and investor uncertainties are high. There is a lot of work to be done to boost resilience. The key will be in committing to sustainable development; to digital and green transitions; to the European perspective on both the EU and the aspirants' side; and to regional cooperation. The European continent is stronger when it stands together, as we have seen on examples of green lanes and recently on the inclusion of the Western Balkans in joint gas purchases," added Bregu.
The participants of the RCC's Board meeting endorsed the RCC Strategy and Work Programme 2023-2025, as well as the Annual Report of the RCC Secretary General. The RCC Secretary General informed the Board on the Coordination Meeting between the Troika of the South-East European Cooperation Process (SEECP), the RCC Secretariat and the European Union, held yesterday.
"The implementation of SEE 2030 is advancing smoothly and the first project proposals are being discussed. Furthermore, the RCC stands ready to support continuation of committed efforts of the region to address all of challenges - social, economic and security - in the spirit of cooperation and understanding of mutual benefit," concluded Bregu.
Ms Bregu thanked Greece for an excellent SEECP Chairmanships-in-Office during the past year, adding that it has been a very proactive and efficient one, supported and assisted by the RCC Secretariat. After the Thessaloniki Summit planned to take place in June, Montenegro will assume the SEECP Chairmanship-in-Office, continuing good practices and advancing the regional priorities.
***
The RCC Board meets three times a year and is chaired by the Secretary General. Board meetings are convened and prepared by the Secretary General in coordination with the SEECP CiO. The RCC Board provides operational guidance and supervision of the organisation in between its Annual Meetings.